Micronesia Map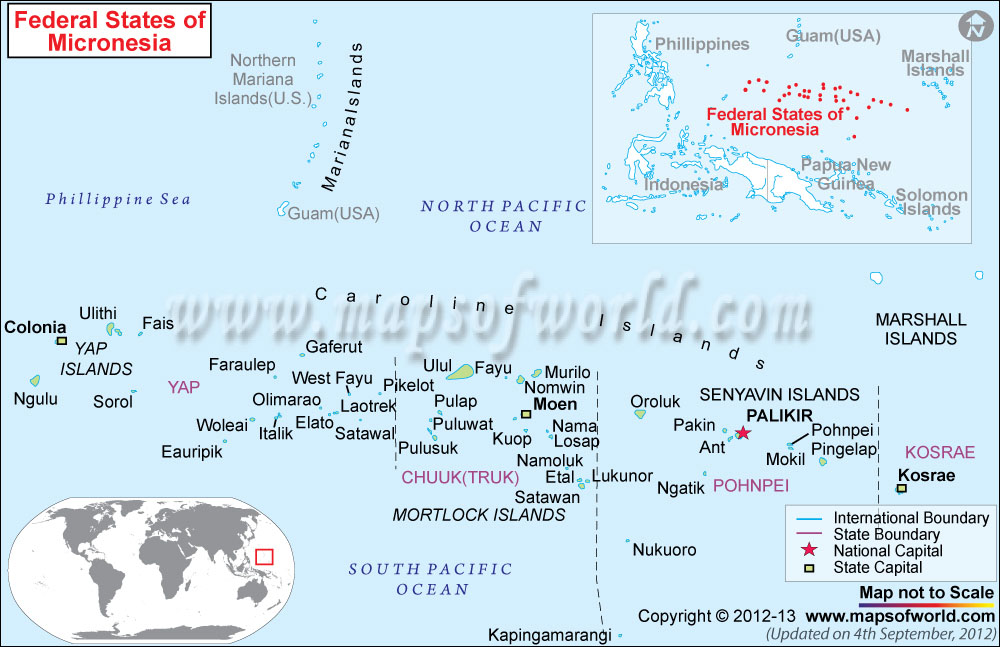 About Micronesia
Explore this Micronesia map to learn everything you want to know about this country. Learn about Micronesia location on the world map, official symbol, flag, geography, climate, postal/area/zip codes, time zones, etc. Check out Micronesia history, significant states, provinces/districts, & cities, most popular travel destinations and attractions, the capital city's location, facts and trivia, and many more.
| | |
| --- | --- |
| Full name | Federated States of Micronesia |
| Capital City | Palikir |
| Language | English, Chuukese, Pohnpeian, Yapese, Kosraean |
| Currency | United States dollar |
| Religion | Roman Catholic, Protestant |
| National Anthem | "Patriots of Micronesia" |
| Newspapers | BNN Pros N Cons, FSM, FSM, EIN News, Inside Micronesia, One World, Topix etc are the online newspapers of the country. |
| Places to Visit | Chuuk, Kosrae, Lelu Ruins, Nan Madol, Yap Island and many more interesting places are there in Micronesia. |
| Transport | Frequent flights between various major places are available. |
| Shopping | Love sticks, colorful grass skirts, lava-lavas woven, woven baby cradles, betel-nut pouches and stone money etc are found in cheap prices in thsic country. Besides these you will also find handicrafts, gecho, canoes etc. |
Visit Micronesia and enjoy the trip to the fullest. There are various attractive tourist spots in this country. Gather some information about the place before going there.
Location Of Micronesia
Federated States of Micronesia is located in beside Pacific Ocean. The surrounding countries that share their borders with Micronesia are Philippines in the western region, Indonesia in the southwestern side, Papua New Guinea and Melanesia in the southern part and Polynesia in the southeastern region.
Physical Map Of Micronesia
The Federated States of Micronesia is in fact an archipelago that contains total 607 small islands. Some of these islands are volcanic in nature. A big portion of Micronesia is covered with mountainous regions. Coral reefs also cover a considerable area of the country. All over the face of the country you will find several uplands, highlands and tablelands.
The Flag of Federal States of Micronesia is very simple. The base color of the flag is light blue. The blue rectangle features four stars that are five pointed and these are colored in white. All these four stars have been put in an order that they form a diamond if joined with strait lines. The blue base of the flag is a symbolic of Pacific Ocean. On the other hand the stars signify the four groups of islands in the country, i.e. Yap, Chuuk, Pohnpei, and Kosrae.
Climate Of Micronesia
The climate of Micronesia is more or less tropical. You cannot escape heavy rainfall because throughout the year, especially during the months between June and December. The islands on the eastern region face more rainy scenes. Typhoon also occurs sometimes in this country. So be careful of it.
Flora And Fauna Of Micronesia
Flora: The Federated States of Micronesia has great vegetation with various unique species. Various types of tropical plants and flowers grow in the forests of Micronesia. Different species of hibiscus, Hong Kong orchid, banana, eucalyptus, Honduras mahogany, ironwood, papaya, coconut, plumeria trees etc are found in most of the places of the country.
Fauna: To talk about the animal kingdom of Micronesia, the most important thing is the bird life. You can find various species of birds in this country. Rare species of deer, lizard and fruit bat etc can also be found in various parts of the country. In the water bodies you will also find several species of turtles and manta rays. Besides these, other species like marlin, mahi-mahi, tuna, barracuda, sailfish, bottom fish etc are also found.
People Of Micronesia
The total population of the country is almost 108,004. There are about nine ethnic groups in this country. Micronesian and Polynesian people cover the majority of the population.
Though English is the official language of Micronesia, other languages such as Chuukese, Pohnpeian, Yapese, Kosraean, Trukese, Ulithian, Woleaian, Nukuoro, Kapingamarangi etc are spoken all over the country.
Art, Culture And Music Of Micronesia
Art: Painting, literature and poetry are practiced in this country. In some regions of the country, handicrafts are also commonly practiced. Some of the famous art festivals are Pacific Festival of Arts; Festival of Pacific Arts etc are also organized in the islands.
Culture: In the presence of various ethnic groups, Micronesia gas developed a diverse cultural system. Influence of different races and tribes and also the religions are perceived in the Micronesian tradition.
Music: Music is very much appreciated in Micronesia. It is considered as a medium of communication.Some of the popular genres of this country are reggae, hip-hop, pop and so on. Music of the churches such as Choral hymns is also very popular in the country and is performed for religious purposes.
Economy Of Micronesia
The economy of Federal States of Micronesia largely depends on its farming and fishing. The agricultural resources of the country are black pepper, vegetables, tropical fruits, coconuts, betel nuts, sweet potatoes, cassava etc. The fast growing industries of this country are primarily tourism industry, fish processing industry, shell-craft industry, wood works, aquaculture industry, pearl industry etc. Some the export commodities are fish, bananas, garments, black pepper and so on. Japan, US and Guam are primarily the nations that are involved in the export trade with Micronesia.