Fiji Map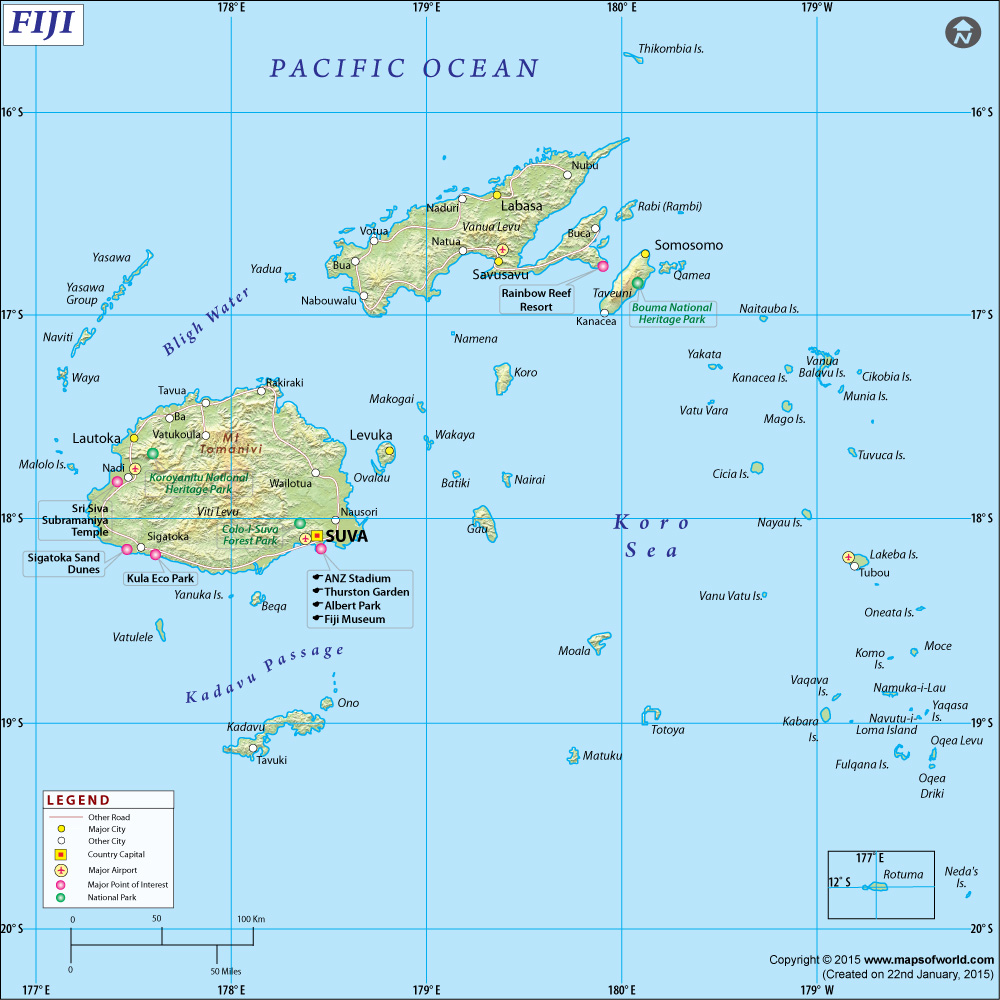 About Fiji
Explore this Fiji map to learn everything you want to know about this country. Learn about Fiji location on the world map, official symbol, flag, geography, climate, postal/area/zip codes, time zones, etc. Check out Fiji history, significant states, provinces/districts, & cities, most popular travel destinations and attractions, the capital city's location, facts and trivia, and many more.
| | |
| --- | --- |
| Official Name | Republic of Fiji |
| Capital | Suva |
| Population | 823,000 |
| Area | 18,376 sq km or 7,095 sq mi |
| Currency | Dollar ($1=2.24) |
| Religion | Christianity, Hinduism and Islam |
| Literacy | 91% |
| Languages | English, Fijian and Hindi |
| Major Cities | Suva, Lautoka, Nadi |
| Climate | Tropical in nature |
Economy of Fiji
The economy of Fiji is mainly governed by the sugar industry and tourism. In 2001, around 348,000 tourists visited Fiji, attracted by the scenery, fishing, snorkeling, and diving opportunities. The country has spent around $226 million to make tourism a major source of foreign exchange.
While mining, manufacturing, and construction industries, employing 34 percent of Fiji's wage-earners, contributed 29 percent of GDP in 2000; the agriculture, forestry, and fishing sectors, engaging 2 percent of Fiji's workers, contributed 18 percent of the GDP in the same year.
Sugarcane is the principal cash crop and paddy-rice is the chief subsistence crop. Vegetables, fruit, beef, pork, poultry, and dairy products are also produced but for the local market. Fishing is done mainly at a subsistence level, but today, commercial fishing is on the rise.
The government has also instituted tax-free incentives in 1988 that created a flourishing garment industry. Ready-made garments are now the chief manufactured items in Fiji. Gold and silver are the principal minerals that are mined.
Physical Map of Fiji
Most of the country is made up of islands, out which the two largest islands- Viti Levu and Vanua Levu cover more than 85 percent of the total area. Most of the islands are volcanic in nature and the mountains like Mount Tomaniivi on Viti Levu rises up to a maximum elevation of 1,324m. The smaller islands are coral formations and rise only a few feet above sea level. The largest river of the country is the Rewa, located on Viti Levu, which is navigable for more
Flag of Fiji
The flag of Fiji is light blue, with the flag of the UK in the upper hoist-side quadrant and the Fijian shield centered on the outer half of the flag. The shield depicts a yellow lion above a white field quartered by the cross of Saint George featuring stalks of sugarcane, a palm tree, bananas, and a white dove.
Climate of Fiji
The climate in Fiji is tropical in nature with the average annual temperature being stable at 25°C. The months from December to April are hot with the temperature touching 32°C, but these months are cooled off with the rains. Fiji is also a witness to occasional cyclones.
Flora And Fauna of Fiji
The flora of Fiji comprises of hardwood trees, mangroves, bamboo, and coconut palms. The fauna is made up of native mammals like rats and bats, cattle, dogs, goats, horses, and sheep. The country has around 74 species of birds, which include owls and parrots. Snakes and lizards are also commonly found in Fiji.
Comprising of 332 islands, Fiji lies on the main route between Australia, New Zealand and North America. The country is famous for its scenic beauty and sees throngs of tourists pouring in to explore the country.
People of Fiji
The population of Fiji consists of a mixture of people from diverse backgrounds. While 50 percent of the population belongs to the Melanesian ethnic group, around 45 percent is made up of Indians, whose ancestors worked on British plantations between the years 1879 and 1916.
The remaining 5 percent is made up of Europeans, Chinese and other Pacific Islanders. Majority of the people follow Christianity, while 33 percent are Hindus and 7 percent are Muslims.
Though Fijian is spoken among native people, English is spoken by almost everyone and the Indians mainly converse in Hindi.
Fiji Newspaper
Fiji Newspaper plays an important role in Fiji media. The Fiji Newspaper publishes local, national and international news.
Presently three English Fiji Newspapers are issued in Fiji. The Fiji News Paper which publishes local, national and international news are-
Fiji Daily Post
Fiji Sun
Fiji Times
The Owner of Fiji Times is Rupert Murdoch. Government is the owner of Fiji Daily Post. C.J. Patel, who has the biggest business enterprise in Fiji, is the owner of Fiji Sun. Fiji Times pledges to an assortment of Fiji news services.
Shanti Dut is an important National Fiji Newspaper which is a Hindustani weekly has a dissemination of 13,000 newspapers in Fiji. Nalalakai is another National Fiji Newspaper with a distribution of 14,000 editions written in Fijan language. The Fiji Newspaper Shanti Dut and Nalalakai are issued by the Fiji Times.