Cities in Yemen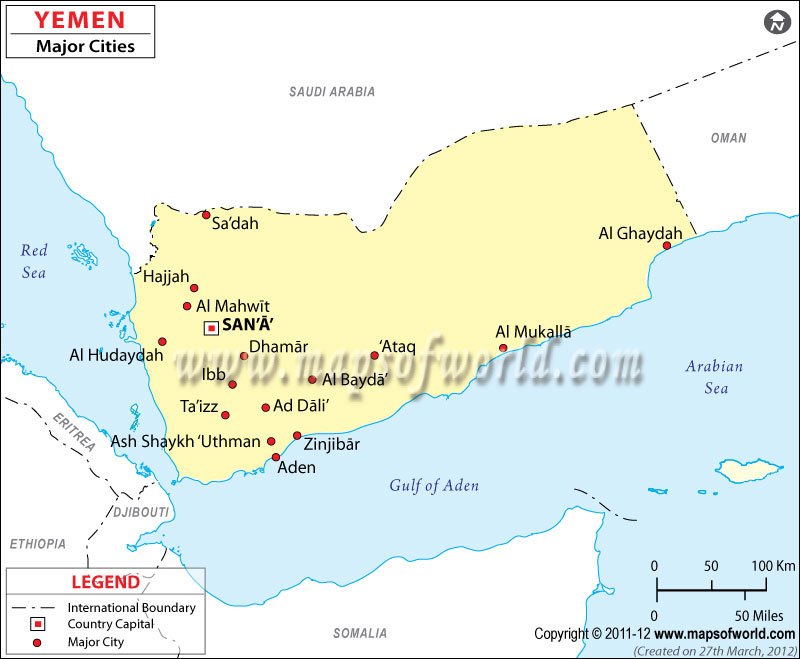 There are several cities in Yemen, which are visited by a large number of tourists throughout the year. The cities are the best places to learn about the culture and history of the country.
Abyan
Sanaa
Sayhut
Say'un
Shibam
Ta'izz
Zabid
Mocha
Al Mukalla
Nishtun
Sa'dah
As Salif
Aden
Al Ghaydah
Habarut
Al Hudaydah
Out of all the cities mentioned above, Sanaa is the capital city of Yemen. Marib is on the other hand, one of the most important tourist destinations of Yemen. Besides these, Shibam is considered to be the Manhattan of the desert. It is indeed one of the loveliest places of the country.
Ta'izz, a city in Yemen, also deserves special mention. It is located in the highlands of Yemen. It is quite near the famous Mocha port. It is the capital city of Ta'izz Sana'a. This city houses several old buildings made of brown bricks. Mosques and Muslim madrasa are also found over here.
Almost all the cities in Yemen are filled with ancient architectural monuments. If you want to spend your holiday amidst the splendid mountains and the desert landscapes Yemenis cities are indeed the perfect places to go for. There is no doubt in the fact that these cities are all unique in their beauty and charm.
| | |
| --- | --- |
| Famous Cities to Visit in Yemen | |
| City Name | Population | City Name | Population |
| --- | --- | --- | --- |
| Sana'a | 2431649 | Dhamar | 160114 |
| Ta'izz | 596672 | Al Mukalla | 144137 |
| Al Hudaydah | 548433 | Zinjibar | 70801 |
| Aden | 507355 | Sanyyan | 69993 |
| Ibb | 225611 | Asch-Schir | 68313 |