Saudi Arabia Cities Map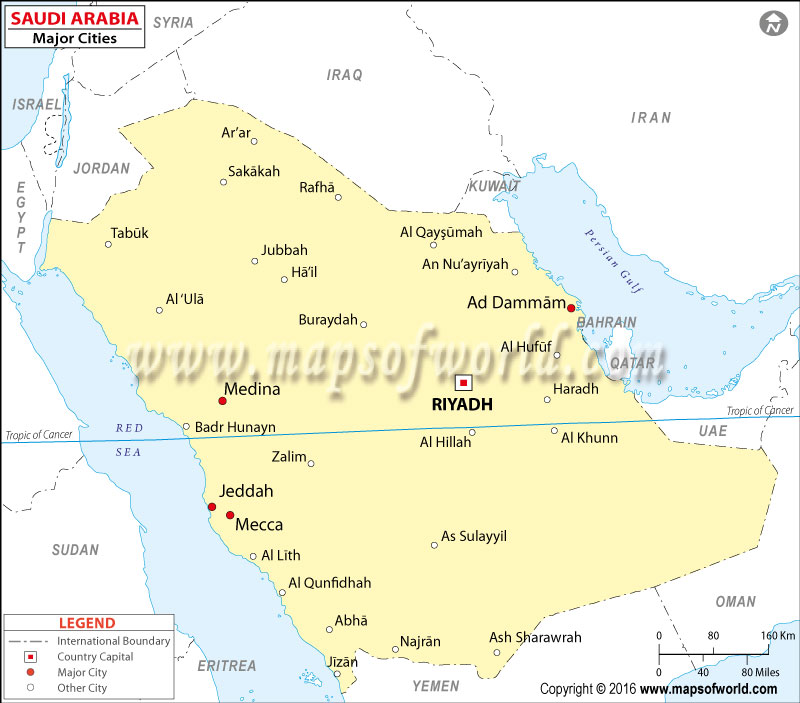 There are numerous cities in Saudi Arabia. Each of them varies from the other in various aspects such as climate, vegetation, soil, people, culture, infrastructure, trade, etc.
Riyadh is the largest Saudi Arabian city. The inhabited land area of this capital city of Saudi Arabia exceeds 1600 kilometers.
Other important cities of Saudi Arabia are listed below:
Jeddah :

It is the second largest city in Saudi Arabia. It has the main sea port of Saudi Arabia in the Red Sea. The city is the main gateway for pilgrims who arrive here by air or sea to perform Hajj or any other religious ceremony in the two mosques.

Makkah :

It is one of the two most important pilgrimage centers for Muslims. It is the city where Prophet Muhammad was born and here he also started preaching about Islam.

Taif :

Located in the western region of Saudi Arabia, the city is known for its agricultural products such as pomegranates, honey and grapes. The city also consists of some beautiful gardens and buildings and sites that date back to pre-Islamic era.

Madinah :

It is the second most important pilgrimage center of Muslims. Also known as City of Messenger, it gave shelter to Prophet Muhammad when he left Makkah. One must check out the grave of the holy Prophet and his mosque.
Apart from the above listed cities in Saudi Arabia, there are many other cities such as Abha, Hail, Dammam, Najran, etc.