Map of Portugal Cities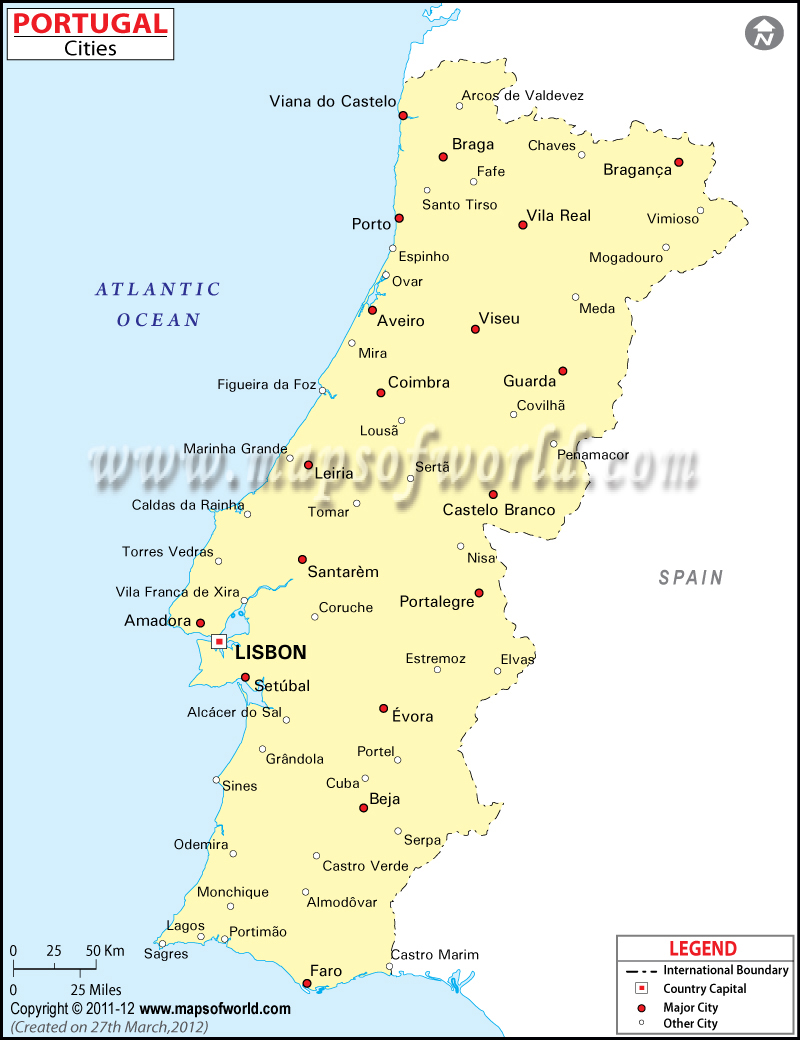 Major Cities of Portugal
Lisbon: The beautiful city of Lisbon is an endearing capital city of Portugal. In 1256, Lisbon was declared as the official capital of Portugal. The city boats of a eventful past and famous sightseeing places.
Attractions in Lisbon
There are several places of interest in Lisbon, Portugal. Castro Guimaraes Museum and Sea Museum, churches of Santo Antonio, Nossa Senhora da Assuncao and Nossa Senhora dos Navegantes are famous historical sites of Portugal. The fishing village Ericeira of Lisbon showcases the harmony of the old village. The Verdades-Farias museum houses collection of musical instruments. Mafra is considered as the largest religious monument of Portugal. Queluz is a palace that boasts of beautiful gardens, lakes and sculptures. Calda da Rainha, Alcacer do Sal, Serra da Arrabida, Azenhas do Mar, Bombarral, Colares, Ourem, Seixal, Azeitao are other places of tourists attractions.
Porto: Porto is famous for its ambitious spirit, distinctive culture, community, and local culinary art. The ancient Centre of Porto, the Ribeira, has been granted a World Heritage Site status by UNESCO in 1996.
Attractions in Porto
Tourists are often attracted to the city, which is known for many parks and galleries. It also attracts many pilgrims with its famous and miraculous churches like Oporto Cathedral and Church of Cedofeita. City Park, Coliseu do Porto Opera, concert and theatre house, Castelo do Queijo Coastal fortress, ancient part of Ribeira, Ponte D'Arrabida, Rabelo, traditional boat on Douro river are the interesting sites and monuments that fascinate the tourists.
Albufeira: Albufeira is a city in Portugal, which is known for its classic beaches but aso has a unique nightlife of its own. Every night club down the Montechoro area of Albufeira has a following of its own with loyalists swearing by the music and entertainment of their own choice in clubbing.
Attractions in Albufeira
Albufeira is a city of fun in sun, sea and sand, and anyone getting bored with that can always fall back on the interesting and thriving cultural and social life of the city especially at night. The city comes alive after sun down to celebrate youth and its attendant emotions in the famous nightclubs. Some of the well-known ones are: Cafe Del Mar, Linekers, La Bamba, Mustang, Matt's bar, Garage, Reno's, Erin's Isle and Wild & Co.
Lagos: Lagos is one of the most popular tourist spots in the territory of Portugal. It is placed towards the southern part of Algarve. The city of Lagos used to serve as a port city. Over the passage of time Lagos Portugal has emerged as a beach resort destination in southwestern Europe. With so much to see and do, Lagos offers enough to charm the visitors.
Attractions in Lagos
Lagos comes with unlimited attractions. It overlooks the warm blue water of Atlantic Ocean. The ancient structures of Lagos Portugal are considered among the architectural jewels of Portugal. The Ponta da Piedade is one of the most popular attractions in Lagos. With its unusual rock formation, Lagos bay offers enough to explore. Tourists can try out the relaxing boat rides to visit the natural sea caves in Lagos. Barragem de Bravura offers spectacular sights of the surrounding landscape.
The Old Customs House and Santa Maria church are two historic sites in Lagos Portugal. Vila do Bispo and Lagos Zoo are some of the other tourist destinations in Lagos. The national park of Lagos comes with a good collection of flora and fauna.
Funchal: Funchal is Madeira Island's capital in Portugal. Its name is supposed to have originated from the luxuriant growth of fennel there. Known as a port of call between the West Indies and the Mediterranean countries Funchal had been famous as a wealthy port for wine and Madeiran sugar. It is a place of exquisite beauty which is still a port of call for cruisers of the Atlantic. The climate of Funchal is more or less constantly pleasant by virtue of it being regulated by the sea. The best times to visit Funchal is therefore in the months of May to August. In Funchal public safety is not an issue, so it can be safely enjoyed at all times. However, should anybody need it the national emergency number is 112.
Attractions in Funchal
The exquisite natural beauty of Funchal makes sight seeing an almost redundant activity because every where Nature has been particularly generous. However certain objects of tourist interest can still be found such as the Madeira Wine Lodge, Mercado dos Lavradores, and the Cathedral Se.
Portimao: Portimao is a Portuguese city that is situated in the Algarve region of the country. The city of Portimao, Portugal and the adjoining municipality area are known for the myriad interesting sites found all over. On one hand there is the bountiful nature adorning the city and on the other sites steeped in the rich history of the country.
Attractions in Portimao
The exquisitely beautiful beaches of Portimao have captured the hearts of many a travelers. The fame of Praia da Rocha has spread far and wide and has hence emerged as an ideal holiday destination. Other well known beaches include Praia de Alvor, Joao de Arens and Vau. Most of the beaches have water sport facilities.
There are several sites of historical interest in Portimao. They include Jesuit College, the Sao Jose chapel, Nossa Senhora da Conceicao Church, Monastery of Sao Francisco. There are two well known museums in the region. Portimao locality also has some other attractions. These are Mexilhoeira Grande, The Arade Estuary, Abicada, Ria de Alvor and Alcalar.
Portimao is famous for some world class golf courses. Alto Golf, Penina Golf Course, Morgado do Reguengo and the Plalmers are some of the reputed ones.
Portimao is known among the visitors for a very colorful and happening night life. Pubs, bars and discos abound in the city that set the mood for a rocking night.
Cascais: Cascais is a fascinating destination in the Portuguese Republic. This once fishing village is today's most dynamic municipality in the territory of Portugal.
The silky soft beaches of Cascais are ideal to unwind. The city of Cascais stands in the vicinity of Lisbon, the Portuguese capital. It is mainly because of its convenient location and picturesque setup that this beach resort destination is so popular amongst the leisure travelers vacationing in Portugal.
Attractions in Cascais
Cascais in Portugal is home to some of the most widely visited sites in southwestern Europe. The exhibits of Grutus do Poco Velho belong to the Neolithic period. Museu do Mar depicts the rich cultural heritage of Cascais. The Palacio de Conde de Castro Guimaraes is a must visit destination in Cascais. It features a huge collection of rare books and antique items. Boca do Inferno is a fabulous beach recess in Cascais. With its undulating landscape and natural caves, Boca do Inferno is a paradise for all natural lovers.
The coastal area of Cascais provides an ideal base for windsurfing and many other water sports. The shopping destinations in Cascais are shoppers' delight.