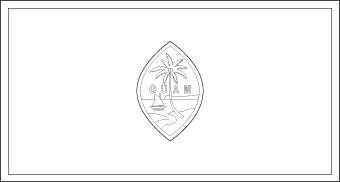 Download Picture of Blank Guam Flag For Kids to Color.
The Guam flag was designed in 1917 by Mrs. Helen L. Paul. Mrs Paul was the wife of a US Naval Officer, The national flag of Guam was adopted in 1948. The Guam flag is made up of a field of blue with a red border.
In the middle of the blue field is the country's coat of arms which is oval in shape. The coat of arms features a canoe sailing in Agana Bay near Hagatna; a coconut palm silhouetted against Two Lover's Point in Tumon Bay; and the name of the country, GUAM in red letters.
The oval shape of the ensign refers to the ancient Chamorro sling stones that were used on the island. In 1930, the oval design was officially made the Great Seal of the Territory of Guam. The colors and the design of the Guam Flag have been borrowed from the United States flag.
The Guam Flag was officially accepted by the Guam Congress on February 9, 1948.
| | |
| --- | --- |
| Official Name: | Guam |
| Proportion: | 22:41 |
| Adopted on: | February 9, 1948 |
| Designed by: | Mrs. Helen L. Paul |
| Location: | Located in the Western Pacific Ocean |
| Capital City: | Hagatna |
| Major Cities: | Dededo, Santa Rita, Sinajana, Talofofo |
| Area: | 209 square miles |
| Population: | 159,358 |
| Currency: | United States Dollar (USD) |
| Official Language: | English and Chamorro |
| National Anthem: | Fanohge Chamoru |
| National symbol(s): | coconut tree |
| National colors: | deep blue, red |
| National anthem: | |
| Name: | "Fanohge Chamoru" (Stand Ye Guamanians) |
| Lyrics/Music: | Ramon Manalisay SABLAN [English], Lagrimas UNTALAN [Chamoru]/Ramon Manalisay SABLAN |
| Country | Guam |
| --- | --- |
| Designed by | NA |
| Adopted | February 9, 1948 |
| Revision | NA |
| Design and Colors | flag is dark blue with a narrow red border on all sides (border was a later addition). In the center of the flag is the coat of arms; an almond shaped emblem, which depicts a proa sailing in Agana Bay near Hagåtña, and GUAM colored in red letters. The shape of the emblem recalls the slingshot stones used by the islanders' ancestors. |
| Size Ratio | 22:41 |