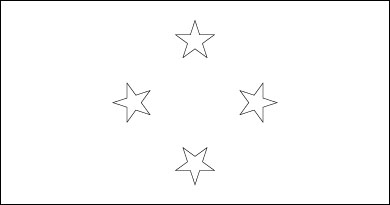 Download Picture of Blank Micronesia Flag For Kids to Color
On this background there are for white stars that have five points in each.
This flag was adopted as Micronesia's official flag on 10 th November 1979. The ratio of the Micronesia national flag's width to its length is 10:19.
The color of the background suggests the Pacific ocean on which this island is placed. The four white stars in the Micronesia flag represent four other islands who together make up the Federation. These four islands are, Chuuk, Pohnpei, Kosrae and Yap.
| | |
| --- | --- |
| Official Name: | Federated States of Micronesia. |
| Capital: | Palikir |
| Location: | Lies in the pacific Ocean. |
| Area: | 702 Sq. km. |
| Official Languages: | English Trukese, Pohnpeian Yapese and Kosrean. |
| National Flag: | |
| Flag Ratio: | 1:2 |
| National Anthem: | Patriots of Micronesia (1980) |
| National symbol(s): | four, five-pointed, white stars on a light blue field |
| National colors: | light blue, white |
| National anthem: | |
| Name: | "Patriots of Micronesia" |
| Lyrics/Music: | unknown |
| | | |
| --- | --- | --- |
| | Fact about Micronesia flag | |
| Country | Micronesia, Federal States of Micronesia |
| --- | --- |
| Designed by | NA |
| Adopted | 30. November 1978 |
| Revision | NA |
| Design and Colors | A light blue field charged with four white five-pointed stars centred; the stars are arranged in a diamond pattern. |
| Size Ratio | 10:19 |