Lithuania Map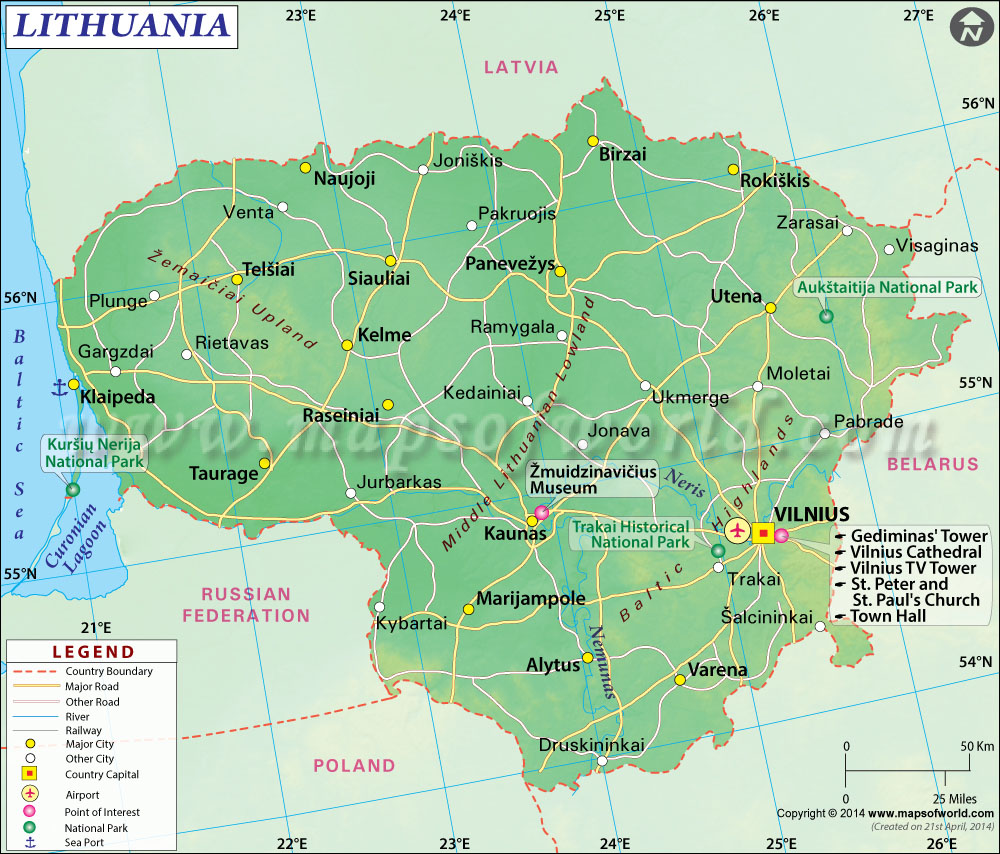 Explore this Lithuania map to grasp everything you want to know about this country. Learn about Lithuania's location on the world map, official symbol,  flag, history, geography, climate, postal/zip codes, time zones, etc. Check out the significant states, provinces/districts, & cities, most popular travel destinations and attractions, the capital city's location, facts and trivia, Top FAQs (Frequently Asked Questions), and many more. 
Lithuania, known as the Republic of Lithuania officially, is a country in the Baltic Region of Europe. Lithuania lies on the eastern shore of the Baltic Sea and is one of the three Baltic States. The country covers an area of 65,300 km2. Lithuania became independent on two separate occasions; on February 16, 1918, the country first declared itself from Czarist Russia. Lithuania remained an independent nation till 1940 when the erstwhile Soviet Union annexed it. The Republic of Lithuania remained under the Soviet Union for almost 50 years and then again became independent in 1990. Independence Day of Lithuania is celebrated on February 16 each year. 
The present flag of Lithuania was adopted in 2004. The flag's design is a tricolor consisting of three horizontal bands of Yellow, green, and red (from top to bottom). Yellow is for sun and prosperity, and the green depicts liberty and hope (forests and red represents bravery and blood of those who have died for Lithuania.
Lithuania Location
The Lithuania location Map shows the exact location of Lithuania on the world map. This map details the boundaries of this country, neighboring countries, and oceans. The country shares its land boundary with Latvia to the north, Poland to the south, Belarus to the east and west, and Russia to the southwest. The country shares its maritime borders with Sweden.
Lithuania's Latitude and Longitude extents are 55.0'0″ N Latitude and 24.0'0″ E Longitude in Europe. One can check this Latitude and Longitude Map of Lithuania for more information.
Lithuania Capital
The capital city of Lithuania is Vilnius. It is also the biggest city in Lithuania. Known for its architecture, the old town of Vilnius declared a UNESCO World Heritage Site in 1994.
Time Zones in Lithuania 
Lithuania uses only a one-time zone, Eastern European Standard Time (EET). EET is two hours ahead of UTC (coordinated universal time), that is, UTC+2. Lithuania observes daylight saving time as Eastern European Summertime (EEST), where the clocks are switched forward by 1 hour in summer (UTC + 3). Check Lithuania Time Zone Map to learn more.
The physical map of Lithuania has revealed all the details about the country's physical features, including mountain peaks, rivers, and lakes. Geographically, the country is located in the Baltic region of Europe and has a 262 km (163 mi) coastline consisting of the continental coast and the "Curonian Spit" coast. The country is glacially flat (formed by the melting of Ice Agr glaciers), except for morainic hills in the western uplands and eastern highlands with a height of not more than 300 meters.
The climatic conditions of Lithuania are classified as humid continental climates (Dfb). The country is in the temperate climate zone, and the sub-region of Atlantic-European continental mixed and broad-leaved forests.
Lithuania Major Cities
Lithuania Cities Map reveals valuable details, including the capital city and administrative divisions. Major cities of Lithuania are:
The country is divided into ten counties, all of them named after their capitals. The counties are further divided into 60 municipalities, with nine city municipalities, 43 district municipalities, and eight municipalities. Check the maps of counties to learn more:

Lithuania Airports
Lithuania has 4 International airports and 35 Domestic Airports. Here is Estonia Airport Map if you want to know more. The largest and busiest Airport in Lithuania are:
Vilnius International Airport 

Palanga International Airport 

Kaunas International Airport 
Lithuania Postal or ZIP Codes
Postal codes in Lithuania consist of five digits. The format of Lithuanian postal codes is LT-NNNNN. The first two digits in the Lithuania ZIP codes indicate the routing district, and the last three indicate the delivery office.
Lithuania is home to many Travel and tourism options ranging from national and regional parks, hill-forts, castles, beaches, and more. Lithuania has a rich history and innumerable lakes, forests, and national parks, making the place one of the most popular destinations for nature lovers. Some of the most popular tourist destinations of Lithuania are:
Vilnius Old Town

Palanga Beach

Ninth Fort

Kursiu Nerija National Park

Trakai Island Castle Museum
Top FAQs on Lithuania 
FAQ #1:  Is Lithuania Slavic?
Ans: The country is often considered Slavic, but it has both Slavic and Baltic influences, so it is debatable.
Faq #2: Is Lithuania part of the USSR?
Ans: Lithuania was part of the USSR from August 6, 1940, to March 11, 1990, for almost 50 years. Then it was declared an independent nation.
Faq #3 What language is spoken in Lithuania?
Ans: Lithuanian, an East Baltic language, is spoken primarily in Lithuania. It has been an official language since 1918.
Faq#4: Is Lithuania in NATO?
Ans: Lithuania has been a member of NATO since March 29, 2004.
Faq #5:Is Lithuania in the EU? 
Ans: Lithuania joined the EU on May 1, 2004.