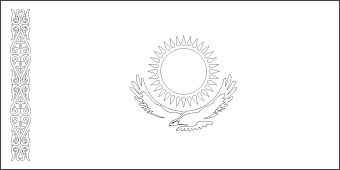 Download Picture of Blank Kazakhstan Flag For Kids to Color
The flag of Kazakhstan is sky blue with a golden sun over a flying eagle. Along the hoist side, is the national decorative pattern, the horns of the ram, called "koshkar-muiz".
Kazakhstan Flag Description
The flag of Kazakhstan is primarily sky blue, representing the unity of the Kazakhstani people and the Turkic people of the country, who include the Kazakhs, Tatars, Uyghurs, and Uzbeks, to name a few. The sky blue also symbolizes Tengri, god of the sky in the early Turkic religion.
Centered on the sky blue flag is a golden sun, its thirty-two rays beaming, representing life, abundance, and prosperity. Below the sun, a golden steppe eagle stretches its wings, following the curve of the sun. An indigenous bird of the region, the eagle represents independence and forward movement, symbolizing early Kazakhstan and its future potential.
Along the hoist side of the flag of Kazakhstan is an abstract decorative patter, which is called "koshkar-muiz," meaning horns of the ram. This is a traditional pattern, used historically by the Khanate people of the region.
Kazakhstan Flag History
The flag of Kazakhstan was designed by Shaken Niyazbekov, a Kazakhstani artist, who submitted the flag design at the end of Soviet Socialist Kazakhstan. The new design was selected and officially adopted on June 4, 1992.
| | |
| --- | --- |
| National symbol(s): | golden eagle |
| National colors: | blue, yellow |
| National anthem: | |
| Name: | "Menin Qazaqstanim" (My Kazakhstan) |
| Lyrics/Music: | Zhumeken NAZHIMEDENOV and Nursultan NAZARBAYEV/Shamshi KALDAYAKOV |
| | | |
| --- | --- | --- |
| | Fact about Kazakhstan flag | |
| Country | Kazakhstan |
| --- | --- |
| Designed by | Shaken Niyazbekov |
| Adopted | 4. June 1992 |
| Revision | NA |
| Design and Colors | A gold sun with 32 rays above a soaring golden steppe eagle, both centered on a sky blue field. The hoist side displays a national ornamental pattern "koshkar-muiz" (the horns of the ram) in gold |
| Size Ratio | 1:2 |