What Are Europe's Continental Boundaries?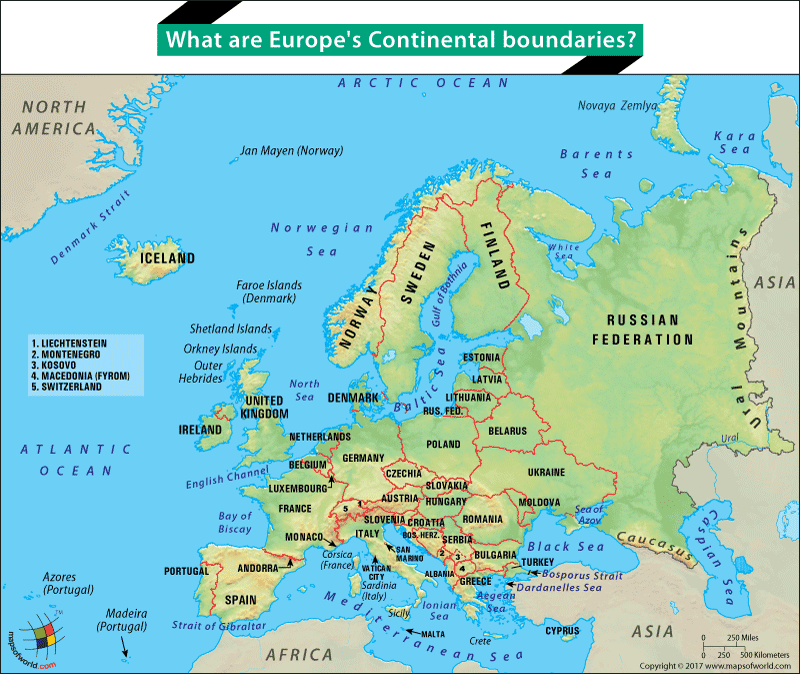 Ukraine Russia Standoff – Latest Update
Russian Attack on Yavoriv Military Base
Renowned US journalist Brent Renaud was killed when Russian troops opened fire on a car
Jake Sullivan Warns China to Avoid Helping Russia
Here are some important maps related to Ukraine-Russia War Crisis:
Covering an area of about 3,930,000 square miles, Europe is one of the seven continents of the world. After Australia, it is the smallest (by area). The irregular shape of Europe has given it several nicknames such as the peninsula of peninsulas and islands. This has also made it very difficult to define the continental boundaries of the continent. Generally speaking, Europe is bound by the Arctic Ocean in the north and the Mediterranean Sea in the south. To its west is the Atlantic Ocean. To the east of Europe is the continent of Asia.
Europe and Asia are separate continents despite sharing a single tectonic plate. The landmass that they form together, often called Eurasia, is considered a supercontinent, and countries such as Russia and Turkey straddle these two continents. The Ural Mountains, the Ural River, the Caspian Sea, the Black Sea, the Greater Caucasus watershed, the Dardanelles Sea, the Bosporus Strait, and the Aegean Sea form the continental boundaries that separate Europe and Asia. These natural boundaries, however, make it difficult for us to ascertain the continental identity of countries such as Georgia, Turkey, Azerbaijan, Russia, and Kazakhstan. We have now come to accept that these countries are culturally aligned to a large extent with the European nations despite covering a considerable area in Asia.
Apart from mainland Europe, several islands make up the continent of Europe. The likes of The British Isles, Denmark, and Iceland are all part of Europe. Heading south towards the Mediterranean Islands such as Crete, Corsica, Sicily, Sardinia, Cyprus, Balearic Islands, Cyclades, Dodecanese, Sporades, and the Ionian Islands are all part of European nations.
Europe is separated from Africa by a narrow strait called the Strait of Gibraltar which separates Spain from Morocco. The strait is about 8.9 miles at its narrowest and connects the Mediterranean Sea with the Atlantic Ocean.
Related Links:
Related Maps: