Ukraine Russia War Crisis: Everything You Wanted to Know!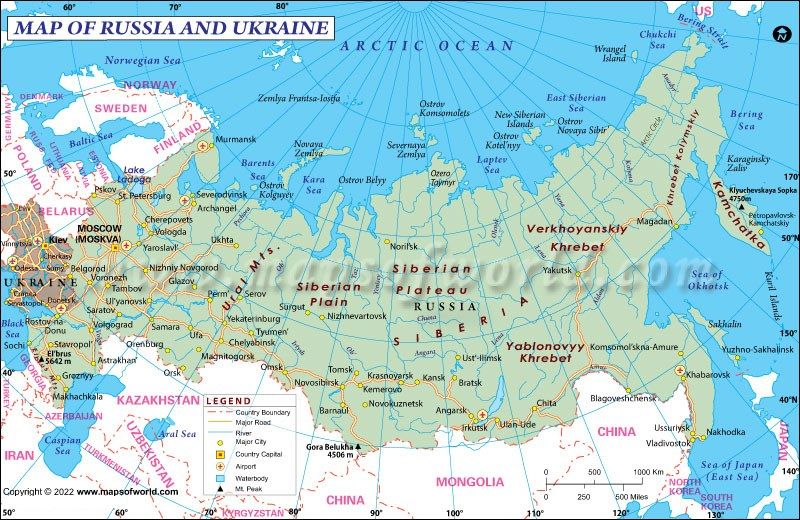 9 May Russia Ukraine War Updates – Putin gives few clues in Victory Day speech
Russian President Vladimir Putin has called his country's invasion of Ukraine a preemptive move against potential aggression. He made this statement while delivering his speech on the 77th anniversary of Victory Day.
On May 9, 1945, USSR won over Nazi Germany during World War 2. Putin, however, didn't provide any assessment of the ongoing Russia-Ukraine war while addressing the Russian soldiers during the grand event at Moscow's Red Square.
While calling the war "inevitable", the Russian President alleged that NATO was preparing to attack Crimea. He also accused the North Atlantic Treaty Organisation of not responding to the Russian proposal of signing a treaty as they had different plans altogether. Putin also hailed the Russian military forces fighting in the Donbas region of eastern Ukraine.
Commemorating Victory over Nazi Germany during WWII, Ukrainian President Volodymyr Zelensky said that his country would win the ongoing war against Russian aggression. As the Ukraine-Russia war entered its 11th week, Putin has tried to use this historic day to garner support for the ongoing war.
The Russian President also went on to call this conflict a continuation of WW2. While Putin said that the Russian forces are defending their homeland in Ukraine, Zelenskiy said that the Ukrainian troops would not cede any territory to Russia.
Meanwhile, the Ukraine–Russia conflict took a global scale on May 6. An unnamed US official said that the United States had shared intelligence with Ukrainian forces, helping them sink the Moskva warship of Russia on April 14. Reports also say that intelligence provided by the US military also helped Ukrainian forces kill many Russian generals.
On May 8, a Russian bomb reportedly hit a school building in eastern Ukraine. President Volodymyr Zelensky claimed that around 60 people died during this attack. Reports say that the Russian forces and separatist fighters backed by Russia are surrounding the Ukrainian troops in the region.
Bilohorivka village (near Severodonetsk, which is still held by the Ukrainian forces) has become the epicenter of a fierce battle in the last week. The UN Secretary-General Antonio Guterres has said that he is horrified by this attack on the school building. He appealed to spare the lives of civilians during the war.
The rescue work of civilians is continuing at Mariupol. Reports say that around 100 civilians have been evacuated from the steel plant. Approximately 2,000 Ukrainian fighters holed up in a seaside steel mill in the seaport city said they would not surrender to the Russian forces. These Ukrainian forces are resisting Russia's takeover of the vital port. It is depriving Russian forces of establishing a land corridor to the Crimean Peninsula, which Russia annexed from Ukraine back in 2014.
Meanwhile, the European Commission has announced a gradual plan to ban Russian oil by 2022-end. While Germany said that they were willing to back the proposal, they also flagged the possibility of rising inflation due to the move. Reports say that the European Union gets around 27% of its petroleum and associated products from Russia.
An embargo on Russian oil will create a supply squeeze of oil, likely to worsen the already high inflation rate in the EU countries. Due to the heavy dependence of their economies on Russian oil, Hungary and Slovakia have asked for more time to implement the embargo.
In their 6th sanctions package against Russia, the EU chief Ursula von der Leyen said that the European Union would withdraw the most prominent Russian bank and two others from the SWIFT system of cross-border financial transactions.
Here are some important maps related to Ukraine-Russia War Crisis:
A team of Congressional Democrats, led by US Speaker of the House Nancy Pelosi, met Ukrainian President Volodymyr Zelenskyi and other officials on Saturday in Kyiv (the capital of Ukraine). They discussed American support for the ongoing Ukraine-Russia war during the three-hour discussion. Pelosi said that the topics discussed between the delegations were related to "security, humanitarian assistance, economic assistance and eventually rebuilding when victory is won."
Reports say around 100 people were evacuated from a Mariupol steel plant (Azovstal iron and steelworks). About 1,000 more civilians are still trapped in bunkers below the Azovstal steel plant. They had sneaked into these bunkers to save themselves from Russian shelling. Deputy Prime Minister of Ukraine, Iryna Vereshyuk, has said that the humanitarian operation to evacuate people from the Azovstal metallurgical plant will continue.
Late on Sunday, the White House announced that US First Lady Jill Biden would meet mothers and children who fled Ukraine. She is scheduled to meet them on Mother's Day (May 8, 2022) in Slovakia. The UN High Commissioner for Refugees reports that around 5.5 million Ukrainians have fled their country to neighboring countries after Russia started the Ukrainian invasion on February 24. Reports say that she'll also meet humanitarian aid workers, educators, US Embassy personnel, and US service members during Jill Biden's tour.
The US is gearing up to support Ukraine militarily and through other assistance. President Joe Biden has urged the US Congress to approve US$33 billion in aid to Ukraine. It includes military aid worth US$20 billion. This will last through September this year. In a separate lend-lease bill, the US Congress has approved the bill to accelerate exports of military assistance to Ukraine.
On Sunday, the President of Ukraine alleged that Russia is striking nonmilitary targets. He alleged that Russia shelled fertilizer, grain, and food warehouses in Donbas, Kharkiv, and many other regions. Zelensky said, "the targets they choose prove that the war against Ukraine is a war of extermination for the Russian army."
The UN Secretary-General Antonio Guterres met Russian President Vladimir Putin in the Kremlin on April 26. He then went on to meet Zelensky in Kyiv on April 28. The main concern of this twin visit was to secure evacuation routes for civilians. Reports say Russia has withdrawn over one thousand mercenaries from Libya and allegedly redirected them towards Ukraine.
Meanwhile, Gazprom (the state-controlled natural gas company of Russia) has stopped gas supply to its unfriendly nations such as Poland and Bulgaria. Ursula von der Leyen (European Commission President) has called it "gas blackmail". She said that the EU is working relentlessly to find natural gas sources to lessen dependence on Russian energy.
Late last week, Gen. Valery Gerasimov (the highest-ranking uniformed officer of Russia) reportedly visited eastern Ukraine's front-line positions to accelerate the offensive against Ukrainian forces.
The media had asked Russian Foreign Minister Sergei Lavrov about the Russian offensive against Ukraine on May 9. It is the anniversary of Russia's liberation at the end of WW2. Lavrov said that a specific date would not affect their soldiers' actions.
Russian President Vladimir Putin claimed victory in Mariupol (the strategic port town in Ukraine) on Thursday. However, he ordered Russian troops not to take down the last pocket of Ukrainian resistance. They expect the Ukrainian forces to surrender after running out of ammunition and food.
Russian Defence Minister Sergei Shoigu has said that around 2,000 Ukrainian troops are holed up in the giant Azovstal plant. This steel plant is spread across four sq mi (11 sq mi). Shoigu claimed that they have isolated the holdouts and blocked them off "so that not even a fly comes through".
Ukrainian President Volodymyr Zelensky has claimed that around 1,000 civilians are also trapped in the sprawling steel plant, which has a labyrinth of tunnels and bunkers. Mariupol is strategically important to Russia because it'll help create a land passage between Russia and the Crimean Peninsula.
After capturing Mariupol, Russian officials say that their next target is to capture Ukraine's eastern industrial heartland, Donbas. Russia has opened a front from Kharkiv (a northeastern city of Ukraine) to the Azov Sea. An official of Ukraine has said that Russian troops now control 80% of the Luhansk region in eastern Donbas. Meanwhile, UN Secretary-General Antonio Guterres has asked both Vladimir Putin and Volodymyr Zelenskyi to come to a peace agreement.
On April 22, US President Joe Biden announced a US$800 million weapons package along with US$500 million in economic support. Ukrainian President Volodymyr Zelenskyy has met US Secretary of State Antony Blinken and US Defence Secretary Lloyd Austin. Reports say Zelenskiy and his advisor Oleksiy Arestovych pressed for their need for offensive weapons.
Arestovych reportedly said if the Western countries don't provide them with offensive weapons, then "there will be a new Bucha every day". He referred to the alleged mass killing of Ukrainian civilians in Bucha, a town near Kyiv. UN officials have said that they have documented 50 unlawful civilian killings in Bucha.
Reports say that the US cabinet secretaries have pledged US$713 million worth of new assistance to Ukraine and 15 allied/partnering countries. Around US$322 million is meant for Ukraine, and the rest will be disbursed among NATO members and other allied countries. Around US$165 million in non-US-made ammunition has also been offered for sale to Ukraine. With this new assurance, the total military assistance by the US to Ukraine since February 24 has reached US$3.7 billion.
US Secretary of State Antony Blinken has assured the Ukrainian President that US diplomats will return to Ukraine this week. A Pentagon official said that the secretary of defense Lloyd Austin will now visit Germany to meet NATO Secretary-General Jens Stoltenberg and counterparts from more than 20 countries. They will reportedly discuss Ukraine's defense needs.
According to the UN, 5.2 million Ukrainians have fled Ukraine since the beginning of the Ukraine-Russia war. Since the war started on February 24, thousands have died. Russian state news agency TASS has said that Ukrainian forces have shelled a village along the Russian-Ukraine border.
The last remaining Ukrainian forces in the strategically placed port city of Mariupol have ignored a surrender-or-die ultimatum from Russia. The ongoing 7-week fight between the Russian and Ukrainian troops in Mariupol will be Moscow's most significant victory of Russia's war against Ukraine.
While missiles and rockets slam various parts of the city, around 2,500 Ukrainian troops and 400 foreign mercenaries are cornered at the Azovstal steel mill. This mill is spread across a total area of 4 square miles (11 square kilometers). Innumerable tunnels in this steel mill have made it tricky for the Russian fighters to capture the Ukrainian forces holed up here.
Ukrainian President Volodymyr Zelenskyy tweeted, "The Lord's Resurrection is a testimony to the victory of life over death, good over evil" while sending his Easter greetings. In an interview, Ukrainian Prime Minister Denys Shmyhal said that their troops will continue fighting "to the end, to the win". While rejecting surrender, he said Ukraine is "prepared to end the war through diplomacy if possible".
Reports say 21,000 people have been killed in Mariupol. Out of the 450,000 pre-war population, around 100,000 people are trapped inside the city. There is no water, food, heat, or electricity in the town, forcing the trapped people to live in inhuman conditions.
The Russian Defence Ministry's spokesperson, Maj. Gen. Igor Konashenkov has said, "All those who will continue resistance will be destroyed." Experts believe that Russia will next target to capture the entire Donbas region.
After retreating from Kyiv earlier, Russia has renewed airstrikes near the Ukrainian capital. Reports say that the sinking of Moskva, the flagship of Russia's Black Sea Fleet, from Ukraine's missile attack has made the Kremlin step up strikes on Kyiv. The Russian Defence Ministry has said that they have destroyed an ammunition factory near the Kyiv region's Brovary city.
Meanwhile, Pope Francis has called the ongoing Ukraine-Russia conflict "a cruel and senseless war". He said: "May there be peace for war-torn Ukraine." During his "Easter of War" address from St. Peter's Square, Pope Francis pleaded to stop the bloodshed.
European Commission President Ursula von der Leyen has participated in the "Stand Up For Ukraine" event in Warsaw's (Poland) Palace on the Isle in Royal Lazienki Park. Meanwhile, Ihor Zhovkva, deputy head of President Volodymyr Zelensky, has confirmed that Ukraine has completed a questionnaire form to join the European Union (EU).
The Organisation for Security and Cooperation in Europe (OSCE) has released a report saying Russia has broken international humanitarian law. US President Joe Biden has said that the lawyers have to decide whether Russia's actions tantamount to "genocide" as per international law. He also went on to accuse Russia of committing genocide.
The World Trade Organisation (WTO) has said in its projection report that global trade would halve due to this ongoing war between Ukraine and Russia. They expect the growth of global gross domestic product (GDP) to be 0.7-1.3 percentage points.
The Ukrainian refugee crisis is reaching a tipping point. United Nations reports suggest that over 10 million people have fled their homes. While 4.3 million Ukrainians have fled to neighboring countries, another 6.5 million people are believed to have been displaced from their homes to other places within Ukraine.
Both Russian and Ukrainian forces are preparing themselves for the biggest battles of the ongoing war. Ukrainian President Volodymyr Zelensky said on Sunday (April 10) night that it will be a crucial war in the coming days. He expects the Russian forces to increase their assault and "move to even larger operations in the east of our state." Experts believe a full-scale offensive will start in the next phase of the Russia-Ukraine war, which could determine the course of the ongoing conflict.
Russia is reportedly eying to capture parts of the eastern Donbas region, which is still controlled by Ukrainian forces. Fresh Russian troops have arrived to carry out a massive assault north of the Ukrainian city of Izyum. Ukrainian negotiator Mykhailo Podolyak has made it clear that the coveted Zelenskiy-Putin meeting will not take place until they defeat Russian forces in the east and bolster their negotiating power.
A Russian strike on April 8 killed at least 39 people and wounded over 90 people. Reports say that a Ukrainian railway station at Kramatorsk was hit during the strike. The station is used for evacuating civilians. Ukraine has condemned the attack and blamed Russian forces for provocation. Zelensky went on to call it the "latest war crime of Russia".
In a late-night video on Sunday, Zelenskyi said that the Russian forces "may use even more missiles against us, even more, air bombs. But we are preparing for their actions. We will answer." He went on to call for more international support as the Ukrainian President continues his tireless campaign of generating international support. He urged his western allies to impose stricter sanctions on Russia, including the energy export embargo, and provide Ukraine with more defense help.
Responding to Zelenskyi's appeals, US national security adviser Jake Sullivan said they would send weapons to Ukraine. This will likely stop Russian aggression and take more cities and towns. Meanwhile, the European Union (EU) banned Russian coal imports on April 8. NATO (North Atlantic Treaty Organisation) has also agreed to supply Ukraine with new advanced weapons.
Meanwhile, the UN General Assembly (UNGA) has approved suspension from the UNHRC (UN Human Rights Council). The US-sponsored resolution was drafted following the massacre of around 400 civilians in Bucha town, near the Ukrainian capital, last week by Russian forces. Russia called the mass murder accusations a "monstrous forgery" to denigrate Russian troops. German Chancellor Olaf Scholz called the Bucha killing a war crime that cannot be forgotten. He went on to call for holding the perpetrators accountable.
The UNGA motion to remove Russia from the Human Rights Council on April 7 received 93 votes in favor, achieving the 2/3rd majority required to pass the motion. While 24 countries, including China, voted against the US-sponsored motion, 58 countries (including Russia's long-term ally India) abstained.
This is the first time when the membership of a permanent member of the UNSC is revoked from any UN body. Ukrainian Foreign Minister Dmytro Kuleba expressed his country's gratitude to the countries that supported the resolution. While criticizing Russian "aggression" against Ukraine, India has flagged its three concerns:
"Respect for the sovereignty and territorial integrity of states"
UN Charter
International Law
Meanwhile, hundreds of thousands of professionals have reportedly left Russia after their country launched a special military operation in Ukraine late in March. Reports indicate that this may threaten the Russian economy, which is already grappling with Western sanctions.
Ukrainian President Volodymyr Zelensky has accused Russia of genocide. Ukrainian forces recapturing ground near Kyiv have claimed that they have found 410 bodies in recaptured towns with alleged evidence of the execution-style killing. An adviser to Zelenskiy shared photos on Twitter showing dead people with their hands tied behind their backs.
Kyiv urged the International Criminal Court to gather evidence of war crimes. Russian spokesperson Dmitry Peskov claimed that many images circulated by Ukrainian media are fake. A 13.7 m (45 feet) long trench has been found near the Church of St. Andrew and Pyervozvannoho All Saints in Bucha with the help of satellite images. The Satellite images captured by Maxar Technologies on March 31, 2022, are claimed to show a mass grave in Bucha, a town located northwest of Kyiv. While denying the allegations of mass killing, Russia's defense ministry has issued a statement saying:
"All the photos and videos published by the Kyiv regime, allegedly testifying to the 'crimes' of Russian servicemen in the city of Bucha, Kyiv region, are another provocation… During the time that Russian armed forces were in control of this settlement, not a single local resident suffered from any violent actions."
Russian troops have intensified fighting in Mariupol, the key port city in Ukraine's south that "will secure a land corridor from Russia to the occupied territory of Crimea". With the Russian forces being repelled from northern areas, Russia has shifted its focus to the southern and eastern regions of Ukraine. Local reports claim that 7 people have died and 34 more wounded during a Russian strike in the Kharkiv region.
In a surprise videotaped appearance at the Grammy Awards, Zelenskiy appealed for help and urged people to share their support for Ukraine on social media. He said: "What is more opposite to music? The silence of ruined cities and killed people… Support us in any way you can. Any, but not silence. Fill the silence with your music."
With the spiraling global crude oil prices due to the Russia-Ukraine war, OPEC+ countries met on March 31, 2022. At the end of their discussion, they decided to maintain their previously agreed-upon plan of increasing oil production modestly every month. The oil supply, especially to the western countries, has been seriously affected due to the war. US President Joe Biden has announced releasing one million additional barrels of crude oil daily over the next 6-months from their strategic reserve.
Meanwhile, Russian Foreign Minister Sergei Lavrov visited India as the latter bought a "three-four days supply" from Russia. Indian Finance Minister Nirmala Sitharaman has said India will keep buying oil from Russia at discounted rates. India is getting a discount on crude oil amounting to US$35 per barrel on pre-war prices. Indian Oil Minister Hardeep Singh Puri has said that India has contracted to buy crude oil from Russia at discounted rates for the next 3-4 months. At an event, Sitharaman has made it clear that "India's overall interest is what is kept in mind." With the US warning about the consequences of circumventing western sanctions on Russia, India has told Lavrov that Russia should respect the territorial integrity of states.
Before visiting India, Lavrov met Chinese Foreign Minister Wang Yi in China. In a joint press address, both condemned the sanctions by the US and other western countries. Reports say that 10% of the population in Ukraine has fled the country. The total number of Ukrainian refugees has surpassed 4 million.
After two years, the leaders of China and the European Union (EU) met on April 1, 2022. While the EU urged China to take proactive steps to end the Russia-Ukraine war, China criticized the Western sanctions on Russia. The Chinese leaders partially blamed the United States for the ongoing war.
Russia's chief negotiator said that both the warring countries would resume talks between themselves on Monday by video. However, Ukraine hasn't yet confirmed the next round of discussions with Russia. Reports say the European Union will discuss additional sanctions against Russia on Wednesday.
UN Human Rights reports say the Ukraine-Russia war has claimed the life of 1,119 civilians (including 96 children) and injured another 1,790 (including 124 children) till March 25. The civilian casualties were mainly due to Russian shelling and airstrikes. 
In a message to the Ukrainian people, US President Joe Biden said that the United States stands with them. After meeting Ukrainian refugees in Poland on Saturday, Biden called Russian President Vladimir Putin "a butcher". 
The European Commission (EC) has launched a global campaign in partnership with the Government of Canada and an international advocacy organization, Global Citizen. The campaign will raise funds to support the people of Ukraine who are fleeing their country to save themselves from the Russian attack. 
Ukrainian President Volodymyr Zelenskyy has called on the international community to support the fleeing Ukrainian people. He also urged "musicians, actors, athletes, businessmen, politicians, everybody" to join this movement. While urging everybody to "Stand Up for Ukraine", Zelenskyy announced that the most significant online event named "Social Media Rally" will be organized on April 9. 
On March 24, the European Union leaders, the NATO countries, and the Group of Seven (G7) met in Brussels. The summit was attended by US President Joe Biden in person. With the Russia-Ukraine war entering its second month, the US President announced that the United States will welcome 100,000 Ukrainian refugees. He went on to say that the US will also provide an additional US$1 billion in food, water, medicine, and other supplies. 
The United Nations' top court, the International Court of Justice (ICJ), has ruled that the Russian military operation in Ukraine must be stopped immediately. Biden is reportedly working closely with Europe to reduce dependence on Russian energy. Bloomberg reports saying that he wants to ensure natural gas and hydrogen supplies for Europe. 
Both Russia and Ukraine agreed on nine humanitarian corridors for evacuating civilians and minimizing casualties. However, the two warring countries didn't agree on Mariupol, the besieged port city. On its eastern flank, NATO is doubling its battlegroups. A new military aid package including anti-tank weapons, anti-aircraft missiles, small arms, and tactical drones has been announced by the US for Ukraine.
With US President Joe Biden calling Putin a "war criminal", Russia regarded the comment as "unforgivable". The Russian foreign ministry has also summoned the US ambassador and said that this comment by the US President had brought US-Russia relations "on the verge of breaking". A Kremlin spokesperson has said that Russia may use nuclear weapons if they face an "existential crisis".
On Sunday (March 27), Ukraine's Chief of Defence Intelligence, Kyrylo Budanov, said that Russian forces are slowly advancing toward the Ukrainian capital Kyiv to divide Ukraine into two parts. He also said that Putin's failure to "capture Kyiv and remove Ukraine's government" has made Russia divide the country like that of North Korea and South Korea. 
Budanov said:
"There are reasons to believe that he may try to impose a separation line between the occupied and unoccupied regions of our country. In fact, it will be an attempt to set up South and North Koreas in Ukraine."
After meeting the refugees in Poland on Saturday, the US President called the Russian President Vladimir Putin a "butcher". He also went on to declare that Putin can't remain in power. However, on Sunday, Biden clarified that the US doesn't have a policy of regime change in Russia. 
The Ukrainian MP David Arakhamia has said that both Russia and Ukraine have agreed to hold a new negotiation round in Turkey on March 28-30.
March 13:
Russian Attack on Yavoriv Military Base
Over 35 people have died, and 134 more people have been wounded due to 30 cruise missile attacks on Yavoriv military training facility. Russia claimed "up to 180 foreign mercenaries" were killed, and weapons from NATO countries were destroyed.
Renowned US Journalist Killed
US journalist Brent Renaud was killed when Russian troops opened fire on a car he was traveling in Irpin, which is located around 6 miles (10 km) northwest of Kyiv.
Ukraine Accuses Russia of using Banned Phosphorus Munitions
Ukraine officials have claimed that Russia has used banned phosphorus munitions in the eastern Luhansk region of Ukraine. According to the Rome convention, Lyudmila Denisova said: "The bombing of a civilian city by the Russian attackers with these weapons is a war crime and a crime against humanity."
Jake Sullivan Warns China to Avoid Helping Russia
The top aides of the US and China are meeting in Rome on Monday. White House national security adviser Jake Sullivan has warned China that the United States will not take it lightly if they help Russia in avoiding western sanctions and supplying military equipment.
March 12:
Russia to Intensify Air Strike; Melitopol Mayor Abducted
The Ukrainian army has said that Russia is going to intensify rocket and artillery attacks on civilian infrastructure. Ukraine has claimed that Russian forces have abducted the mayor of Melitopol, Ivan Fedorov.
The US Announces Sanctions against Putin's Close Circle
The United States has imposed sanctions on close aides of Russian President Vladimir Putin, including his spokesperson, a few Russian lawmakers, and Russian billionaire Viktor Vekselberg.
Ukrainian officials have said that a cancer hospital and many residential buildings were hit in Mykolaiv (a southern city of Ukraine) during heavy shelling.
Russia Slams US Propaganda Demonising Them
Russian ambassador to the US, Anatoly Antonov, has said that the US is trying to demonize Russia by claiming they would use chemical weapons in Ukraine without furnishing any evidence.
Russia is Mobilising Troops in Donbas and Crimea
Ukrainian military intelligence chief, Kyrylo Budanov, has said that Russia has started to mobilize its troops in Crimea and Donbas regions from Russia's central and eastern parts.
French President and German Chancellor Speaks with Putin
French President Emmanuel Macron and German Chancellor Olaf Scholz have talked to the Russian President, demanding "an immediate ceasefire by Russia".
Mariupol's Outskirts Captured by Russian Forces
Ukraine's military has said that Russian forces have captured the eastern outskirts of Mariupol and Severodonetsk. Ukrainian President Volodymyr Zelensky has said that the Russian invasion has killed around 1,300 Ukrainian troops till now. The report comes as Russian forces close in on the Ukrainian capital city, Kyiv. Russia has reportedly created a list of western countries against which they are going to impose sanctions.
Children Affected, Ukrainian Troops Killed
Ukraine has claimed that at least 79 children have been killed and over 100 wounded by the special military operation launched by Russia since February 24.
Russia-Ukraine Peace Talks Continue
Peace talks between Russia and Ukraine are continuing through video conferences for setting up and expanding humanitarian corridors, especially in Mariupol.
March 11:
Russia Intensifies Attack on Ukraine
Russia has intensified its airstrikes on Ukrainian cities, extending its attack on northwest and southwestern regions. Many foreign fighters, including thousands from the Middle East, will fight in Ukraine.
2.5 million people Fled Ukraine
Reports say that more than 2.5 million people have left Ukraine since Russia invaded the country in late February. 26 healthcare facilities have been reportedly destroyed during the Russian offensive against Ukraine.
The EU has announced its intention of doubling military aid to Ukraine. The US President has said he will ban imports of Russian items such as diamonds, alcohol, and seafood. The US will also downgrade the trade status of Russia.
March 10:
Highest-Level Russia-Ukraine Talks Fail
Despite Ukraine's new proposal of maintaining its neutrality, the talks between the foreign ministers of Russia and Ukrainian foreign ministers Sergei Lavrov and Dmytro Kuleba failed.
IMF Issues Emergency Funding for Ukraine, UK Issues New Sanctions against Russian Billionaires
The International Monetary Fund (IMF) has approved an emergency fund of US$1.4 billion for Ukraine. The chief economist of the World Bank has said that the ongoing Russia-Ukraine war could skyrocket food prices in Africa and Middle Eastern countries, which could, in turn, fuel social unrest.
March 9:
Ukraine Hints at Meeting Russian Demands
At least 17 people getting wounded due to a Russian airstrike in a maternity hospital in Mariupol. Ukrainian President Volodymyr Zelenskyy has cooled down on Ukraine joining NATO. He is also willing to compromise on Ukrainian pro-Russia separatist territories' status.
US to give US$13.6 billion Help to Ukraine and European Allies
The US lawmakers have reached a bipartisan deal, agreeing to provide Ukraine and its European allies with US$13.6 billion. The US has rejected plans of sending Polish fighter jets to Ukraine.
Russian President Vladimir Putin has signed a decree stating that they would restrict exports of some commodities.
March 8:
Russia's Energy Sector Targeted by US and EU
US President Joe Biden has announced that in response to the Russian invasion of Ukraine, they are going to ban imports of oil, coal, and natural gas from Russia. Likewise, the European Union has also planned to lower its dependence on Russian gas by 80% in 2022. For funding increased energy and defense-related spending, the EU is reportedly trying to adopt a two-pronged approach: boost efficiency, on the one hand, and seek new gas supplies, on the other. Shell, an oil giant from Britain, has announced their decision to stop new Russian oil and gas purchases.
Using a humanitarian corridor, Ukraine has evacuated civilians from Sumy, an eastern Ukrainian city. Around 600 Indian nationals (primarily students) have also been evacuated from Sumy.
March 7:
Crude Oil Price Hits US$139 after US-Allies Mull Russian Oil Ban Report
Reports say that the United States and its allies weigh banning Russian oil imports and pressuring Russia to halt its offensive in Ukraine. Brent crude price has hit US$139 per barrel. US-Poland is in talks to send fighter jets to Ukraine.
1.7 Million People Flee Ukraine
With the Russian forces' continued shelling of Mariupol, over 1.7 million people have fled Ukraine.
Ukraine Calls Russian Plan "Immoral"
A Ukrainian government spokesperson has said that the Russian plan of evacuating Ukrainian refugees to Russia and Belarus is "completely immoral". Russian and Ukrainian delegates prepare to hold their 3rd round of talks.
March 6
1.5 Million Flee Ukraine, Ceasefire Fails
In 11 days of the Ukraine-Russia conflict, 1.5 million people fled the country. Both countries traded blame on each other as the agreed-upon ceasefire failed.
Meanwhile, Visa and MasterCard have stopped their Russian operations. After this move, Sberbank PJSC is reportedly seeking the possibility to issue cards by using Mir (Russia's payments system) and UnionPay of China.
India's "Operation Ganga"
India has evacuated around 16,000 Indian students through 76 flights from Romania, Poland, Hungary, and Slovakia. Efforts are being made to rescue and evacuate around 700 Indian nationals from Sumy (an eastern city in Ukraine) as they got stuck amid intense shelling and fighting. Operation Ganga has entered its last leg. Prime Minister Narendra Modi has lauded the effort and underscored the increasing influence of India across the globe.
Mounting Civilian Casualty
The UN says 364 Ukrainian civilians have died and another 759 have been injured during the conflict.
Russia has made it clear during a conversation with French President Emmanuel Macron that they don't want to attack nuclear plants and also welcomed meeting with IAEA (International Atomic Energy Agency) representatives.
March 5:
Ceasefire Announced in Mariupol and Volnovakha
For allowing safe passage to civilians, Russia has announced a ceasefire around Mariupol and Volnovakha cities.
March 4:
Major Ukrainian Nuclear Power Station Seized by Russia
After reports of clashes at the Zaporizhzhia Nuclear Power Station in Ukraine, Russian forces have taken control of the plant. However, no leaks have been reportedly detected.
March 3:
Russia Takes First Major Ukrainian City
Russian forces have taken control of a major city in southern Ukraine, Kherson. It has now stepped aerial bombing of two other major cities, Mariupol (a major southeastern port city) and the capital, Kyiv.
1 Million People Leave Ukraine
The UN refugee agency said that in the first 7-days of the war, around 1 million Ukrainians have fled Ukraine. Russian and Ukrainian envoys start their second round of talks.
US-Russia Hotline, NATO Meeting
To prevent miscalculation, the USA has established a military hotline with Russia. The foreign ministers of NATO countries met today. They rejected Ukraine's plea of imposing a no-fly zone for halting Russian bombing as it may widen the danger of conflict. Ukrainian President Volodymyr Zelenskyy criticized the decision.
Humanitarian Corridor Agreement
In their second round of talks, Russia and Ukraine agreed to create humanitarian corridors to minimize casualty.
The lower house of the Russian parliament passed a bill allowing up to 15 years in jail for anyone who spreads fake news about the armed forces of Russia. For approval, it has been sent to the upper house and President Vladimir Putin.
Quad Alliance comes into Action
The Quad alliance including US, India, Australia, and Japan has said in a joint statement that they are going to establish a joint humanitarian aid mechanism for Ukraine. However, they didn't condemn the actions of Russia.
March 2:
Russia has continued aerial bombing of several cities in Ukraine, especially Kharkiv
An independent television channel, as well as a liberal radio station, were blocked by the Putin administration over their war coverage.
"Russia weaker and the rest of the world stronger"

US President Joe Biden has said during his first State of the Union address that the war on Ukraine has left  "Russia weaker and the rest of the world stronger."
He also announced that the administration is also closing its airspace to all Russian flights.

Western Companies Severe Business Ties with Russia
Airbus and Boeing suspend support to the airlines in Russia. ExxonMobil becomes the latest western oil company to exit joint ventures in Russia.
UNGA Demands Ukrainian Invasion of Russia
The UN General Assembly has approved a resolution that overwhelmingly supported the demand to end the Russian invasion of Ukraine.
March 1:
Russian Military Advances towards Kyiv, Missile Strike in Kharkiv
Satellite images showed that a 40-mile-long Russian military convoy is advancing towards Kyin, the capital city of Ukraine. Emergency responders said that a Russian missile hit central Kharkiv, the 2nd largest city in Ukraine.
Over 660,000 People Fled Ukraine
The UN has said that over 660,000 people have left Ukraine and entered other neighboring countries, giving rise to a new wave of immigrants to other European nations.
Ukraine Applies for EU Membership
Ukrainian President Volodymyr Zelenskyy has applied for European Union membership. While addressing the European Parliament, he called for support.
The International Criminal Court has said that they are going to open a war crime investigation in Ukraine.
Turkey to Apply for Montreux Convention
To avoid an escalation of the war in Ukraine, Turkish President Recep Tayyip Erdogan has said that they are applying the Montreux Convention for preventing warships from entering the Bosporus and Dardanelles Straits.
February 28:
Russia-Ukraine Hold Round #1 Talks
High-level delegations from both Russia and Ukraine started negotiations at the Ukrainian border with Belarus. The talks took place after Russia put nuclear weapons on special alert. The talks ended inconclusively.
Russian Ruble to US Dollar (RUB/USD) Dropped 30% to Record a Low
The exchange value of RUB/USD fell to a record low. This was mainly because of the new financial sanctions imposed by the USA, EU countries, South Korea, and Japan. To contain the free fall, the central bank of Russia doubled its interest rate to nearly 20%.
EU and Germany Announce to Arm Ukraine
For the first time, the European Union decided to arm Ukraine, a 3rd party country. While making a major shift in their policy, Germany's Chancellor Olaf Scholz announced that they will also send weapons to Ukraine.
Ukraine-Russia War Crisis: Between Hope and Despair
Russia launched a full-scale military invasion of Ukraine. Russian President Vladimir Putin asked the Ukrainian military to lay down their weapons. After a pre-dawn televised address, Putin initiated the three-pronged attack (by land, air, and sea) on Ukraine. Ukrainian President Volodymyr Zelenskyy said on Wednesday (Feb 23) that Russia has attacked his country's border guards and military infrastructure.
Russian President Vladimir Putin's Message
Putin threatened:
"Whoever would try to stop us and further create threats to our country, to our people, should know that Russia's response will be immediate and lead you to such consequences that you have never faced in your history. We are ready for any outcome."
Heartfelt Plea by Guterres
UN Secretary-General Antonio Guterres has made a heartfelt last-minute plea to the Russian President to stop the war. Speaking after an emergency meeting of the United Nations Security Council (UNSC), he said:
"President Putin, in the name of humanity, bring your troops back to Russia."
He also added that the consequences of a war would be devastating for the eastern European country and would also have a far-reaching effect on the world economy.
US Announces First Tranche of Sanctions
US President Joe Biden announced the first step of sanctions on Russia to starve the country of financing. He said, "we're implementing sanctions on Russia's sovereign debt. That means we've cut off Russia's government from Western financing." He went on to add that this will target the Russian financial institutions as well as the elites.
Germany Puts Operations of Nord Stream 2 Gas Pipeline on Hold
The 1,200 km (746 mi) Nord Stream 2 pipeline under the Baltic Sea from the Russian coast near St Petersburg to Germany's Lubmin has been put on hold by Germany in response to Russia's Ukraine invasion. Though the pipeline was completed in September 2021, it isn't operational yet.
Ukraine Declares a State of Emergency
The Ukrainian parliament has voted overwhelmingly to approve a national state of emergency in response to the Russian invasion.
Sanctions by other Countries
Japan, Canada, and Australia have also implemented sanctions in response to Russia's Ukraine invasion.
Ukrainian President Volodymyr Zelensky has called upon civilians having battle experience to take up arms and defend their country. Reports claim that Ukraine has shot down 6 Russian planes and 1 helicopter. Amid intensifying the Russian attack, Ukraine has also claimed that over 40 soldiers and 10 civilians were killed. With the EU leaders saying "the harshest package of sanctions we have ever implemented", the US troops in Poland are receiving Ukrainian refugees.
Russian Forces have Advanced to Ukrainian Capital, Kyiv
The Russian military entered Kyiv on Friday (Feb 25) as Ukrainian forces tried to resist. Thousands of Ukrainians have fled their homes. The Ukrainian President claimed that the death toll has now reached 137.
Anti-War Protest in Russia
Reports say over 1,700 Russians were detained after they participated in an anti-war rally in Russia.
China's Foreign Minister Wang Yi has told his Russian counterpart that they respect the "sovereignty and territorial integrity of all countries". He went on to say that the issue of Ukraine is complex from a historical perspective and the world must also understand the security concerns of Russia. China stressed the need for dialogue and negotiation to create a "balanced, effective, and sustainable European security mechanism."
UNSC Resolution Against Russia Rejected
A UN Security Council resolution condemning the Russian aggression in Ukraine was put to the vote. While 11 countries voted in favor of the motion, Russia used its veto power as the Security Council's permanent member. 3 countries, including China, India, and UAE, abstained from voting. After the vote, Linda Thomas-Greenfield (US Ambassador to the UN) said "Let me make one thing clear. Russia, you can veto this resolution, but you cannot veto our voices, you cannot veto the truth, you cannot veto our principles, you cannot veto the Ukrainian people."
T S Tirumurti, India's Permanent Representative to the UN Ambassador, stressed the need for dialogue to settle the differences and disputes among all parties. He urged all sides to stop violence and hostilities.
India has Rescued 709 Indian Students Studying in Ukraine
India has, now, rescued 709 Indian students studying in Ukraine by flying them off on three special evacuation Air India flights (AI1944, AI1942, and AI1940). The Indian nationals who fled to the Ukraine-Romania and Ukraine-Hungary borders were taken to Bucharest and Budapest, respectively, and then evacuated from there.
Russia Puts Nuclear Deterrence on High Alert
Russian President Vladimir Putin has said that the western countries and NATO powers have imposed hard-hitting financial sanctions and at the same time made aggressive statements. As a result, Russia had no other choice but to put Russian nuclear deterrent forces on high alert and in a "special regime of combat duty". Russia has the 2nd largest arsenal of nuclear weapons along with a huge ballistic missile cache.
Ukraine to Hold Peace Talks with Russia
Ukrainian President Volodymyr Zelensky has said they will hold talks with Russia at the Belarus border without preconditions. Belarus has assured that the planes, helicopters, and missiles will remain on the ground during the talks. Ukraine offered peace talks just after Russia had put nuclear deterrence on high alert.
Current Standoff between Ukraine and Russia: A Synopsis
The ongoing standoff between Russia and Ukraine started in October 2021 when the former began moving troops and military equipment near the Ukrainian border, raising concerns regarding a potential invasion. By December 2021, over one hundred thousand Russian troops were reportedly concentrated near the border with Ukraine. U.S. intelligence officials had warned that Russia is planning to invade Ukraine by early 2022.
The Russian foreign ministry issued a set of demands in mid-December 2021. Two critical things that Russia demanded are:
Ukraine shouldn't enter NATO (North Atlantic Treaty Organisation).

Reduction of NATO forces and military equipment in Eastern European countries as a prerequisite for Russia to withdraw its military forces.
The U.S. and NATO rejected these demands. They also warned Russia of retaliation (in economic sanctions, small arms, and other defensive weaponry support to Ukraine, etc.) if it invaded this strategic eastern European country. 
In early February 2022, the Biden administration ordered 3,000 US troops temporarily to Romania and Poland, two bordering countries of Ukraine in Eastern Europe. The U.S. President also clarified that the U.S. troops would not enter Ukraine. 
Since the Cold War, Russia also deployed its most extensive troop to its close ally, Belarus. Tensions remain between Russia, Ukraine, the U.S., and NATO countries as a formal agreement is out of sight. The Ukraine-Russia standoff escalated today to a possible war-like situation after Russia's latest move.
You can also buy a high-resolution image file of these maps or order a large paper/laminated map
Escalation of Ukraine Russia War Crisis
On February 22, 2022, Russian President Vladimir Putin signed a treaty with two breakaway areas of Ukraine, Donetsk, and Luhansk, recognizing them as an independent. He also described Ukraine as Russian history integral part. This war has escalated the tension between Russia and Ukraine and raised concerns regarding a full-blown international war. 
International Response to Russian Checker
Ukrainian President Volodymyr Zelenskyy said they aren't afraid of the recent Russian move and expect "clear support" from the western countries. Ukraine has also called for urgent UNSC consultations. 

In a statement, NATO secretary-general Jens Stoltenberg said:
"I condemn Russia's decision to extend recognition to the self-proclaimed Donetsk People's Republic and Luhansk People's Republic. This further undermines Ukraine's sovereignty and territorial integrity, erodes efforts towards a resolution of the conflict, and violates the Minsk Agreements, to which Russia is a party."
U.S. President Joe Biden has signed an executive order to prohibit any kind of trade/investment/financing between a U.S. citizen and the two breakaway areas of eastern Ukraine (Russia has recognized them as independent regions). 

President of the European Commission Ursula von der Leyen tweeted:
"The recognition of the two separatist territories in Ukraine is a blatant violation of international law, the territorial integrity of Ukraine, and the Minsk agreements. The E.U. and its partners will react with unity, firmness, and determination in solidarity with Ukraine."
With the recent move by Russia, the Russia-Ukraine war crisis has become an international crisis. U.N. Secretary-General Antonio Guterres has said that Russia's decision is a violation

"of the territorial integrity and sovereignty of Ukraine and inconsistent with the principles of the Charter of the United Nations." 

In a joint statement, France, Germany, and the U.S. have said that Russia's recognition of Ukrainian rebel-controlled regions as independent

"will not go unanswered"

. 

India's Permanent Representative to the United Nations, TS Tirumurti, has called for restraint and de-escalation of tension on all sides. While stressing the well-being of thousands of Indian nationals in Ukraine, he went on to say that the issue must be resolved through diplomatic dialogue. 

At today's urgent UNSC emergency meeting, Russia said they are open to a diplomatic solution in Ukraine. However, they can't allow a "bloodbath in Donbas". Russia also accused their "western colleagues led by the U.S." of playing a negative role. 
Effect of Ukraine Russia Crisis on the International Market
With the increased uncertainty and further downside risk for global risk assets, the global market is bracing for heavy falls. 

The futures market is pointing at a fall of 1.8%, 2.2%, 2.5%, and 3.7% on Wall Street's S&P 500, Japan's Nikkei, Nasdaq (.NQc1), and Germany's DAX, respectively. 

The demand for U.S. Treasuries and other traditional safe assets increased rapidly. 

After escalating the Ukraine-Russia war crisis, India's Sensex has dropped over 1,000 points and Nifty50 has fallen below 16,950. 

The commodity market reacted sharply as Brent crude prices rose above US$97/barrel. This is because Russia is the 3rd largest producer and 2nd largest exporter of crude oil. 

Analysts believe that the current geopolitical situation will keep the inflationary pressure high. There is no sign of the market's bottoming out because the Ukraine-Russia standoff keeps the tension high internationally. It will keep the commodity prices high, especially those coming out of Russia, even without any tough sanctions. 
Background of the Current Ukraine-Russia Standoff: A TimeLine
The recent standoff between Russia and Ukraine didn't start in late 2021. On November 2, protestants erupted in the Ukrainian capital, Kyiv, after its then-President Viktor Yanukovych rejected a more significant economic integration deal with the European Union (E.U.). 
February-March 2014

The protest intensified after the violent crackdown by the Yanukovych administration, and in February 2014, President Yanukovych fled Ukraine. 

Following this development, Russian troops took control of the Crimean region of Ukraine in March 2014. 

In a referendum, the Crimeans voted in favor of joining Russia. Russian President Vladimir Putin said that the rights of the Russian-speaking populace in Crimea and southeast Ukraine must be protected. The formal annexation of Crimea took place on March 18, 2014. 
Ethnic divisions in the region widened in the Donetsk and Luhansk regions of eastern Ukraine. The pro-Russian separatists in these regions held a referendum and declared independence from Ukraine in May 2014. 
The Ukrainian crisis first became an international crisis (by putting US-EU allies against Russia) when all 298 people on a civilian Malaysian Airlines flight died after being shot down over Ukrainian airspace. 
France, Germany, Russia, and Ukraine tried to cease the violence in Eastern Ukraine by signing an agreement called the Minsk Accords. It included:
Cease-fire provisions 

Heavy weaponry withdrawal

Complete Ukrainian government control throughout the conflict zone
However, a satisfactory resolution to the matter and a diplomatic settlement among the parties were unsuccessful. 
The air accident investigators concluded a Russian-built surface-to-air missile that downed the civilian aircraft. 
Severe cyber attacks in Ukraine led to a loss of power, which affected over 225,000 people.
NATO announced rotating troops through Poland, Lithuania, Latvia, and Estonia. They deployed four battalions to Eastern Europe to deter future Russian aggression in the Baltic region and other parts of Europe. 
Investigators went on to say that Russia had provided the missile system that downed the civilian aircraft. The missile system was fired from eastern Ukraine, and after the airplane was consumed, the missile system was returned to Russian territory.
A significant cyberattack targeting a Ukrainian utility company led to a severe power blackout in Kyiv. 
NotPetya cyberattack hit Ukraine's government and business computer systems, crippling businesses in the country and causing severe damage worldwide. It caused a loss of billions of dollars.  
To further bolster the deterrence presence of NATO, two U.S. Army tank brigades were deployed in Poland.
Under the Donald Trump administration, security assistance to Ukraine increased, and the U.S. imposed new sanctions on 21 individuals, including nine companies linked to the conflict and many Russian officials.
The U.S. State Department approved the first sale of lethal weaponry (anti-tank weapons) to Ukraine.
Russia held its largest-ever annual military exercises since the fall of the USSR.
Ukraine joins U.S. and NATO countries in a series of large-scale air exercises in western Ukraine. 
All these developments led to the current Ukraine-Russia standoff. 
Related Links: