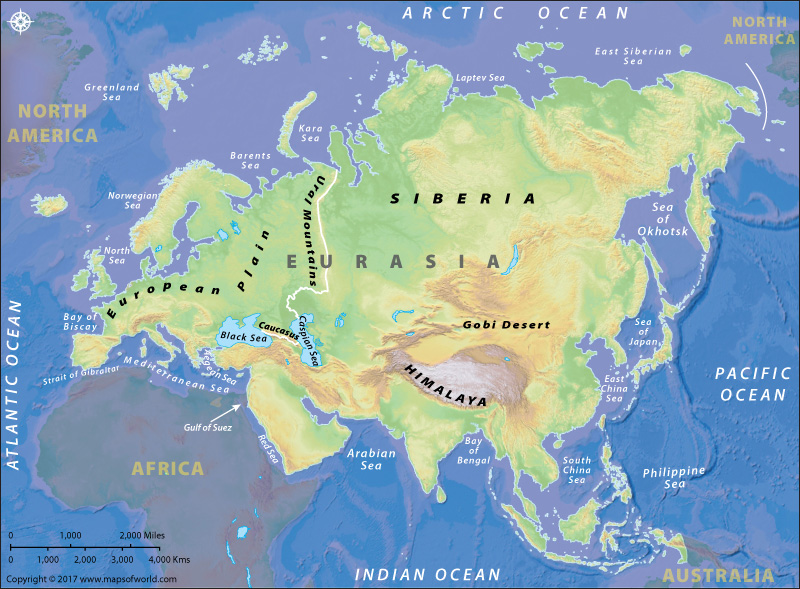 Where is Eurasia?
Eurasia is a portmanteau that combines Europe and Asia. The term is used to refer to the vast continental landmass that encompasses both these continents. It stretches from the western frontiers of Europe to the Pacific coast of Russia spanning an area of 21 million square miles. As of 2016, Eurasia is home to a population of 5.175 billion (making up about 70 percent of the world's population) living in 90 different countries. It covers about a third of the earth's landmass.
Which Two Continents Make up Eurasia?
Geographers generally consider having an independent tectonic plate one of the criteria for defining a continent. Going by that definition alone, Eurasia should be considered one single continent. Historically and socially though, it is divided into two very different continents – Europe and Asia. The Aegean Sea, the Ural Mountains, the Black Sea, the Caucasus Mountains, and the Caspian Sea are the natural boundaries that divide the two continents.
Eurasia is again connected with Africa through a narrow strip of land near the Gulf of Suez. Together the three continents make up the contiguous landmass referred to as Afro-Eurasia. These three are also the most populated continents in the world.
| | | |
| --- | --- | --- |
| Continent | Population (in million) | Percentage of World Population |
| Asia | 4436.2 | 59.69 |
| Africa | 1216.1 | 16.36 |
| Europe | 738.8 | 9.94 |
*as of 2016
Eurasia alone accounts for over 36 percent of the earth's land area. It is, however, important to remember that Eurasia does not only refer to the mainland but also to numerous islands – small and big – that form part of the two continents. Some of them such as the United Kingdom, Philippines, Japan, and Indonesia make up entire countries.
Due to the great amount of area, it is spread across, Eurasia is home to a number of ecosystems and numerous landforms. From the vast Gobi desert to the towering Himalayas, from the Great European Plain to the Mediterranean Coasts, from the harsh cold regions of Siberia to the balmy beaches of the Indian Ocean – Eurasia experiences almost all types of climatic conditions. It is in this landmass that some of the greatest ancient civilizations were born too.
Related Links:
Related Maps and Info