What is the longest lasting hurricane?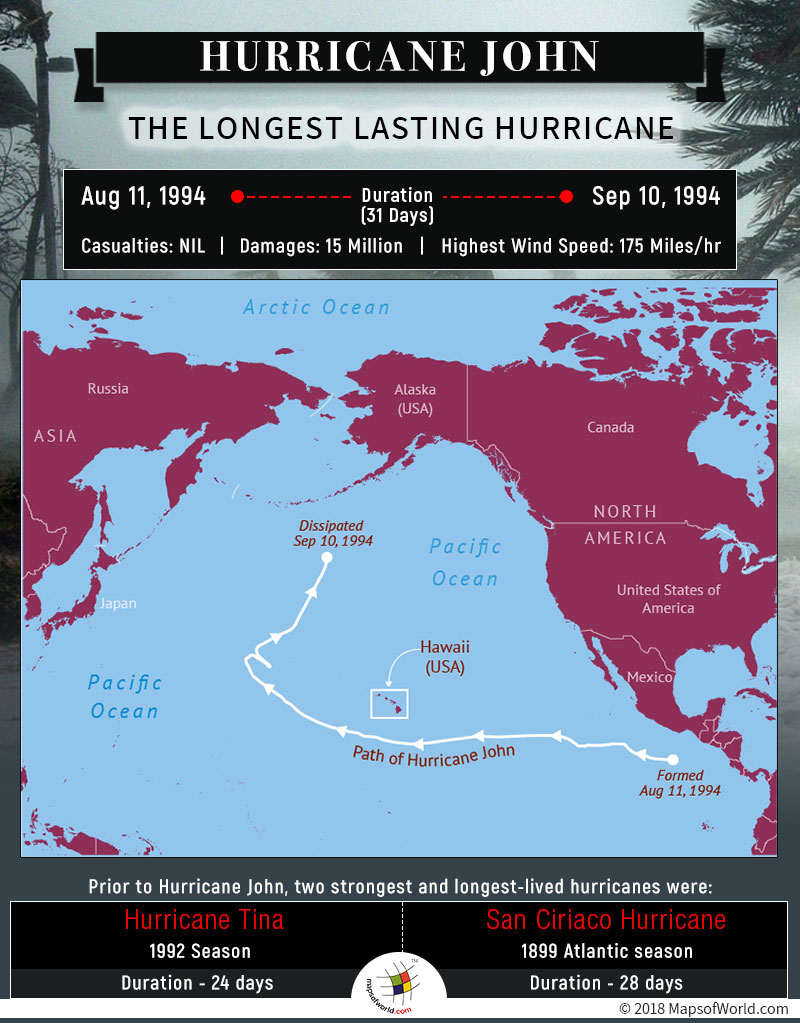 Longest lasting Hurricane – Hurricane John
The worst and the most deadly weather phenomenon, hurricanes lead to extensive loss of life and property and leaves trails of destruction. The setback makes it difficult to get back to normal life.
 Longest Lasting Hurricane
In August 1994, the US state of Hawaii witnessed the longest hurricane ever observed. It is among the very few hurricanes that are considered to be both a hurricane and a typhoon. Hurricane John also called typhoon John, formed on August 11, 1994, and dissipated on September 10, 1994. Though the hurricane lasted a full 31 days, the impact on both the Hawaiian Islands and the Johnston Atoll was minimal. The hurricane passed just within 16 miles of Johnston Atoll. By then it had lost much of its steam. No casualties were reported due to the hurricane, but the damage was pegged at $15 million.  The remnants of the hurricane, however, did impact the state of Alaska. Two strongest and longest-lived hurricanes – Hurricane Tina (24 days in the 1992 season) and San Ciriaco Hurricane (28 days in the 1899 Atlantic season) have been beaten by the 31-day long Hurricane John.
Hurricane John 1994
John was a powerful hurricane, and on the Saffir-Simpson hurricane wind scale, peaked as a category 5 hurricane. The hurricane was packed with high-speed winds, with the highest reaching up to 175 miles per hour. It traveled a path of 7,165 miles from the eastern to the western Pacific and back to the central Pacific. This also makes it the farthest-traveling hurricane ever observed. Prior to this, the farthest traveling cyclones were the 1978 season Hurricane Fico in the Pacific traveling a path of 4,700 miles, and the 1966 Atlantic Season Hurricane Faith worldwide with 6,850 miles.
Surpassing both Hurricane Tina's previous record in the Pacific of 24 days in the 1992 season and the 1899 San Ciriaco hurricane's previous world record of 28 days in the 1899 Atlantic season.
Related Maps and Info: