How Long Does Hurricane Season Last in the US?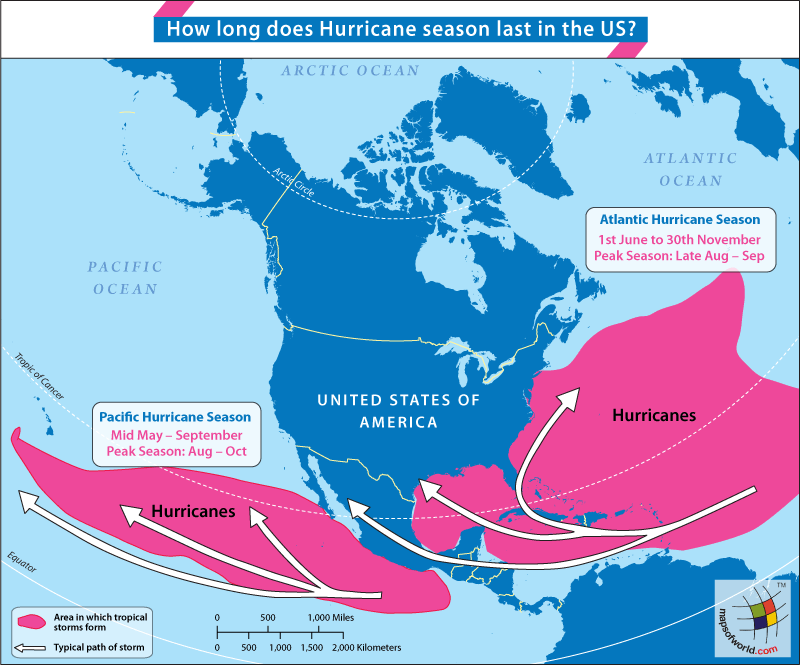 Each year through the summer months, numerous hurricanes form over the Atlantic and Pacific Oceans. About thirty per cent of the hurricanes that form over the Atlantic Ocean head inland and bring torrential rains, lashing storms, floods, and untold damage to the eastern coast. One of the essential conditions for the formation of hurricanes is the presence of warm ocean waters. 
This condition is primarily fulfilled during the summer months, and this also explains the fact that most of the hurricanes and tropical storms form over the tropics.
In 1935, the concept of designating a hurricane season came into effect, and by 1955, hurricane circuits were set up along the Gulf of Mexico and the Atlantic Ocean. The advent of satellite imagery and operations of hurricane hunter aircraft have made hurricane predictions increasingly accurate over the years.
Atlantic Hurricane Season
Generally, the Atlantic hurricane season lasts from June 1st, through November 30th. Each year, however, the National Hurricane Center determines the period when storms and hurricanes are likely to continue for that particular year. Late August through September is considered the peak of the hurricane season.
Most hurricanes start as tropical depressions. They then intensify to become full-blown hurricanes only when wind speeds reach 74 miles per hour or higher. The National Hurricane Center can only predict an approaching storm some three to five day before it crosses a particular location.
On an average, ten named storms, six hurricanes and two major hurricanes form over the Atlantic Ocean every year.
Pacific Hurricane Season
The hurricane season for the eastern Pacific Ocean starts by mid-May and goes on through September each year. The Hawaiian Islands and the Baja California Peninsula are most affected by the hurricanes that form over the Pacific basin. Here too, August through October is the peak season for hurricanes.
Be it the Atlantic Ocean, the Caribbean Sea, or the Pacific Ocean, the months of May, June, July, and November, see the lowest hurricane activity during the hurricane season. While hurricanes do occur during these months, the probability of a hurricane formation is relatively small.
Know more:
Related Maps: