How Are Hurricanes Named?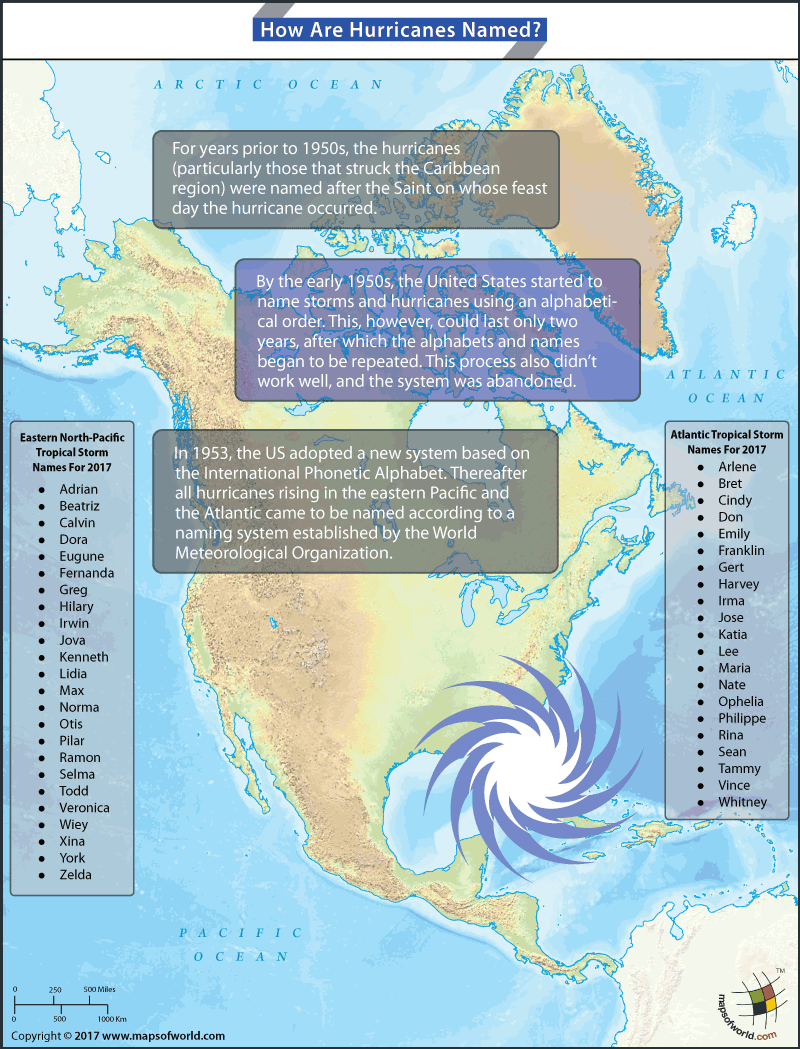 The present system of naming tropical storms and hurricanes dates back to the 1950s. For years prior to this, the hurricanes (particularly those that struck the Caribbean region) were named after the Saint on whose feast day the hurricane occurred. For example, the hurricane that struck Puerto Rico on July 26, 1825, was named Santa Ana after the Catholic Saint Anne. If hurricanes would hit on the same day in subsequent years, they would have the same name, but with added numerals. This system, however, led to a great deal of confusion. Communicating about hurricanes and issuing relevant warnings is a constant challenge, and it became clear that it is easier to remember hurricanes if they are named, rather than numbered or technical terms.
By the early 1950s, the United States started to name storms and hurricanes using an alphabetical order. This, however, could last only two years, after which the alphabets and names began to be repeated. This process also didn't work well, and the system was abandoned.
In 1953, the US adopted a new system based on the International Phonetic Alphabet. Thereafter all hurricanes rising in the eastern Pacific and the Atlantic came to be named according to a naming system established by the World Meteorological Organization. By 1978 male names were included in the list of hurricane names for storms from the Northern Pacific. The next year, the pool of names used to identify Atlantic storms and hurricanes also started to include male names.
For all hurricanes and storms in the Atlantic basin, there is a six-year rotation system. This means that the names can be repeated after six years. There are instances, however, when particular hurricane names have been retired after a particular has caused large and widespread destruction.
Cyclones and typhoons in other parts of the world are also named according to similar protocols. For example, the cyclones of the Indian Ocean are named from a pool of names contributed by countries in Southern Asia. Each region of the world uses common names in the region to name the tropical storms that originate indigenously. For the Atlantic hurricanes the alphabets Q, U, X, Y, and Z, are not used to name storms due to a paucity of names starting with these letters.
When does a hurricane get named? A hurricane is named once its wind speed reaches 39 miles per hour.
Approved Hurricane Names For 2017
Atlantic Tropical Storm Names For 2017
Arlene
Bret
Cindy
Don
Emily
Franklin
Gert
Harvey
Irma
Jose
Katia
Lee
Maria
Nate
Ophelia
Philippe
Rina
Sean
Tammy
Vince
Whitney
Eastern North-Pacific Tropical Storm Names For 2017
Adrian
Beatriz
Calvin
Dora
Eugune
Fernanda
Greg
Hilary
Irwin
Jova
Kenneth
Lidia
Max
Norma
Otis
Pilar
Ramon
Selma
Todd
Veronica
Wiey
Xina
York
Zelda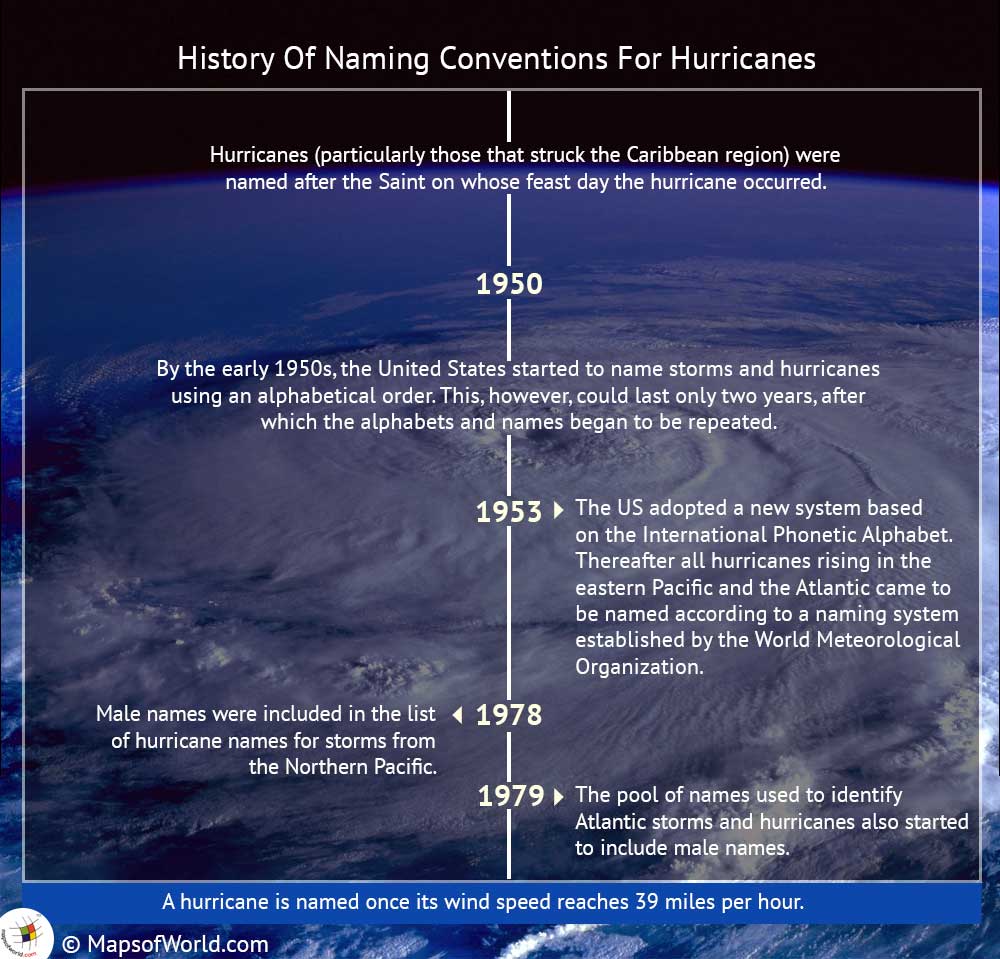 Related Maps: