How to Survive a Hurricane?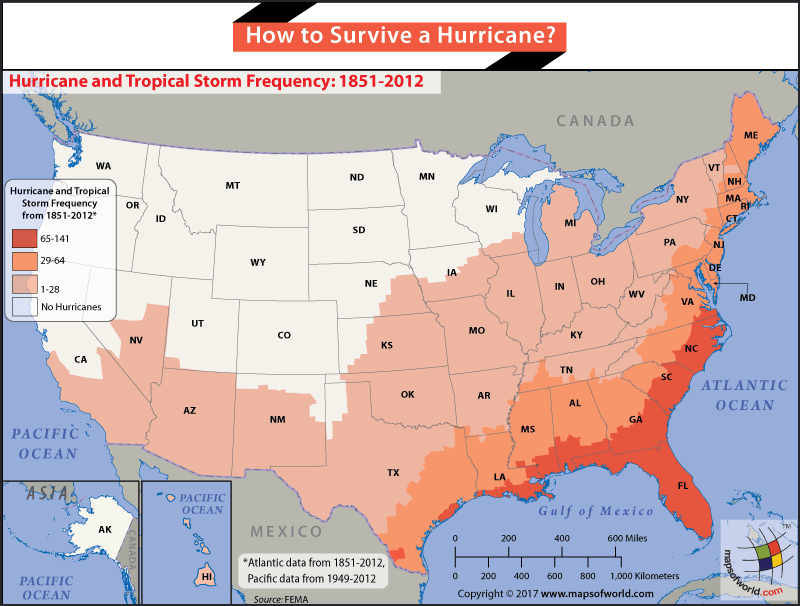 Hurricanes are some of the most violent forces of nature. In the US, hurricanes from the Atlantic Ocean are among the most destructive natural phenomena. Here are a few hurricane survival tips and measures that will help you and your family stay safe in case a hurricane is headed your way –
Have a Plan – If you live in one of the hurricane prone states such as Florida, North or South Carolina, or Georgia – it is essential that you have a hurricane survival plan. The most important activity that you can undertake while putting together a Survival Plan is assembling an Emergency Supply Kit.
Educate your Family – Another important activity is to sit with your family and make them aware of the plan too. This may include designating emergency duties and agreeing on a place to meet in case you are all separated. It also includes teaching your children tips to surviving the floods and destruction a hurricane brings along. Being prepared is the key to surviving a hurricane.
Stay Tuned In – When it looks like your city or community may be in the path of an approaching hurricane, remain in to weather broadcasts. Follow all directions provided by authorities including directives to evacuate if necessary. Fill up on gas and stay ready to evacuate whenever instructed.
Find a Safe Spot – The basement of your home is the safest spot to weather out a hurricane. Assemble in the basement or in the center of the house (preferably a room without windows). Stay away from the windows, do not drive or venture out into the sea till you receive all-clear instructions. The eye of a storm may appear calm, do not leave the secure spot till you are certain that the hurricane has blown over. If you cannot find a safe room, a basement, or a secure shelter, find a Red Cross shelter before the hurricane arrives.
Guard from Accidental Fire – Do not light candles. Do not plug in or use a generator if your house is flooded. Ensure you have an adequate supply of flashlights and battery supplies. Avoid using any electronic devices and contact with fallen cables or downed power lines. Keep battery powered radios ready too.
Stock Up on Food and Water – When a hurricane strikes, one of the first things to go down are power lines. Without the refrigerator milk, meat, and other food items are likely to spoil quickly. Stock your basement or secure shelter with adequate quantities of packaged food that can be consumed without cooking or refrigeration. Do not miss out on large quantities of bottled water since flooding and tidal surges may render tap water unsafe for drinking purposes. Canned and dry foods come in handy at this time.
Remain Cautious while Reentering Homes – Check for structural damage, fallen debris, sewage spills, flooded basements, mold, and other damages before reentering your homes if you are coming back from an evacuation.
Infographic on How to Survive a Hurricane: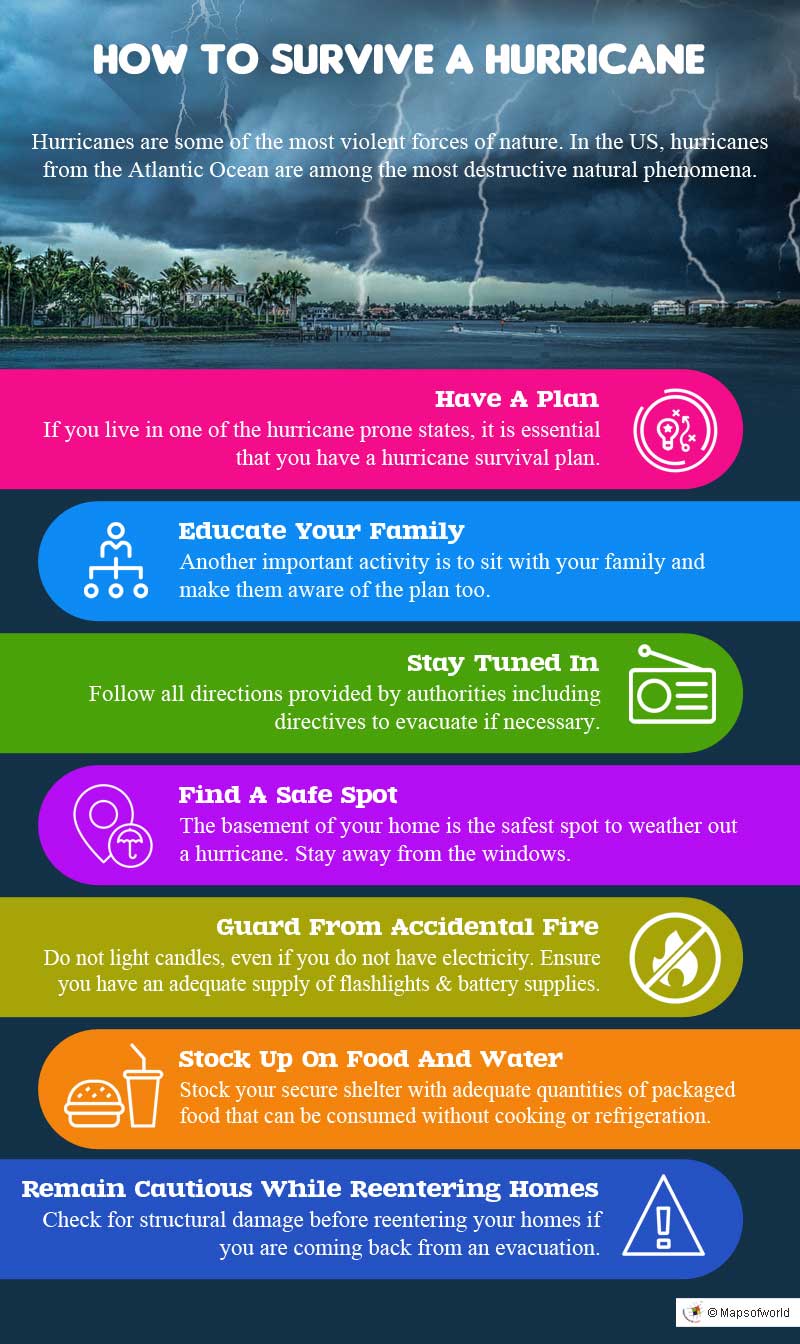 Related Maps: