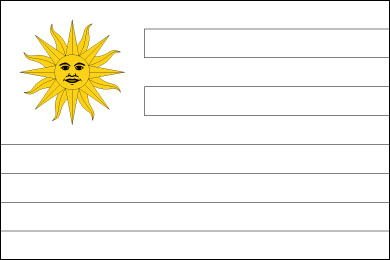 Download Picture of Blank Uruguay Flag For Kids to Color
Flag of Uruguay Description
The flag of Uruguay features nine stripes of alternating white and blue, with white on the top and bottom stripes.
In the upper-left corner of the flag, the canton is white with a golden sun, which has sixteen rays of sunshine. The sun, called the Sun of May, is a national symbol of Uruguay, representing the Inca sun god Inti. Its name refers to the May Revolution of 1810, in which Spanish American colonies began their revolt against Spain and eventually gained independence. The sun is meant to represent the legendary and symbolic moment when the sun broke through the clouds on May 25, 1810, accepted as a good omen for the budding nations. The Sun of May on the flag of Uruguay has alternating straight and wavy beams, each divided down the center with a black line.
The nine stripes on the Uruguayan flag represent the nine departments of Uruguay at the time the First Constitution of Uruguay was signed in 1830.
History of the Uruguayan Flag
The flag of Uruguay was designed using the colors of its neighbor and fellow former colony of Spain, Argentina, and bears resemblance to the flag of the United States. The flag's design is attributed to Joaquin Suarez, who was the first Head of State of the new nation, and later became president. A version of the flag was adopted in December 1828, but the final version of the flag was officially adopted July 11, 1830.
| | |
| --- | --- |
| National symbol(s): | Sun of May (a sun-with-face symbol) |
| National colors: | blue, white, yellow |
| National anthem: | |
| Name: | "Himno Nacional" (National Anthem of Uruguay) |
| Lyrics/Music: | Francisco Esteban ACUNA de Figueroa/Francisco Jose DEBALI |
| Country | Uruguay |
| --- | --- |
| Designed by | Joaquín Suárez the first head of state of Uruguay in December 1828 and President of Uruguay 1843-1852. |
| Adopted | 11. July 1830 |
| Revision | NA |
| Design and Colors | A field of alternating white and blue stripes with a white canton charged with the Sun of May |
| Size Ratio | 2:3 |