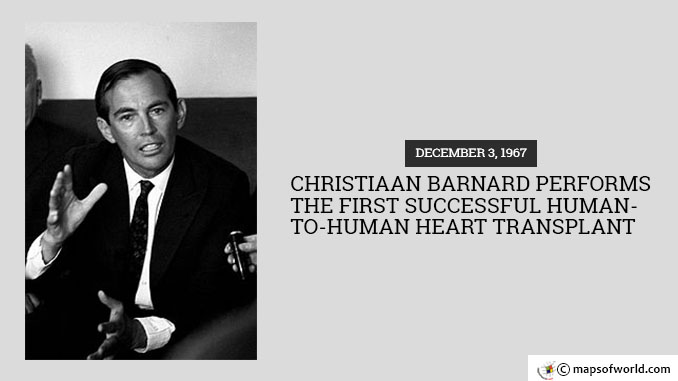 Just two months after making the first successful kidney transplant in South Africa, cardiologist Christiaan Barnard did the unthinkable: at Groote Schuur Hospital in Cape Town, the surgeon successfully moved the heart from one human being to another on December 3, 1967. For the first time in history, a person lived without the heart they were born with.
Barnard did much of his training at Groote Schuur, spending five years there before a 24-month fellowship in cardiothoracic surgery at the University of Minnesota. Connected with advanced techniques and encouraged to experiment, Barnard gained valuable experience that allowed him to return to Cape Town with a new outlook on the importance of research.
When he returned to his home hospital in 1958, he established the cardiology department, using his experiences to shape the future of South African medicine thanks to his position as Director of Surgical Research at the University of Cape Town. During his time leading classes in the art of operative procedures, he began testing theories about the possibility of performing a heart transplant between members of the same species. Using dogs for his trials, he performed more than 50 surgeries following a procedure invented in the US.
After meeting Louis Washkansky, a man in his early 50s with diabetes and heart disease, Barnard felt as though he'd found the perfect candidate for the first human-to-human attempt. Knowing he did not have long to live, Washkansky agreed to be the test subject. "For a dying man it is not a difficult decision because he knows he is at the end," Barnard wrote. "If a lion chases you to the bank of a river filled with crocodiles, you will leap into the water, convinced you have a chance to swim to the other side."
On December 3, 1967, everything came together for Barnard to make an attempt. A young woman, Denise Darvall, had been fatally wounded when hit by a car the previous day and her father, realizing she would not recover, agreed to allow Barnard to use her heart for the procedure. During a ten-hour operation, Darvall's heart was momentarily stopped and placed inside Washkansky.
For the next 18 days, the organ beat rhythmically as if it had been Washkansky's all along. Barnard became an instant success, having performed the life-saving surgery for one of the most important parts of the human body. The possibilities for the future seemed bright, even when his patient died after suffering from severe pneumonia. (As with all transplant patients, Washkansky had been given drugs to keep his body from rejecting the organ that made him susceptible to infection.)
Barnard continued to perform the procedure, working diligently to perfect the technique and alter it as necessary. One of his patients, Dirk Van Zyl, lived until 1994 after an operation in 1971. Though many surgeons gave up on heart transplants in the years after Washkansky died, the invention of better immunosuppressive drugs for post-op saw the procedure rebound in popularity. Today, some 5,000 transplants are performed worldwide each year.
Also On This Day:
1800 – French victories at Hohenlinden and Marengo bring Austria near surrender in the War of the Second Coalition
1912 – The First Balkan War, pitting Bulgaria, Greece, Montenegro and Serbia against Turkey, comes to an end
1919 – Pierre-Auguste Renoir, French impressionist painter, dies in Cagnes-Sur-Mer, France
1984 – A leak at the Union Carbide pesticide plant in Bhopal, India kills 3,800 people and wounds as many as 600,000 more
1992 – Sema Group engineer Neil Papworth sends the world's first SMS message from a computer to his friend Richard Jarvis' phone
3rd December, 1991 – Hulk Hogan defeats Undertaker to become 4th time WWF champion.
3rd December, 1736 – Astronomer Anders Celsius takes measurements that confirm Newton's theory that the earth was an ellipsoid rather than the previously accepted sphere.
3rd December, 1833 – Oberlin College in Ohio, the first truly coeducational college, opens.
3rd December, 1911 – Willis Carrier presents his influencial "Rational Psychrometric Formulae" on air conditioning to the American Society of Mechanical Engineers.
3rd December, 1947 – Tennessee Williams' "Streetcar Named Desire" premieres in NYC.