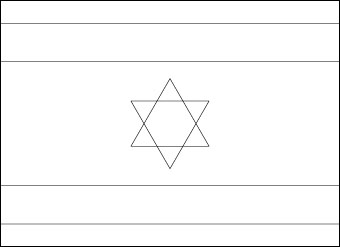 Download Picture of Israel Flag Outline for kids to color
On the white portion of the Israel flag there is a blue Star of David,
between two horizontal blue stripes. The Star of David is composed of two crossing equal blue triangles. From the Biblical times the Star of David is a common symbol of the People of Israel.
The basic design of the Israel flag remembers the Tallit, which is the Jewish prayer shawl, in white with blue colored stripes.
| | |
| --- | --- |
| Official Name: | Medinat Israel |
| Flag Proportion: | 8:11 |
| Location: | On the eastern coast of the Mediterranean Sea Israel has a border with Lebanon Syria Jordan and Egypt. |
| Capital City: | Jerusalem |
| Area: | 20, 770 Sq. km. |
| Official Language: | Hebrew Arabic |
| National Anthem: | Hatikva The Hope (1948) |
| National symbol(s): | Star of David (Magen David), menorah (seven-branched lampstand) |
| National colors: | blue, white |
| National anthem: | |
| Name: | "Hatikvah" (The Hope) |
| Lyrics/Music: | Naftali Herz IMBER/traditional, arranged by Samuel COHEN |
| Country | Israel |
| --- | --- |
| Designed by | NA |
| Adopted | 28. October 1948 |
| Revision | NA |
| Design and Colors | A blue Star of David between two horizontal blue stripes on a white field. |
| Size Ratio | 2:3 |