What is the Longest Mountain Range in the World?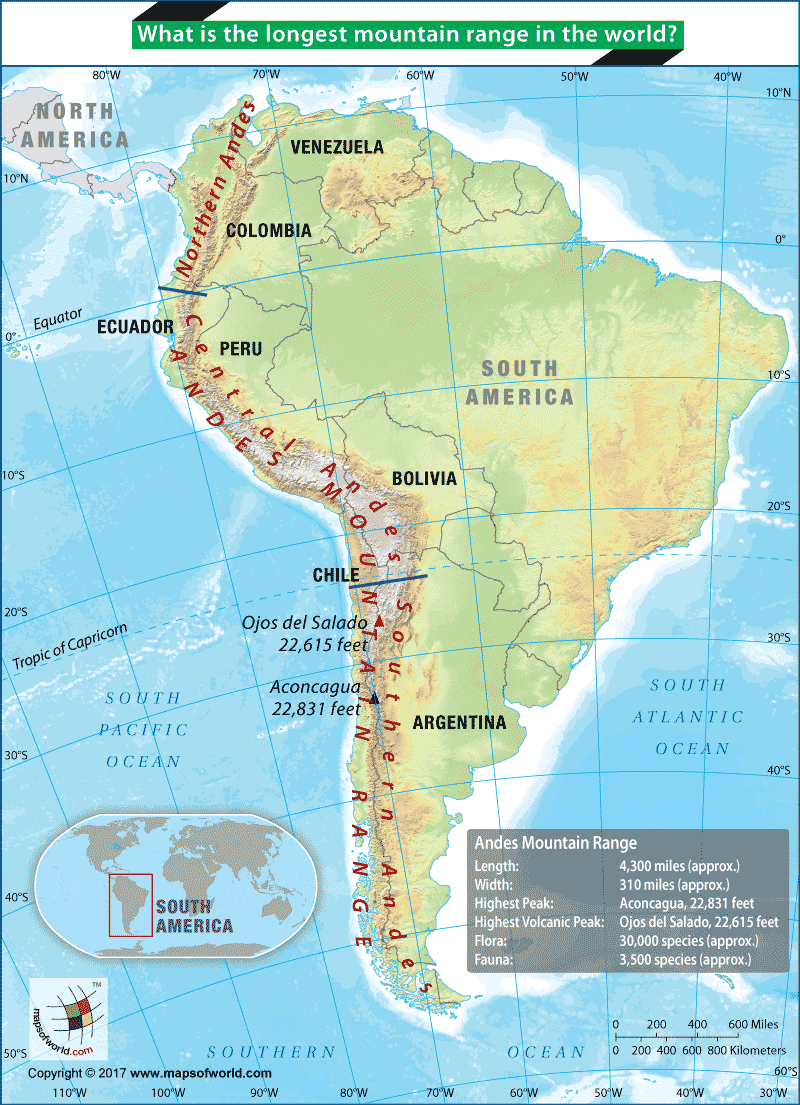 The Andes are the longest mountain range in the world.
The mountain range, which is located in South America, has an elevation of approximately 6,961 meters. The length of the mountain range is around 4,300 miles and the width is approximately 310 miles. Incidentally, the Andes is also the highest mountain range outside of Asia. The Andes mountain range passes through seven countries; Peru, Colombia, Venezuela, Bolivia, Chile, Ecuador, and Argentina. The Andes are home to some of the highest peaks: The highest is Mount Aconcagua. Located on the border of Chile and Argentina, Mount Aconcagua has a height of 22,831 feet (6,959 meters). The Andes are also home to some of the highest volcanoes in the world. The highest among these is the Ojos del Salado. Located on the Argentina and Chile border, Ojos del Salado has a height of 22,615 feet (6,893 meters).
Though the origin of the word the Andes is not clear; some historians state that it comes from 'anti,' which is a Quechuan word and means 'east' in English. However, others argue that it is derived from 'anta.' which again is a Quechuan word and means 'copper.'
The Andes mountain range comprises three sections which are the Central Andes, Southern Andes, and the Northern Andes. The Central Andes are spread over three countries – Peru, Ecuador, and Bolivia. The Southern Andes cover Argentina and Chile, while the Northern Andes are present in Venezuela and Colombia.
The Andes are rich in flora and fauna. It has been estimated that the mountain range is home to approximately 30,000 species of vascular plants. Some of the trees and plants found here are Cinchona pubescens, which is a source of quinine, along with potatoes, and tobacco. The endangered and high-altitude Polylepis forests are also located here. It also comprises exotic fauna and roughly 3,500 species live here. Some of the animals found in the Andes are the vicuña, guanaco, llama, alpaca, chinchillas, Andean condor, cougar, foxes, etc.
The Andes are rich in minerals. The Chilean and Peru Andes are the first and third largest producers of copper. Yanacocha, which is located in Peru, is the world's largest gold mine. While tin is the primary export produced in the Bolivian Andes.
Know more:
Related Maps: