Which Mountain range has the highest number of top 10 peaks?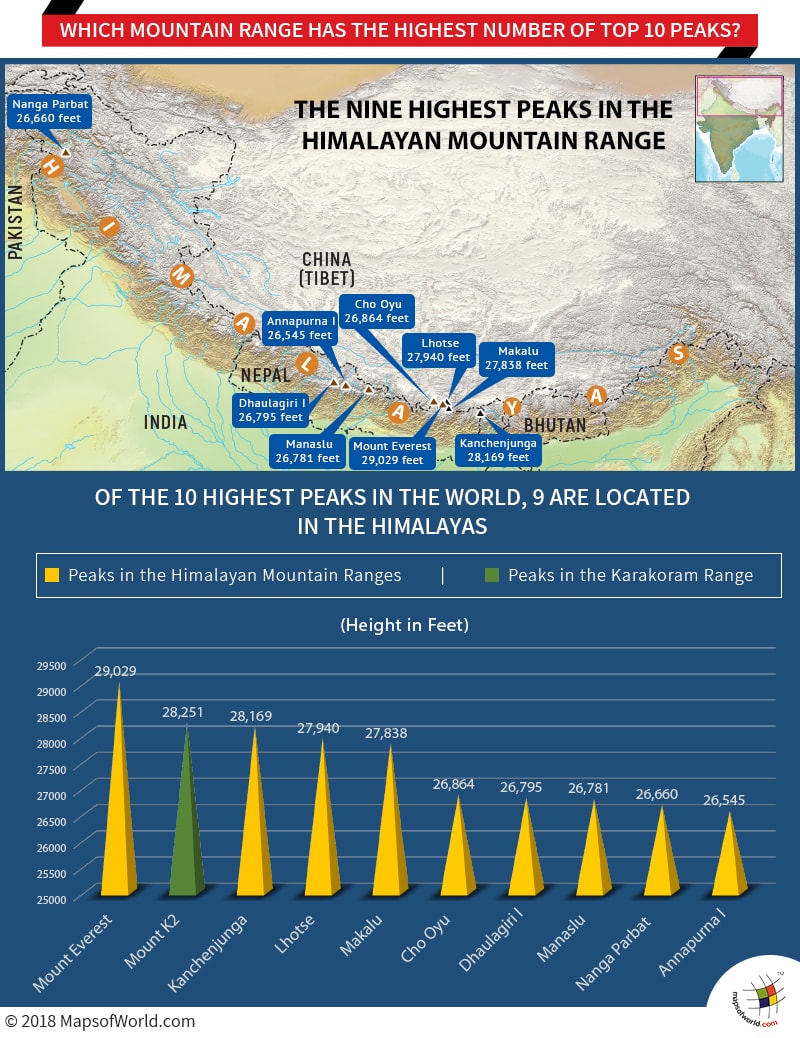 The Himalayan Mountain Range has the highest number of peaks in the world.
The Himalayas are a vast mountain range stretching over 1,500 miles and are spread across five nations; Nepal, India, Pakistan, Bhutan, and China. Of the ten highest peaks in the world, nine are located in the Himalayas. Only one peak in the top ten is located in a different mountain range, and that is K2, which is located in the Karakoram Range and is the second highest peak in the world at 28,251 feet.
Mount Everest is the highest peak of the Himalayan Range as well as the world, and is spread across Nepal and Tibet, the autonomous region of China. Standing tall at 29,029 feet, the mountain is a popular destination for many climbers. Reaching the top can be a bit dangerous due to the extreme cold, wind and altitude sickness. As of 2017, the bodies of approximately 300 climbers who died trying to reach the summit, still lie on the mountain.
Kanchenjunga is the second highest mountain peak of the Himalayan Range and the third highest mountain in the world. Spread across Nepal and the Indian state of Sikkim, Kanchenjunga is 28,169 feet tall. The mountain is revered by the people of Sikkim and Darjeeling.
Lhotse is the third highest peak of the range and the fourth highest in the world. Partly located in Nepal and partly in Tibet, Lhotse means South Peak in Tibetan. The mountain has a height of 27,940 feet.
Makalu and Cho Oyu, which have a height of 27,838 and 26,864 feet respectively, are located partly in Nepal and partly in Tibet, an autonomous region of China. Dhaulagiri, and Manaslu with a height of 26,795 and 26,781 feet are located entirely in Nepal and are the seventh and eight highest mountains in the world. The ninth and tenth highest mountains – Nanga Parbat and Annapurna are located in Pakistan Occupied Kashmir and Nepal respectively. While Nanga Parbat has a height of 26,660 feet, Annapurna is 26,545 feet tall.
Visit the following to learn more about Mountain Ranges:
Related Maps: