Which Countries Lie On The Tropic Of Capricorn?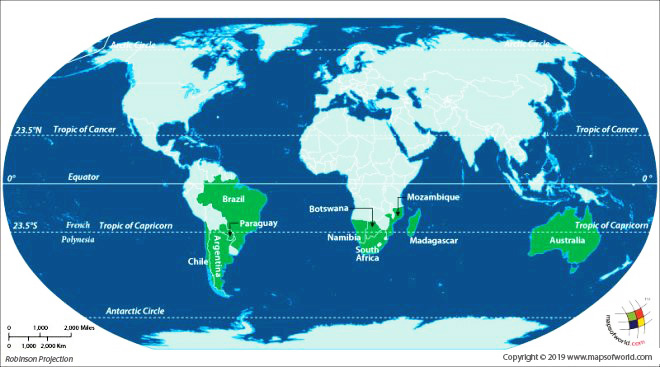 Read More Below:
The Tropic of Capricorn, also called the Southern Tropic, is an imaginary line (a latitude circle) that indicates the southernmost point where the Sun is directly overhead at noon. This occurs during the solstice on December 21.
The Tropic of Capricorn is one of the five crucial latitudinal circles marked on the globe. It is 23°26'13.3″ south of the Equator.
It passes through these countries or overseas territories:
The Earth moves around the Sun in an elliptical orbit. It also tilts at an angle of 23.44°on on its axis. Thus, for a person on Earth, it would appear as though the Sun is in motion with respect to the "fixed" constellations or stars. This declination or bending of the Sun's rays is measured as an angle to the north or south of the celestial Equator. In simple terms, to a person on Earth, it looks like the Sun is in constant motion and is directly overhead between the Tropic of Cancer and the Tropic of Capricorn at any given time of the year.   
In ancient times, the Sun's declination during the December solstice appeared in the constellation known as Capricornus. Hence, the latitude was named the Tropic of Capricorn. Over the centuries, due to a subtle shift in the Earth's axis, the Sun is now plotted against the Sagittarius constellation.
The Tropical Zone – the region between the two tropics – is the hottest part of the Earth. The Tropic of Capricorn passes through some scorching but fascinating places such as the Sandwich Harbour in Namibia, the Central Kalahari Game Reserve in Botswana, the Kruger National Park in South Africa, the mangrove forests of, Madagascar, and the West MacDonnell Ranges and some spectacular landscapes in Australia apart from several other beautiful places.
Related Links:
Related Maps: