Which Countries Lie on the Equator?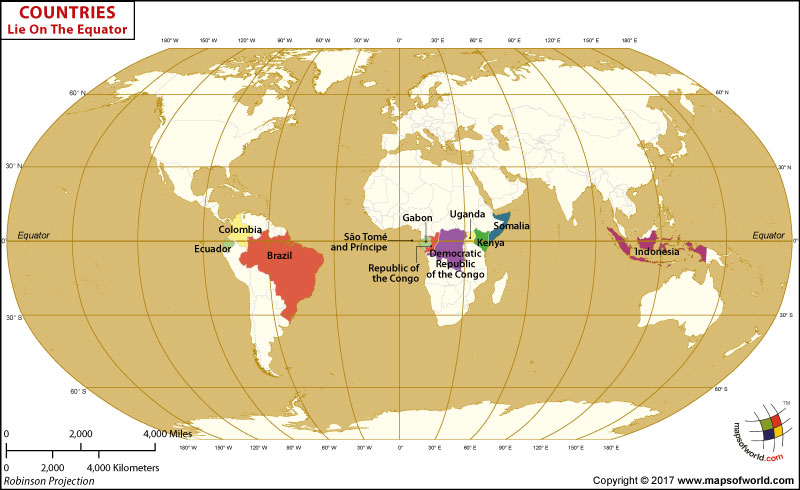 The Equator is the imaginary line which is drawn around the centre of the Earth, dividing our planet into two hemispheres. The roughly spherical Earth is widest around the Equator with zero degrees latitude. The Equator measures about 24,901 miles or 40,075 kilometres which is also the circumference of the planet.
The Equator passes through 11 different countries. These are:
São Tomé and Príncipe
Gabon
Republic of the Congo
The Democratic Republic of the Congo
Uganda
Kenya
Somalia
Indonesia
Ecuador
Colombia
Brazil
It also passes through the maritime territories of Maldives and Kiribati.
For years, most of these countries have suffered from civil and political unrest, crippling poverty, and numerous health issues. On the other hand, the equatorial belt is home to the most expansive rain forests in the world. The South American Amazon rainforest is not only the largest in the world but is also exceptionally rich in flora and fauna. The Congo rain forest of Central Africa and the Southeast Asian rainforest are also rich in biodiversity. The Equator also passes through the beautiful Meru National Park of Kenya. This region is home to lions, tigers, elephants, and numerous animals.
There are some beautiful equatorial markers in many of the countries that the Equator traverses. The one in São Tomé and Príncipe is quite remarkable. The ones in Kenya (in Siriba and Nanyuki), in Gabon (on the Libreville-Lambaréné road) and Uganda are popular with tourists who want to get their photographs clicked on the Equator. A great deal of the Equatorial belt, however, is made up of dense forests where no markers exist.
Sailors and seafarers have elaborate "Equator Crossing" rituals. Novice sailors who haven't made it across the 0-degree latitude are called pollywogs and are teased quite a bit. The crossing rituals include "the Solemn Mysteries of the Ancient Order of the Deep" – a grand tribute paid to Neptune, the ruler of the oceans and seas. Those who have sailed across the Equator are called Shellbacks or Sons of Neptune.
Related Maps: