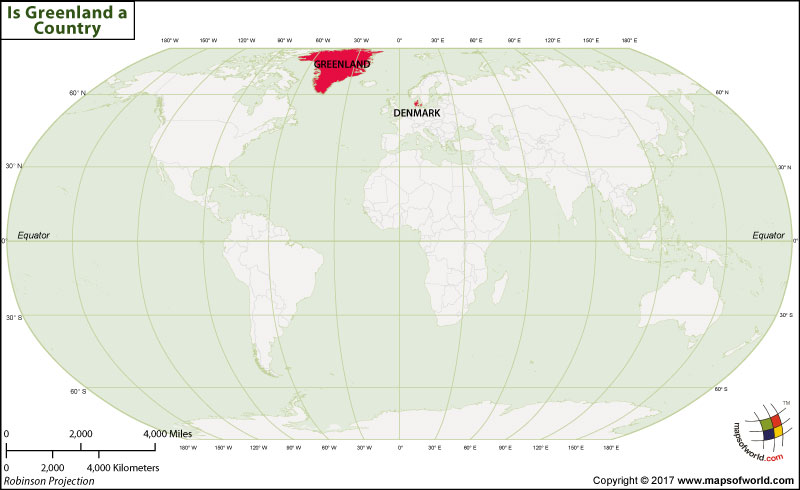 Greenland is the world's largest island, apart from Australia which is a continental landmass. Though it is a country, it is not a sovereign state and is a constituent country of the Kingdom of Denmark. Just like England, Scotland etc. are countries but make up part of the United Kingdom, Greenland also forms part of Denmark while enjoying a considerable amount of autonomy
Though geographically belonging to the North American continent, Greenland has remained culturally linked to Europe and European nations such as Denmark and Norway. By the 18th century, Denmark had started to colonize parts of the island and in 1775 it became a Danish colony. In the year 1953, Denmark granted Greenland the status of a province with an official revision of the constitution. The island province became increasingly autonomous and in 1979 Greenland was granted its own government and legislative body, its parliament. In 2009, following a historic referendum in which the people of the island voted for increased autonomy, Greenland gained self-governance While the reigning monarch of Denmark (currently Queen Margrethe II) still remains the head of state, the local government is headed by the Prime Minister of Greenland (incumbent Prime Minister Kim Kielsen). The defense and foreign affairs of Greenland are managed by the Danish government but the local government retains control of healthcare, education, social services, policing, natural resources and other such matters.
Economically, though, Greenland is far from independent. Prior to 2009, Denmark had contributed about two-third of the budget revenue of Greenland. Much of Greenland's revenue comes from the fishing businesses across the island. Global warming has left increasing tracts of land exposed as the ice cover has started to melt. While this is a scary prospect it has also allowed increased access to natural mineral reserves in the island. Numerous social problems such as unemployment, spread of HIV/AIDS etc. plague the people of Greenland. Currently, Greenland receives an annual grant from Denmark and this grant is likely to be reduced as Greenland becomes more capable of self-administration. Greenland is considered a separate entity by international law, despite its lack of sovereignty. It is likely that the island may achieve full independence from Denmark in the future.
Related Maps: