Albania Map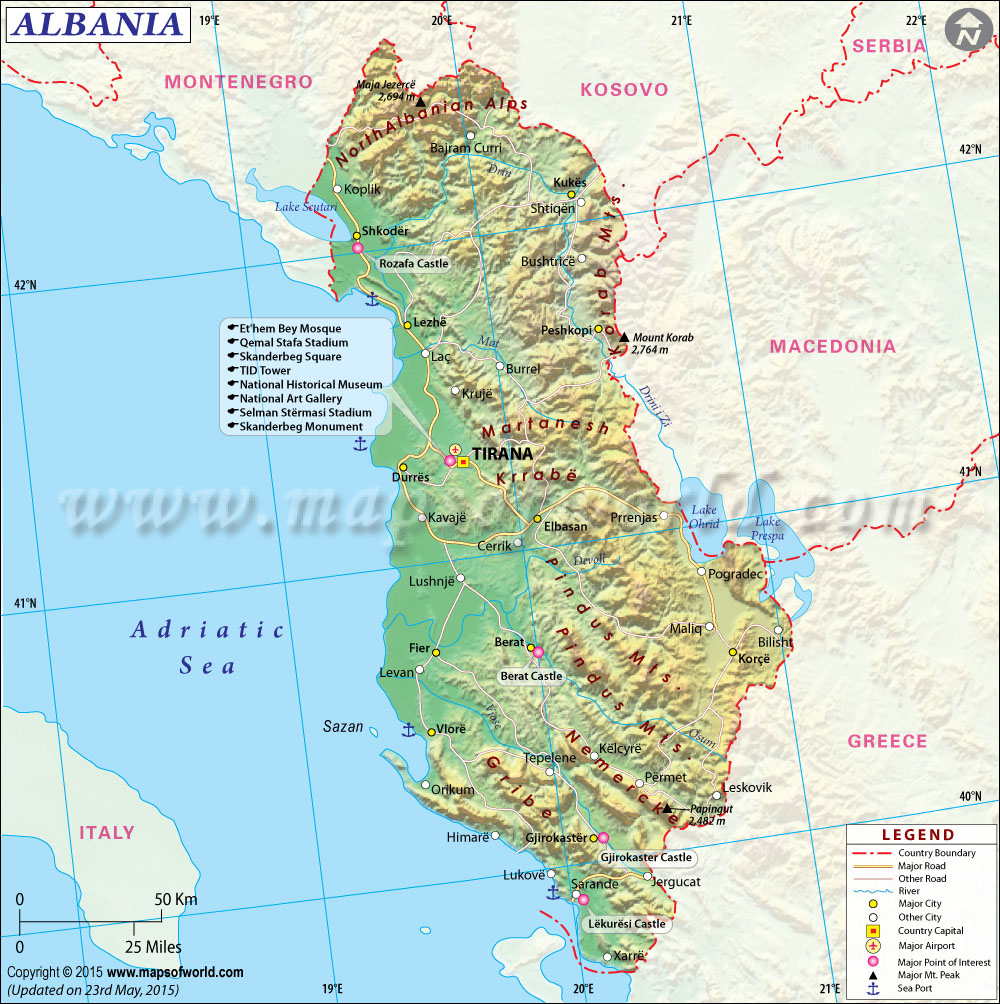 Albania- An Introduction :
The Republic of Albania, officially called Republika e Shqiperise is a small country of souteastern Europe spread over an area of 11,100 sq miles. It shares international boundaries with Macedonia, Greece, Kosovo, Serbia, and Montenegro. It is bordered by the Adriatic and Ionian Seas on its west. After achieving freedom from Turkish dominion Albania was for a long time exploited by the Communist leader Enver Hoxha. Its transition from communism to parliamentary democracy was fraught with unspeakable trials and tribulations which still weigh heavy on its way of progress.
History of Albania :
Albanians are said to have descended from ancient Illyrians. The recent discovery of Stone Age and Early Iron Age artifacts at Konispol suggest that the Albanian landscape has been inhabited since 229 BC. The history of Albania is dotted with multiple conquests and dominations by Greeks, Romans, and later Macedonians. It served as a Byzantine stronghold till 7th century AD. The name Albania was suggested by geographer Ptolemy of Albanoi tribe for a string of principalities constantly ravished by Visigoths, Ostrogoths, and Huns.
Albania was a highly developed cultural and economic center till its conquest by Ottoman Turks in 1388. They were finally overthrown by the efforts of Skanderbeg in1443. The Turks returned after his death in 1468 and committed more atrocities on the people destroying its art and culture. They isolated Albania from Western European influence which continued till the time of Enver Hoxha. The Albanian struggle for freedom continued till the Turks surrendered in 1912.
Freedom saw the advent of communism in Albania under the leadership of Hoxha. He ruled Albania on the lines of Stalin and strengthened the country's isolation. The freedom of expression was restricted under the reign of Hoxha and his successor Ramiz Alia. General people realized the ball and chain on their feet curbing personal freedom and finally denounced Hoxha's specters by initiating popular elections in 1992.
The first general elections were won by the Democratic Party. Since then Albania has never looked back. Numerous economic, social, and cultural reforms are in place to aid unrestricted progress. Albania's free market reforms are constantly attracting foreign investors. It has also applied for a merger with the European Union on April 28, 2009.
Economy :
Albania is considered one of the poorest countries of Europe with $24.99 billion (GDP-PPP). The real growth rate is 2.5%. It has high unemployment rate of 30% and per capita income of $4000.
Albania is primarily an agrarian economy relying heavily on agro-based industries like food processing, fisheries, livestock etc. More than 45% of population utilizes 24% of the land for agriculture. It contributes 19% to the nation's GDP. The country has vast deposits of oil, natural gas, bauxite, iron ore and copper awaiting appropriate use. Industries have grown at a pace of 3% in the last few years.
Albania earns $1.548 billion through exporting textiles, footwear, vegetables, fruits, tobacco, crude oil, and metallic ores to Italy, Greece and China. The rising petroleum prices in the world market have aided in 38% growth of revenue from exports. Tourism contributes substantial part to the country's GDP. In 2006 it signed a Stabilization and Association Agreement as the first step for integration to the European Union. The free market reforms have lured many corporate giants to invest in Albania like Australia Drillsearch, Gustavson Associaltes LLC, Vodafone, and Enel.
Arts and Culture :
Albanian culture has been largely influenced by Ottoman Turks. 70% of the population is Muslim. The society is patriarchal with certain specified norms of conduct. The Albanians are jovial people fond of music and dances. Every year in April a dance festival is held at Durres which provides a captivating array of modern, classical and folk dances. Oral stories and folklore form an indispensable part of the culture. Pastoral crafts like weaving, embroidery, and wood crafting are a part of daily life. Several generations can be seen to share the same abode but with increasing financial independence the number of nuclear families are on the rise.
The Albanian art exhibits features of its erstwhile rulers namely Greeks, Romans, and Byzantines. This can be seen in the icon paintings and church architecture. The impact of Islam can be seen in religious paintings, miniatures, mosaics, and murals. Albania has produced renowned postmodern artists like Anri Sala, Sislej Xhafa and Helidon Gjergji. The statue of Skanderbeg placed in Tirana is the work of the indigenous sculptor Odishe Paskali.
Albania is the home of famed poet Ismail Kadare. Several film festivals are held all the year round but the motion picture and theatre in Albania is largely undeveloped. The public radio and TV broadcaster of Albania is the Radio Televizioni Shqiptar. The National Theater of Albania has produced and enacted world classics and hence is an indelible aspect of art and entertainment. Korce holds a carnival in May in May along the lines of Rio de Janeiro. A family event called the Pie Fest held in July is also one of the tourist attractions of Korce.