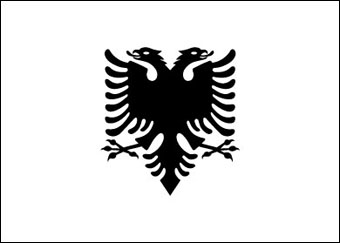 Download Picture of Blank Albania Flag For Kids to Color
Flag of Albania Description
The flag of Albania is deep red, with a black two-headed eagle in the center.
The two heads represent church and government, two major factors in Albania's history and national identity. The eagle, the national symbol of Albania, has been used in the area since the Middle Ages. During the Byzantine Empire, the a golden two-headed eagle on a red background was used to symbolize the imperial family. This symbol was often used on the coat of arms of the nobility. Notably, the Kastrioti family, known for the Ottoman Empire revolt in the mid-fifteenth century, used a coat of arms featuring a double-headed eagle.
The red background stands for hardiness, bravery, strength and valor shown by the people, and the willingness to defend freedom.
History of the Albanian Flag
Since early in the fight for Albanian independence, the two-headed eagle was used on various flag designs over the years. Several versions of the flag were created by modifying the eagle's design, sometimes adding white or gold accents. When the region was kept under Italian rule, the eagle was flanked by two Roman styled pillars.
Albania declared independence on November 28, 1912. At this time, the new nation adopted a dark red flag with the black silhouette of a two-headed eagle, a white six-pointed star above the heads.
| | |
| --- | --- |
| National Symbol(s): | double-headed eagle |
| National colors: | red, black |
| National Aanthem: | |
| Name: | "Hymni i Flamurit" (Hymn to the Flag) |
| Lyrics/Music: | Aleksander Stavre DRENOVA/Ciprian PORUMBESCU |
| Country | Albania |
| --- | --- |
| Designed by | George Castriota, an Albanian Christian |
| Adopted | 1912 (original flag) 7 April 1992 (current flag) |
| Revision | 1912, 1914, 1920, 1925, 1926, 1928, 1939, 1943, 1944,1946, 1992- Present |
| Design and Colors | A silhouette of an open-winged bicephalated black eagle on a red field. |
| Size Ratio | 5:7 |