San Marino Cities Map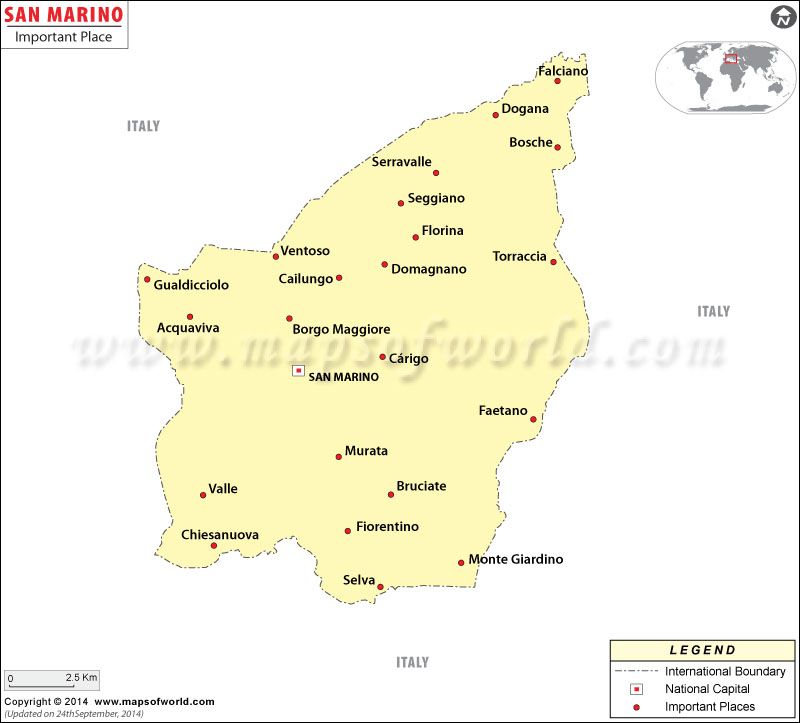 The republic of San Marino is located in the Apennine Mountains and is completely surrounded by Italy. San Marino Cities are nine in number and each city has a distinct characteristic of its own. San Marino cities are picturesque and abound in exotic architectures. The cities of San Marino include:
Acquaviva
Chiesanuova
Borgo Maggiore
Domagnano
San Marino City
Fiorentino
Montegiardino
Serravalle
The capital city of San Marino is the San Marino city. Maximum tourists come to visit San Marino city and contribute immensely to the economy of the country. Borgo Maggiore city houses the only heliport of the country. It is the most important industrial city of San Marino. There is an aerial tram way connecting the city of San Marino, top of Monte Titano and Borgo Maggiore. There is regular bus service from Rimini and San Marino city. Tourists who fly to San Marino embark at Rimini and go to San Marino City via bus.
The best hotels of San Marino are located in the San Marino city. Serravalle is the most densely populated city of San Marino. The other cities are very small and not densely populated. All the cities have various museums, churches, cathedrals, monasteries and forts.
This country is one of the least populated countries of Europe and the majority of the population resides in the cities in San Marino.