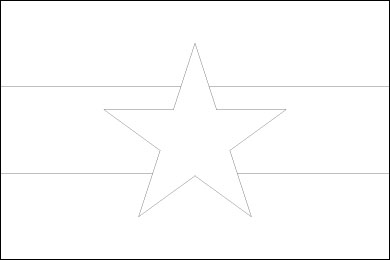 Download Picture of Blank Myanmar Flag For Kids to Color
The white stars on the dark blue portion of the flag signify the fourteen states of Myanmar which surrounds the pinion and the ears of rice.
The pinion, which consists of fourteen cogs, stands for the work force that forms the majority of the people in Myanmar.
The two ears of paddy consisting of thirty-four grains symbolize the peasants. The cog-wheel is symbolic of industry and the rice plant represents farming.
The Myanmar flag consists of three colors, of which, the red signifies valor and certainty, white stands for transparency and good worth, and dark blue represents honesty.
| | |
| --- | --- |
| Official Name: | Myanmar Naingngandaw |
| Capital: | Yabgon (Rangoon) |
| Location: | On the Bay of Bengal Burma has borders with Bangladesh India China laos and Thailand. |
| Area: | 678, 500 Sq. km. |
| Official Languages: | Burmese |
| National Flag: | Red with a blue canton bearing two ears of rice within a cog wheel and a ring of 14 stars all in white. |
| Flag Ratio: | 6:11 |
| National Anthem: | Gby majay Bma Pyay we shall always love Burma (1948) |
| National symbol(s): | chinthe (mythical lion) |
| National colors: | yellow, green, red, white |
| National anthem: | |
| Name: | "Kaba Ma Kyei" (Till the End of the World, Myanmar) |
| Lyrics/Music: | SAYA TIN |
| Country | Myanmar, Burma |
| --- | --- |
| Designed by | NA |
| Adopted | 21. October 2010 |
| Revision | 1937, 1939, 1941, 1942, 1943, 1945, 1948, 1974, 1989, 2010 |
| Design and Colors | A horizontal triband of yellow, green and red; charged with a large white five-pointed star at the centre. |
| Size Ratio | 2:3 |