What are the Key Facts of Monaco?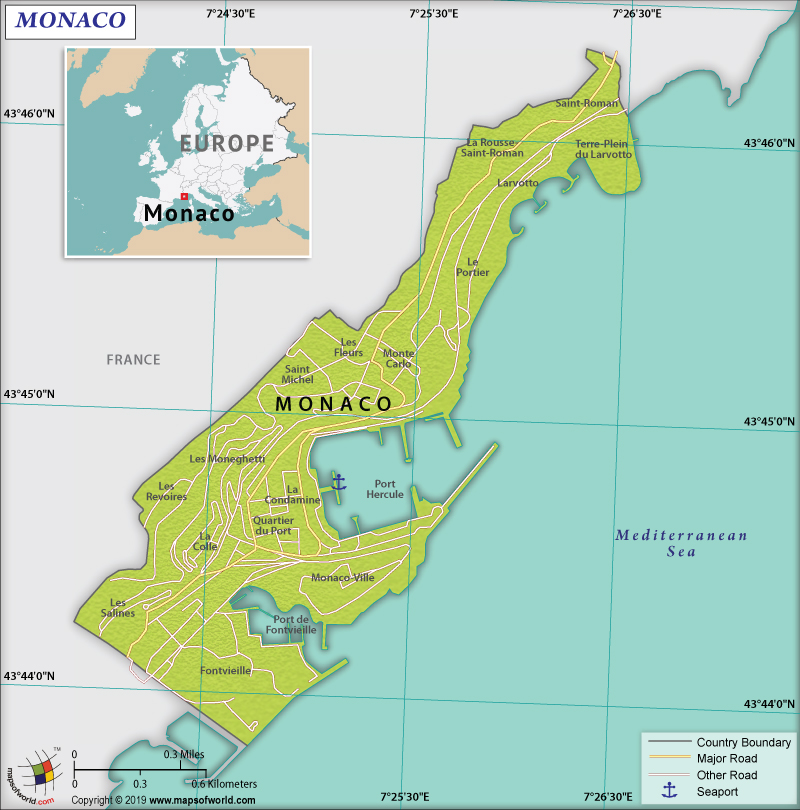 | | |
| --- | --- |
| Official Name | Principality of Monaco |
| Continent | Europe |
| Capital | Monaco-Ville |
| Largest Quartier | Monte Carlo |
| Coordinates | 43.733333, 7.400000 |
| Area | 0.85 sq mi ( 2.2 sq km) |
| Land Boundaries | 3.73 mi ( 6 km) |
| Coastline | 2.55 mi ( 4.1 km) |
| Currency | Euro (€) (EUR), CFP franc (XPF) |
| Neighboring Countries | France |
| Population | 38,897 (2016 Census) |
| Official Languages | French |
| Major Religion | Christianity |
| National Day | 19 November (National Day) |
| National Anthem | "A Marcia de Muneghu" |
| Form of Government | Unitary parliamentary constitutional monarchy |
| Monarch | Albert II |
| Minister of State | Serge Telle |
| GDP per capita (PPP) | NA (World Bank, 2018) |
| GDP per capita (nominal) | $ 166,726.1 (World Bank, 2017) |
| HDI | NA |
| Literacy Rate (%) | NA |
| Space Agency | NA |
| Military Expenditure Ranking | NA (SIPRI, 2017) |
| No. of Olympic Medals | 0 (as of 2018) |
| Driving Side | right |
| Calling Code | 377 |
| Time Zone | UTC+1(CET), Summer (DST) UTC+2 (CEST) |
| Internet TLD | .mc |
Where is Monaco?
Monaco is a Western European country that is bordered by France on three sides and the Mediterranean Sea on one side.
What is the Geography of Monaco?
Monaco is one of the smallest countries in the world (the 2nd smallest after Vatican City). It is spread across a total area of just 2 sq km (0.8 sq mi), out of which 2 sq km (0.8 sq mi) is land area and 0 sq km (0 sq mi) is water area. It has a total land boundary of 6 km (3.7 mi), which is completely shared with France. Monaco has a 4.1 km (2.5 mi) long coastline.
The terrain is hilly, rocky, and rugged. While Chemin des Revoires on Mont Agel at 162 m (531 ft) is the highest elevation point of the Principality of Monaco, the Mediterranean Sea at 0 m (0 ft) is the lowest elevation point. The country is located almost entirely on the Mediterranean Coast and is completely urban. This sovereign city-state has just 5 quartiers and 10 wards. They are located in Western Europe's French Riviera. Alpes-Maritimes of France borders three sides of this country. While Monaco is around 16 km (9.9 mi) away from Italy, it is around 13 km (8.1 mi) to the northeast of France's Nice city.
The only significant water body in Monaco is Saint-Jean, which is around 0.19 km (0.12 mi) long. The largest lake in the country is called Fontvieille, having a total area of 53,819.55 sq ft (5,000 sq m). While Monte Carlo is the most populated quartier, Larvotto/Bas Moulins is the most populated ward.
The total area of Monaco has grown by 2.02 sq km (0.78 sq mi) after the recent expansion of Port Hercules. Land reclamation from the Mediterranean Sea has led to the approval of Fontvieille district's reclamation by 0.08 sq km (0.031 sq mi).
A hot-summer Mediterranean climate persists in the Principality of Monaco. Oceanic and humid subtropical climates influence the climatic condition in Monaco. While summers are warm and dry, the winters are mild and rainy. The dry summer season can be interrupted by cool and rainy interludes.
Temperature more than 30 °C (86 °F) is rare. The afternoon weather during summer remains infrequently hot. This is because of the sea breezes that blow constantly. During summer, the sea temperature remains fairly high and that's why the nights remain very mild.  In this season, the temperature usually doesn't drop below 20 °C (68 °F). Whether it is frost and snowfall, they are very rare. Their occurrence is generally restricted to once or twice in a decade.
While July-August is the hottest period of the year, January-February is the coolest period.
What is the Economy of Monaco?
Monaco is a hub of banking and a popular tourism destination. The lure of casino and pleasant climate has made it a tourist hotspot. The economy of Monaco has come up as a preferred tax haven because of its low business taxes and no income taxes. That's why many high net worth individuals, as well as businesses, have set up their bases (either residence or offices) in this country.
However, Monaco is not a tax-free shelter. A value-added tax of 20% is there. Companies have to pay a 33% tax on profits. Companies get tax exemption in cases if they are successful in showing that 3/4th of the profit is generated within Monaco.
The annual GDP of Monaco was US$ 6,401 million in 2017. The major export items of Monaco are textile, art, manufactured goods, perfumes, cosmetics, essential oils, etc. The major import items are foods, transportation products, chemicals, gemstones, trucks, cars, precious metals, etc. As Monaco is completely urbanized and no agricultural land is there, the foods are entirely imported. The main trading partners are the countries of the European Union (especially France), the USA, and China. Monaco has a positive balance of trade.
The Principality of Monaco has a monopoly on several industries such as tobacco, postal service, and the telephone network. The standard of living is significantly high, which is comparable to that of the metropolitan cities of France. There is no poverty in the country.
What is the Transportation System of Monaco?
The transportation system in Monaco is based on roadway, railway, airway, and waterway. The rail transport system, which is around 1.7 km (1 mi) long is controlled by France's SNCF. Public bus services are very popular. Compagnie des Autobus de Monaco operates 6 bus routes. 4 bus routes are also there that connect Monaco with some of the neighbouring regions such as Menton, La Turbie, and Nice. 143 bus stops are present.
Within Monegasque territory, the railway facility is completely underground. There are 7 inclined lifts too and they are popular public transports. 50 km (31 mi) long roadway is available. There is no airport in the country. However, travellers can reach France's Cote d'Azur Airport in Nice and then take the Express 110 bus to travel to Monaco. A single heliport is there in the country. Monaco has two ports. While one is Port Hercules, the other is located in Fontvieille.
What International Organizations is Monaco part of?
UN, WHO, Union Latina, Interpol, UNCTAD, UNESCO, UNIDO, CD, CE, FAO, IAEA, ICAO, ICRM, IFRCS, IHO, IMO, IMSO, IOC, IPU, ITSO, ITU, OIF, OPCW, OSCE, UNWTO, UPU, WIPO, WMO, ICC (national committees), OAS (observer), Schengen Convention (de facto member)
Related Maps: