Mauritius City Map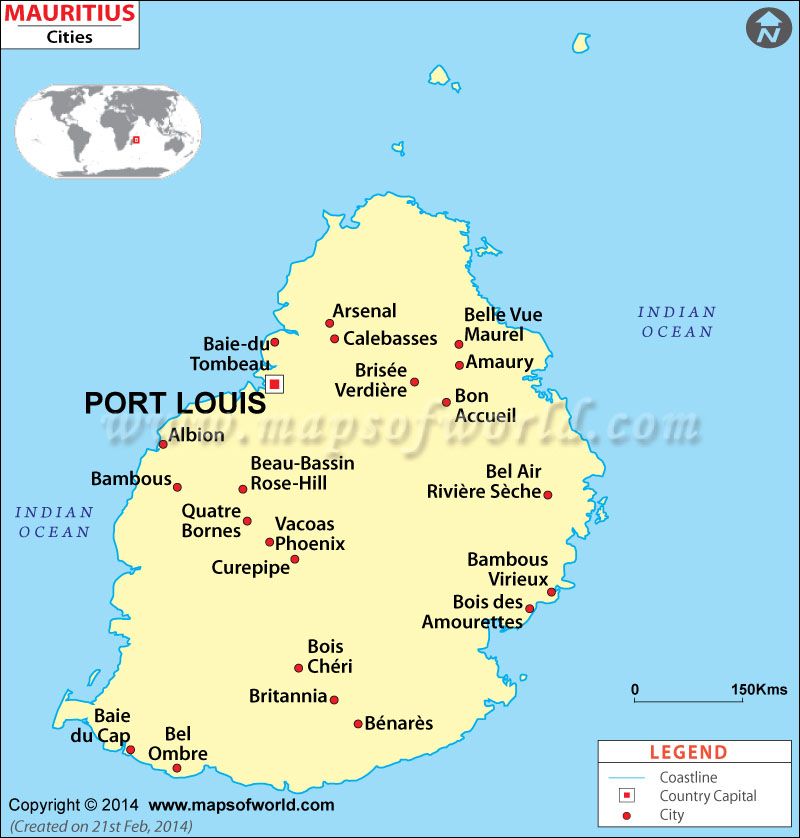 Mauritius is located on the banks of the Indian Ocean roughly 2400 kilometers from the south east coast of Africa. Mauritius cities have been developed extensively after the 1960s.
Few of these modern Mauritius cities were once villages. These cities in Mauritius attract the tourists for their natural beauty as well as the man-made architectures. Port Louis makes the capital city of Mauritius. Port Louis is the most important city in Mauritius and major offices are located in this city.
Few of the Mauritius cities include Grand Bay, Rose Hill, Flic en Flac, Port Louis, Belle Rose, Curepipe, Quatre Bornes, Triolet. The only international airport to serve these cities is Sir Seewoosagur Ramgoolam International Airport at Plaisance. From this airport the tourists can make entry to the cities of Mauritius by availing buses or taxis. The road transport is quite advanced in these cities.
Activities in Mauritius cities include shopping, water sports, sightseeing and a lot more. Mauritius cities host exotic white sandy beaches, which touch the enigmatic blue waters. There are a number of temples and churches in Mauritius, which attract a big number of pilgrims every year.
Shopping can be enjoyed at the fullest in the marketing complexes of Mauritius. Few are duty free allowing the shoppers to get good stuff at affordable prices.
The hotels in Mauritius cities offer a comfortable stay for the tourists. Few of the renowned Mauritius city hotels include:
Gold Crest Hotel
El Monaco Hotel
Mandarin Hotel
Shanghai Hotel
The climate in Mauritius cities remains generally moderate through out the year and thus it is extremely enjoyable to travel in Mauritius at any point of the year. However winter is the best time to travel in Mauritius.
| | | |
| --- | --- | --- |
| | Famous Cities to Visit in Mauritius | |
| City Name | Population (2011) | City Name | Population (2011) |
| --- | --- | --- | --- |
| Port Louis | 137608 | Bananes | 660 |
| Beau-Bassin Rose-Hill | 103098 | Beau Vallon | 6904 |
| Curepipe | 77471 | Bel Air Rivière Sèche | 17605 |
| Quatre Bornes | 90810 | Bel Ombre | 2417 |
| Vacoas-Phoenix | 105559 | Belle Vue Maurel | 4518 |
| Albion | 5205 | Bénarès | 2209 |
| Amaury | 2960 | Bois Chéri | 3482 |
| Amitié-Gokhoola | 2256 | Bois des Amourettes | 1880 |
| Arsenal | 2937 | Bon Accueil | 6203 |
| Baie du Cap | 2388 | Brisée Verdière | 7512 |
| Baie-du-Tombeau | 14687 | Britannia | 1278 |
| Bambous | 15345 | Calebasses | 4816 |
| Bambous Virieux | 1496 | | |