Mauritius Map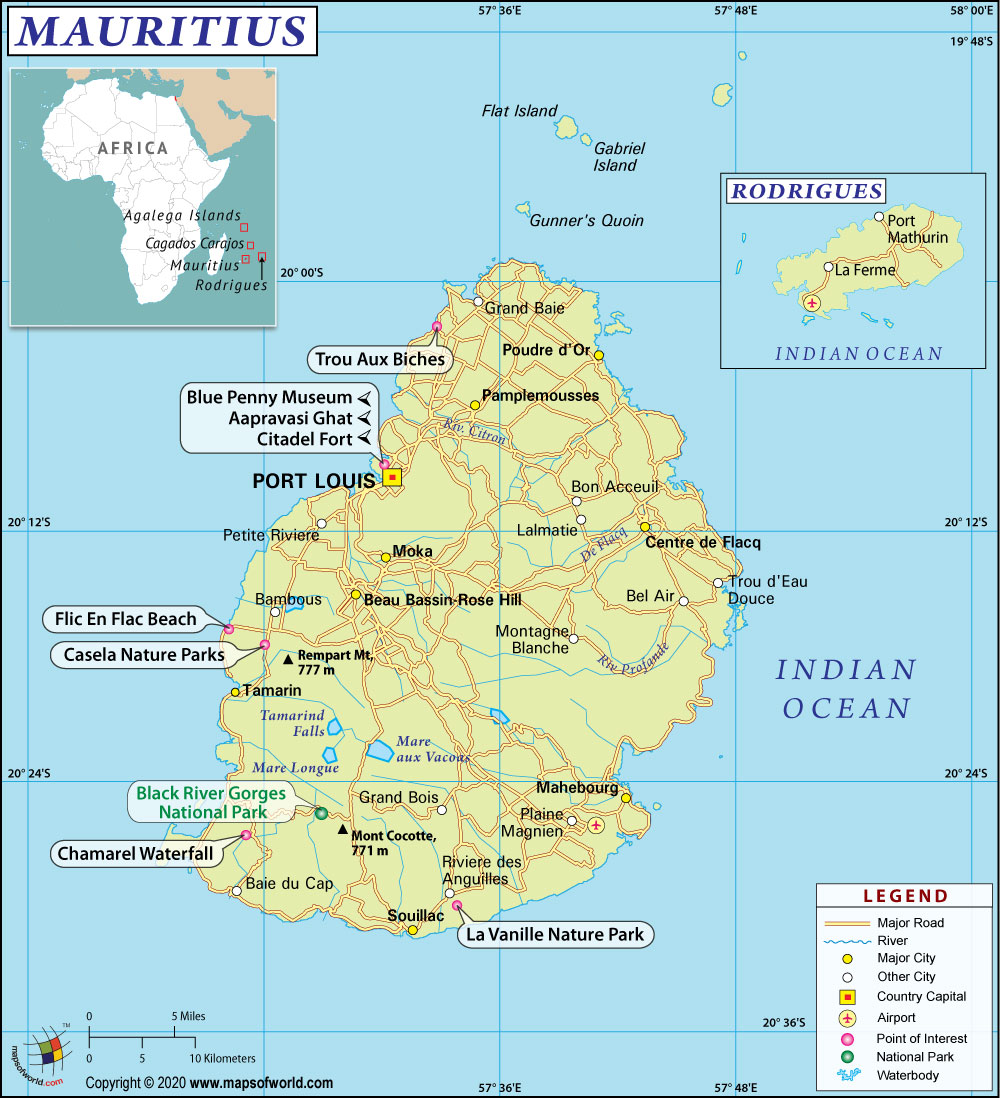 Mauritius is an island nation in the Indian Ocean. It consists of the main island of Mauritius, Rodrigues, Agaléga, and Cargados Carajos Shoals (St. Brandon). Mauritius gained independence from the British in 1968. It is a highly ranked African Country in terms of Economy, HDI, democracy, and political freedom.
The Republic of Mauritius is situated off the African coast in the Indian Ocean. Mauritius is about 2,000 kilometers from the African continent and is to the east of Madagascar. Mauritius has a total area of about 2,040 square kilometers (787 square miles) and a population of 1,265,710.
The capital and largest city of Mauritius is Port Louis, located in the northwest of the main island. Mauritius is divided into nine districts: Flacq, Grand Port, Moka, Pamplemousses, Plaines Wilhems, Port Louis, Riviere du Rempart, Riviere Noire, and Savanne. Until 2002, Rodrigues used to be the tenth district of Mauritius, but thereafter it attained the status of the Autonomous Region.
Mauritius History
Before the arrival of Arab sailors and later Portuguese explorers in 1507, Mauritius was relatively unknown. The Portuguese established the island as a base, but it was not until the Dutch arrived in 1598 that the island was named Mauritius. And by 1638, the Dutch had settled there. France took control of the island in 1715, after the Dutch abandoned it, renaming it Isle de France. The island remained under French control for the most part, until the British raided the island in 1810, calling it Mauritius once again.
Mauritius gained independence from the United Kingdom on March 12, 1968, and twenty-four years later, became a republic within the Commonwealth on March 12, 1992.
Economy of Mauritius
The economy of Mauritius is based heavily on tourism, as well as textiles, sugar, information technology, hospitality, and renewable energy. With its tropical weather and warm, clear waters, beautiful beaches, and distinctive culture, Mauritius is a luxury vacation destination. The island does not have natural resources to support its economy, but it does have sources of renewable energy, including hydro, solar, and wind power. Mauritius consistently ranks as one of the highest economies in Africa.
Mauritius uses the Mauritian rupee as its currency. The rupee was chosen for Mauritius after an influx of immigrants from India brought the Indian rupee to the island.