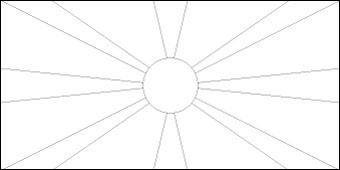 Download Macedonia Flag Outline Picture for kids to color
Flag of Macedonia Description
The flag of Macedonia is red with a yellow circular sun at its center, eight beams of yellow sunlight extend from the sun to the edges of the flag. The red and yellow colors used on the flag date back to early Macedonian history, and can be found on the Macedonian coat of arms, which dates back to the middle ages.
The sun is centered in the rectangular flag, with rays of sunshine beaming into each end and corner of the flag. The sun is referred to as "the new sun of Liberty," representing the new Republic of Macedonia.
History of the Flag of Macedonia
The flag of Macedonia was designed by Miroslav Grcev, who also proposed a new national coat of arms. The flag was adopted on October 5, 1995, replacing the first flag of the independent Republic of Macedonia, which also featured a yellow sun on a red field. The first flag of independent Macedonia was adopted on August 11, 1992, replacing the Communist flag of Macedonia. This new flag kept the red and yellow, and incorporated the Vergina Sun, a symbol that had been regarded as a symbol of Greek-Macedonian connections. However, Greece protested the use of this symbol because of strained relations between the countries after Macedonia gained independence. The current flag design was derived from that flag, morphing the Vergina Sun into the stylized sun seen on the flag of Macedonia today.
Though the flag was originally adopted in October 5, 1995, and was established in the Macedonian Constitution, some of the public protested its use, refusing the change from the old flag. In 1998, when the new flag became more widely accepted, the Assembly held a vote, officially approving the new flag.
| | |
| --- | --- |
| National symbol(s): | eight-rayed sun |
| National colors: | red, yellow |
| National anthem: | |
| Name: | "Denes nad Makedonija" (Today Over Macedonia) |
| Lyrics/Music: | Vlado MALESKI/Todor SKALOVSKI |
| | | |
| --- | --- | --- |
| | Fact about Macedonia flag | |
| Country | Macedonia |
| --- | --- |
| Designed by | Miroslav Grčev |
| Adopted | 5 October 1995 (as established in the Constitution of Macedonia) |
| Revision | NA |
| Design and Colors | A stylised yellow sun on a red field, with eight broadening rays extending from the centre to the edge of the field. |
| Size Ratio | 1:2 |