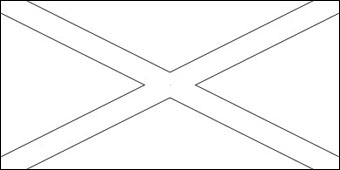 Download Picture of Blank Jamaica Flag For Kids to Color
Jamaican Flag Description
The Jamaican national flag features green, black, and gold, all common colors in African cultures and seen on various African flags, reflecting the country's African heritage. The green symbolizes hope, agricultural richness, and vegetation. Black has represented hardships as well as strength for overcoming those hardships, and gold is for the sun shining on Jamaica.
History of the Jamaican Flag
After gaining independence from the British West Indies in 1962, Jamaica launched a national competition to find the design for their new national flag. Of many designs submitted, the gold saltire, or X, beat out various striped flags in the same color scheme.
| | |
| --- | --- |
| National symbol(s): | green-and-black streamertail (bird), Guaiacum officinale (Guaiacwood) |
| National colors: | green, yellow, black |
| National anthem: | |
| Name: | "Jamaica, Land We Love" |
| Lyrics/Music: | Hugh Braham SHERLOCK/Robert Charles LIGHTBOURNE |
Facts about the Jamaica flag
| Country | Jamaica |
| --- | --- |
| Designed by | NA |
| Adopted | 6. August 1962 |
| Revision | 1875, 1906, 1957, 1962 |
| Design and Colors | A yellow diagonal cross divides into four triangles of green (top and bottom) and black (hoist side and fly side) |
| Size Ratio | 1:2 |