What is the unemployment percentage of labor force around the world?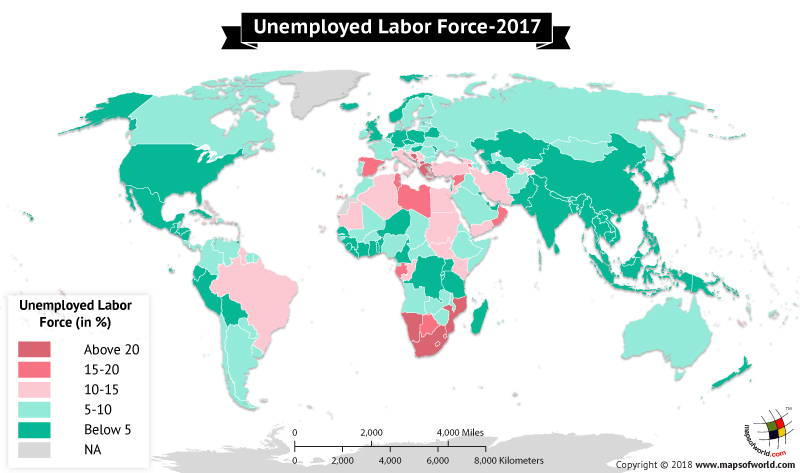 Unemployment is the condition when an able person who is willing to work, is seeking work but fails to find it. The national and the international economies are sinking and hence unemployment is a non-preventive situation.
Being unemployed is not a desirable situation, especially when you don't have an alternative source of income that contributes to meeting your daily expenses. It is inversely related to economic growth.
It is estimated that at any given time, a significant section of the labor force is unemployed due to a varying number of factors such as retrenchment, illness or any other factor. In fact, when it comes to the unemployment of the labor force, it simply means the number of people having no work – and is not related to lack of required talent or skill or unavailability of people seeking work.
The World Bank provides the data for the total percentage of unemployed labor force in the world.
| | |
| --- | --- |
| Country Name | Unemployed labor force in 2017 (%) |
| Palestine | 27.851 |
| South Africa | 27.718 |
| Lesotho | 27.245 |
| Swaziland | 26.396 |
| Bosnia and Herzegovina | 25.573 |
| Mozambique | 25.041 |
| Namibia | 23.335 |
| Macedonia | 22.948 |
| Greece | 21.406 |
| St. Lucia | 20.983 |
| French Polynesia | 20.773 |
| Gabon | 19.627 |
| St. Vincent and the Grenadines | 18.285 |
| Armenia | 18.187 |
| Botswana | 18.101 |
| Libya | 17.684 |
| Spain | 17.351 |
| Montenegro | 16.019 |
| Oman | 15.999 |
| Tunisia | 15.242 |
| Syria | 15.173 |
| Jordan | 14.922 |
| New Caledonia | 14.752 |
| Serbia | 14.105 |
| Haiti | 13.988 |
| Albania | 13.867 |
| Yemen | 13.768 |
| Sao Tome and Principe | 13.391 |
| Iran | 13.102 |
| Brazil | 12.882 |
| Sudan | 12.799 |
| Bahamas, The | 12.573 |
| Jamaica | 12.448 |
| Egypt | 12.079 |
| Guyana | 11.792 |
| Puerto Rico | 11.669 |
| Georgia | 11.547 |
| South Sudan | 11.543 |
| Kenya | 11.470 |
| Italy | 11.335 |
| Turkey | 11.263 |
| Congo, Rep. | 10.947 |
| Croatia | 10.780 |
| Cyprus | 10.768 |
| Cabo Verde | 10.339 |
| Tajikistan | 10.281 |
| Mauritania | 10.183 |
| Algeria | 10.019 |
| Barbados | 9.687 |
| France | 9.681 |
| Ukraine | 9.455 |
| Gambia, The | 9.450 |
| Channel Islands | 9.356 |
| Morocco | 9.332 |
| Euro area | 9.151 |
| Latvia | 9.073 |
| Portugal | 9.033 |
| Colombia | 8.960 |
| Afghanistan | 8.837 |
| Argentina | 8.738 |
| Finland | 8.682 |
| Costa Rica | 8.533 |
| Samoa | 8.206 |
| Iraq | 8.171 |
| Angola | 8.167 |
| Uruguay | 8.131 |
| Suriname | 8.124 |
| Venezuela | 8.061 |
| Mali | 7.911 |
| Slovakia | 7.900 |
| Zambia | 7.792 |
| Belize | 7.617 |
| Belgium | 7.354 |
| Kyrgyzstan | 7.284 |
| Uzbekistan | 7.176 |
| Mauritius | 7.161 |
| Virgin Islands (U.S.) | 7.133 |
| Lithuania | 7.093 |
| Brunei | 7.081 |
| Nigeria | 7.043 |
| Chile | 6.993 |
| Mongolia | 6.959 |
| Equatorial Guinea | 6.914 |
| Slovenia | 6.862 |
| Estonia | 6.756 |
| Sweden | 6.755 |
| Canada | 6.429 |
| Ireland | 6.399 |
| Eritrea | 6.363 |
| Fiji | 6.305 |
| Burkina Faso | 6.304 |
| Lebanon | 6.291 |
| Bulgaria | 6.279 |
| Guinea-Bissau | 6.100 |
| Malawi | 6.027 |
| Somalia | 5.979 |
| Central African Republic | 5.952 |
| Chad | 5.886 |
| Denmark | 5.850 |
| Djibouti | 5.810 |
| Paraguay | 5.797 |
| Saudi Arabia | 5.716 |
| Luxembourg | 5.693 |
| Australia | 5.680 |
| Panama | 5.562 |
| World | 5.520 |
| IBRD only | 5.487 |
| Austria | 5.486 |
| Dominican Republic | 5.486 |
| Guam | 5.411 |
| Vanuatu | 5.225 |
| Romania | 5.212 |
| Ethiopia | 5.204 |
| Russia | 5.173 |
| Zimbabwe | 5.159 |
| Azerbaijan | 5.032 |
| Maldives | 4.995 |
| Poland | 4.955 |
| New Zealand | 4.881 |
| Kazakhstan | 4.860 |
| Netherlands | 4.860 |
| Ecuador | 4.849 |
| Senegal | 4.845 |
| Trinidad and Tobago | 4.842 |
| Switzerland | 4.787 |
| Korea, North | 4.776 |
| China | 4.675 |
| El Salvador | 4.516 |
| Guinea | 4.485 |
| Sierra Leone | 4.473 |
| Honduras | 4.462 |
| Moldova | 4.454 |
| United States | 4.438 |
| Nicaragua | 4.422 |
| Bangladesh | 4.367 |
| Comoros | 4.341 |
| Hungary | 4.331 |
| United Kingdom | 4.322 |
| Indonesia | 4.283 |
| Israel | 4.271 |
| Malta | 4.256 |
| Cameroon | 4.254 |
| Norway | 4.191 |
| Sri Lanka | 4.079 |
| Pakistan | 4.044 |
| Korea, South | 3.755 |
| Germany | 3.736 |
| Congo, Dem. Rep. | 3.694 |
| Peru | 3.675 |
| India | 3.523 |
| Mexico | 3.501 |
| Timor-Leste | 3.431 |
| Malaysia | 3.415 |
| Turkmenistan | 3.401 |
| Hong Kong | 3.173 |
| Bolivia | 3.111 |
| Czech Republic | 3.063 |
| Iceland | 2.876 |
| Japan | 2.831 |
| Philippines | 2.784 |
| Nepal | 2.736 |
| Guatemala | 2.735 |
| Papua New Guinea | 2.662 |
| Cote d'Ivoire | 2.600 |
| Cuba | 2.554 |
| Benin | 2.466 |
| Bhutan | 2.435 |
| Liberia | 2.389 |
| Ghana | 2.355 |
| Tanzania | 2.215 |
| Uganda | 2.104 |
| Kuwait | 2.080 |
| Vietnam | 2.053 |
| Solomon Islands | 2.050 |
| Singapore | 2.024 |
| Macao | 1.977 |
| Togo | 1.844 |
| Madagascar | 1.797 |
| United Arab Emirates | 1.716 |
| Burundi | 1.553 |
| Bahrain | 1.310 |
| Rwanda | 1.297 |
| Tonga | 1.171 |
| Thailand | 1.083 |
| Myanmar | 0.794 |
| Laos | 0.671 |
| Belarus | 0.481 |
| Niger | 0.341 |
| Cambodia | 0.216 |
| Qatar | 0.158 |
| Aruba | NA |
| Andorra | NA |
| American Samoa | NA |
| Antigua and Barbuda | NA |
| Bermuda | NA |
| Curacao | NA |
| Cayman Islands | NA |
| Dominica | NA |
| Faroe Islands | NA |
| Micronesia, Fed. Sts. | NA |
| Gibraltar | NA |
| Grenada | NA |
| Greenland | NA |
| Isle of Man | NA |
| Not classified | NA |
| Kiribati | NA |
| St. Kitts and Nevis | NA |
| Liechtenstein | NA |
| St. Martin (French part) | NA |
| Monaco | NA |
| Marshall Islands | NA |
| Northern Mariana Islands | NA |
| Nauru | NA |
| Palau | NA |
| San Marino | NA |
| Sint Maarten (Dutch part) | NA |
| Seychelles | NA |
| Turks and Caicos Islands | NA |
| Tuvalu | NA |
| British Virgin Islands | NA |
| Kosovo | NA |
Know more about the world:
Related Maps: