Which Is The Largest State In The United States?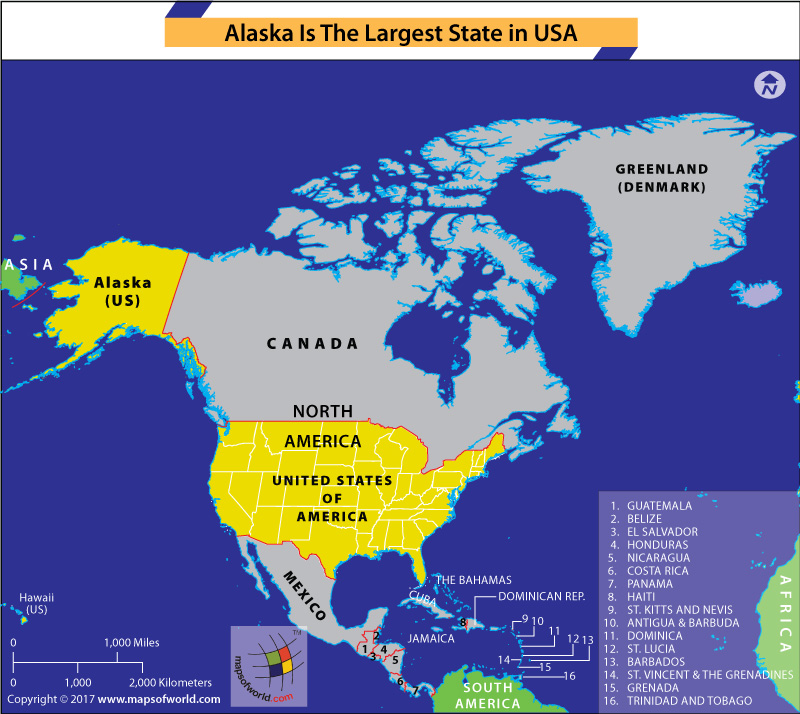 Which is the largest state in America?
The United States of America is a federation of 50 states, a federal district, and other territories. In fact, it is the world's oldest surviving federation and is often considered a successful model for federal nations formed subsequently. The largest among the 50 states, going by area, is Alaska. It is bigger than the next three largest states of the US – Texas, California, and Montana. In fact, the entire United States is only about 5.2 times as big as Alaska.
Despite being the largest, it is also the least densely populated among the states. To get a clear understanding of the size and population of Alaska, consider this – the state is about 7 times the size of the United Kingdom but the UK has about 88 times the population of Alaska. New York City has over 11.5 times the population of Alaska. Spanning across 664,384 square miles, it is also commonly called 'The Last Frontier' but does not have an official nickname.
Alaska was admitted to the union on January 3, 1959, as the 49th state of the US. Alaska is located in the northwestern frontier of the North American continent. To the north of Alaska lie the Arctic Ocean and the Beaufort Sea, to the east are the Canadian province, British Columbia, and the Yukon Territory, to the south is the Pacific Ocean and to the west is the Bering Sea. The state thus shares maritime borders with Russia across the Bering Straits.
The earliest European settlement in Alaska dates back to 1784 when the Russians landed near Kodiak. Fur trade flourished against the backdrop of conflicts between the Russians and native Alaskans. The United States ultimately purchased Alaska from the Tsarist Russian Empire in 1867 for an amount of US $7.2 million. The purchase was led by the then U.S. Secretary of State William H. Seward and critics who believed that the region would not add much to the US, referred to the decision as "Seward's Folly". Later, however, the discovery of gold triggered a gold rush and an influx of prospectors. With over 95 state parks and 2 national forests, Alaska is home to a great variety of flora and fauna and is just the place you must visit to witness the stunning Aurora Borealis or Northern Lights.
Alaska Facts –
• State Capital – Juneau
• Date of Admission – Jan. 3, 1959
• State Nickname – The Last Frontier
• Abbreviation – AK
• Population – 7,38,432 (2015)
• State Motto – "North to the Future"
• State Song – "Alaska's Flag"
• State Bird – Willow ptarmigan (Lagopus lagopus)
• State flower – Alpine forget-me-not
• Governor – William Martin "Bill" Walker (Independent)
• Senators – Lisa Murkowski (Republican), Daniel Sullivan (Republican)
Related Maps: