What Country has the Highest Divorce Rate?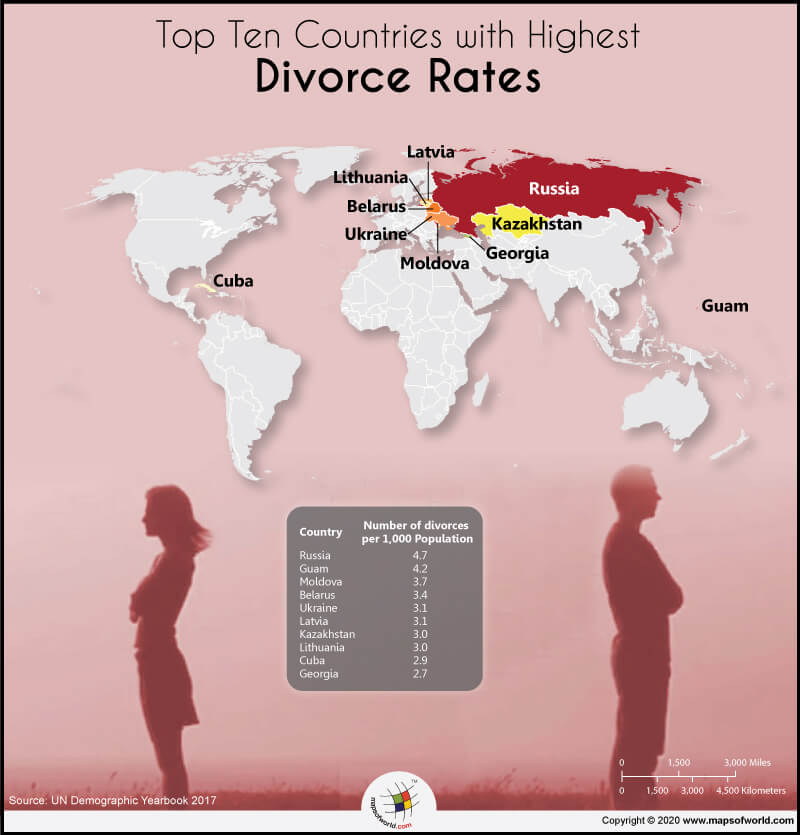 Infidelity, incompatibility, substance addiction, and physical or mental abuse are some of the common reasons for the failure of a marriage. Global divorce rates are ever-rising, and currently, the world is observing fewer marriages and more separations. Since 1960, the rates have shown a rise of more than 251.8%.
Which Country Has the Highest Divorce Rate?
As per UN Demographic Yearbook 2017, Russia witnessed the highest divorce rate of 4.7 per 1,000 population. Russia was followed by Guam and Moldova, with a divorce rate of 4.2 and 3.7, respectively. Belarus had a divorce rate of 3.4, whereas Ukraine and Latvia both had a divorce rate of 3.1.
Mutual understanding is essential to make marriages successful, but perceptions and lack of trust can ruin relationships. People claim to fall out of love and sign up for a no-fault divorce. However, the legal proceeding of a country plays a vital role in the divorce rate of a nation. For example, in countries like Wales and England, no-fault divorce does not exist, and a blame game is necessary if a couple wants to end their marriage. It often makes people be against divorce and think that compromising is the best option for them, and not filing a divorce case.
In some regions, divorce hearings take even longer, which is more than a year before it comes into effect. It puts immense psychological pressure on a person who wants to move on divorce paper.
Since the 1970s, the overall divorce rates have been on the rise at the global level. This change in pattern may be explained by, but not limited, to the fact that lately, many women have entered the workforce resulting in changes in expectations in a marriage. There is also a rise in the trend of not marrying at all, which in turn affects the changes in divorce rates.
The table below mentions the top ten countries with the highest divorce rates:
| | | | |
| --- | --- | --- | --- |
| S.No. | Country | Number of Divorces per 1,000 Population | Population 2020 |
| 1 | Russia | 4.7 | 145,934,462 |
| 2 | Guam | 4.2 | 168,775 |
| 3 | Moldova | 3.7 | 4,033,963 |
| 4 | Belarus | 3.4 | 9,449,323 |
| 5 | Ukraine | 3.1 | 43,733,762 |
| 6 | Latvia | 3.1 | 1,886,198 |
| 7 | Kazakhstan | 3 | 18,776,707 |
| 8 | Lithuania | 3 | 2,722,289 |
| 9 | Cuba | 2.9 | 11326616 |
| 10 | Georgia | 2.7 | 3,989,167 |
Source: https://worldinfigures.com/rankings/index/218
Related Links:

 Related Map: