Is North Korea Under A Dictatorship?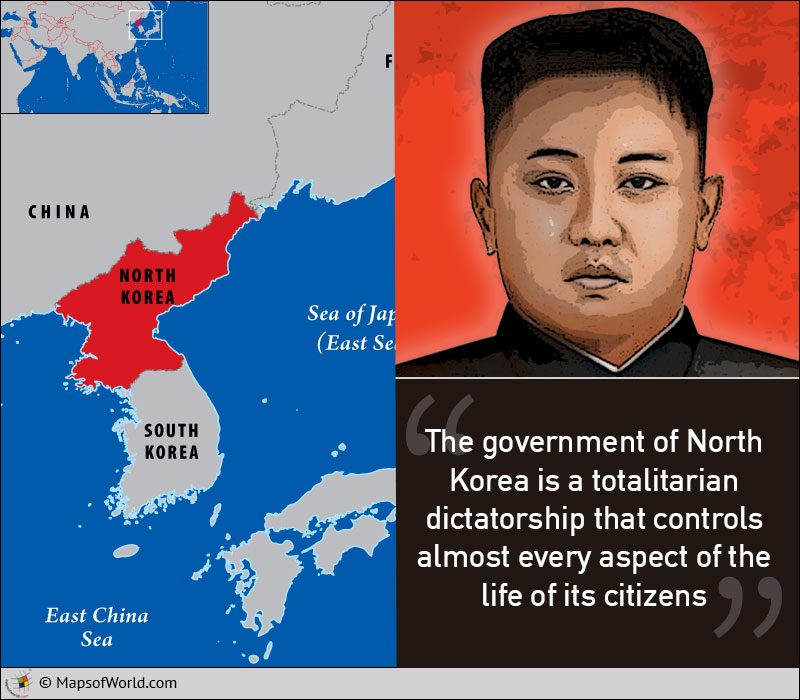 The official name of North Korea is Democratic People's Republic of Korea. The constitution, too, promises that the administration of the country shall be undertaken in keeping with democratic principles.
In practice, however, the country is neither a democracy nor a true republic.
The government of North Korea is a totalitarian dictatorship that controls almost every aspect of the life of its citizens. The country maintains a facade of democracy and holds parliamentary elections regularly. The polls there are anything but free and fair, and the citizens do not have the option of even criticizing the political leadership, let alone vote against the Supreme Commander. Any murmur of dissent is likely to attract incarceration, serious punishment, and even death for three generations of the protester.
Kim II Sung assumed leadership of North Korea in 1948 and since then has been alienating the country from the global community. The government indulges in systemic and large-scale propaganda of its rulers – Supreme Commander Kim II Sung and his heirs. Nearly all forms of freedom are curbed. The citizens are not permitted to watch movies, read books, congregate, or even dress as they wish to. The people are not allowed to communicate with the outside world. Kim Jong-un is the current dictator of North Korea.
According to news reports, elections are conducted with unfailing regularity (every five years). The turnout, too, is extraordinary. This could be because casting a vote is compulsory for every citizen over the age of 17. Elections are supposed to be an opportunity to support the government and failing to vote is deemed a serious political offense (treason). The hyper-censored media always reports a 100 percent turnout. Voters are handed ballot slips with a single candidate. Dissenters must vote at a different booth making their vote public (and punishable).
Thus, these votes are all cast in favor of the 687 deputies (members) who form the SPA (Supreme People's Assembly). The SPA, however, is rarely convened. The Presidium exercises all legislative powers when the SPA fails to convene. The Presidium is made up of Supreme Commander Kim (currently – Kim Jong-un) and a handful of senior officials of the Workers' Party of Korea.
North Korea's constitutional endorsement of democracy comes across as a cruel joke. The country is a cruel dictatorship that is known for its blatant violation of human rights.
strong>Know more:
Related maps: