What countries have least corruption?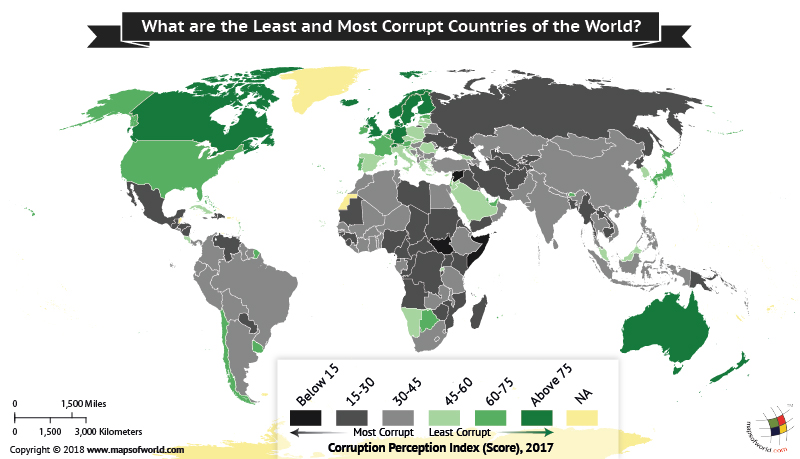 Corruption is when a person, who is in a position of authority, indulges in unethical or dishonest conduct for his or her own personal benefit. It involves many unethical practices such as embezzlement or bribery, which has a damaging effect on the economy of a nation. It leads to undermining investments in important sectors such as education and health, discouraging investment in the nation, and the lowering of productivity. People also stop relying on the public institutions and the confidence in the system declines. The economic growth of a country is adversely affected and poverty spreads. While some nations have taken commendable steps in tackling theses issue of corruption, many countries lag behind.
The Corruption Perception Index released by Transparency International uses a scale of 0 (highly corrupt) to 100 (very clean) to estimate the situation in different countries. According to their 2017 data, New Zealand is the cleanest, or least corrupt country in the entire world, with a score of 89. The European nations Denmark and Finland are next in the index, with the scores of 88 and 85, respectively.
The United States is tied with a few other countries and comes with a score of 75. Many other nations having a score between 70 to 80 are; Australia, Hong Kong, Iceland, Austria, Belgium, Ireland, Japan, Estonia, the United Arab Emirates, France, and Uruguay.
Countries which rank low on the index and are most affected by corruption are; Somalia, South Sudan, Syria and Afghanistan. Cases of embezzlement and bribery are quite high in these nations, with Somalia being the worst with a score of 8.
The countries in Africa are facing immense poverty, despite having an abundance of natural resources. Part of solution is to curb corruption.
For information on the score of corruption control in each nation, refer to the table below.
| | | |
| --- | --- | --- |
| RANK | COUNTRY/TERRITORY | SCORE |
| 1 | New Zealand | 89 |
| 2 | Denmark | 88 |
| 3 | Finland | 85 |
| 3 | Norway | 85 |
| 3 | Switzerland | 85 |
| 6 | Singapore | 84 |
| 6 | Sweden | 84 |
| 8 | Canada | 82 |
| 8 | Luxembourg | 82 |
| 8 | Netherlands | 82 |
| 8 | United Kingdom | 82 |
| 12 | Germany | 81 |
| 13 | Australia | 77 |
| 13 | Hong Kong | 77 |
| 13 | Iceland | 77 |
| 16 | Austria | 75 |
| 16 | Belgium | 75 |
| 16 | The United States | 75 |
| 19 | Ireland | 74 |
| 20 | Japan | 73 |
| 21 | Estonia | 71 |
| 21 | United Arab Emirates | 71 |
| 23 | France | 70 |
| 23 | Uruguay | 70 |
| 25 | Barbados | 68 |
| 26 | Bhutan | 67 |
| 26 | Chile | 67 |
| 28 | Bahamas | 65 |
| 29 | Portugal | 63 |
| 29 | Qatar | 63 |
| 29 | Taiwan | 63 |
| 32 | Brunei | 62 |
| 32 | Israel | 62 |
| 34 | Botswana | 61 |
| 34 | Slovenia | 61 |
| 36 | Poland | 60 |
| 36 | Seychelles | 60 |
| 38 | Costa Rica | 59 |
| 38 | Lithuania | 59 |
| 40 | Latvia | 58 |
| 40 | Saint Vincent and the Grenadines | 58 |
| 42 | Cyprus | 57 |
| 42 | Czech Republic | 57 |
| 42 | Dominica | 57 |
| 42 | Spain | 57 |
| 46 | Georgia | 56 |
| 46 | Malta | 56 |
| 48 | Cabo Verde | 55 |
| 48 | Rwanda | 55 |
| 48 | Saint Lucia | 55 |
| 51 | South Korea | 54 |
| 52 | Grenada | 52 |
| 53 | Namibia | 51 |
| 54 | Italy | 50 |
| 54 | Mauritius | 50 |
| 54 | Slovakia | 50 |
| 57 | Croatia | 49 |
| 57 | Saudi Arabia | 49 |
| 59 | Greece | 48 |
| 59 | Jordan | 48 |
| 59 | Romania | 48 |
| 62 | Cuba | 47 |
| 62 | Malaysia | 47 |
| 64 | Montenegro | 46 |
| 64 | Sao Tome and Principe | 46 |
| 66 | Hungary | 45 |
| 66 | Senegal | 45 |
| 68 | Belarus | 44 |
| 68 | Jamaica | 44 |
| 68 | Oman | 44 |
| 71 | Bulgaria | 43 |
| 71 | South Africa | 43 |
| 71 | Vanuatu | 43 |
| 74 | Burkina Faso | 42 |
| 74 | Lesotho | 42 |
| 74 | Tunisia | 42 |
| 77 | China | 41 |
| 77 | Serbia | 41 |
| 77 | Suriname | 41 |
| 77 | Trinidad and Tobago | 41 |
| 81 | Ghana | 40 |
| 81 | India | 40 |
| 81 | Morocco | 40 |
| 81 | Turkey | 40 |
| 85 | Argentina | 39 |
| 85 | Benin | 39 |
| 85 | Kosovo | 39 |
| 85 | Kuwait | 39 |
| 85 | Solomon Islands | 39 |
| 85 | eSwatini | 39 |
| 91 | Albania | 38 |
| 91 | Bosnia and Herzegovina | 38 |
| 91 | Guyana | 38 |
| 91 | Sri Lanka | 38 |
| 91 | Timor-Leste | 38 |
| 96 | Brazil | 37 |
| 96 | Colombia | 37 |
| 96 | Indonesia | 37 |
| 96 | Panama | 37 |
| 96 | Peru | 37 |
| 96 | Thailand | 37 |
| 96 | Zambia | 37 |
| 103 | Bahrain | 36 |
| 103 | Côte D'Ivoire | 36 |
| 103 | Mongolia | 36 |
| 103 | Tanzania | 36 |
| 107 | Armenia | 35 |
| 107 | Ethiopia | 35 |
| 107 | Macedonia | 35 |
| 107 | Vietnam | 35 |
| 111 | Philippines | 34 |
| 112 | Algeria | 33 |
| 112 | Bolivia | 33 |
| 112 | El Salvador | 33 |
| 112 | Maldives | 33 |
| 112 | Niger | 33 |
| 117 | Ecuador | 32 |
| 117 | Egypt | 32 |
| 117 | Gabon | 32 |
| 117 | Pakistan | 32 |
| 117 | Togo | 32 |
| 122 | Azerbaijan | 31 |
| 122 | Djibouti | 31 |
| 122 | Kazakhstan | 31 |
| 122 | Liberia | 31 |
| 122 | Malawi | 31 |
| 122 | Mali | 31 |
| 122 | Nepal | 31 |
| 122 | Moldova | 31 |
| 130 | Gambia | 30 |
| 130 | Iran | 30 |
| 130 | Myanmar | 30 |
| 130 | Sierra Leone | 30 |
| 130 | Ukraine | 30 |
| 135 | Dominican Republic | 29 |
| 135 | Honduras | 29 |
| 135 | Kyrgyzstan | 29 |
| 135 | Laos | 29 |
| 135 | Mexico | 29 |
| 135 | Papua New Guinea | 29 |
| 135 | Paraguay | 29 |
| 135 | Russia | 29 |
| 143 | Bangladesh | 28 |
| 143 | Guatemala | 28 |
| 143 | Kenya | 28 |
| 143 | Lebanon | 28 |
| 143 | Mauritania | 28 |
| 148 | Comoros | 27 |
| 148 | Guinea | 27 |
| 148 | Nigeria | 27 |
| 151 | Nicaragua | 26 |
| 151 | Uganda | 26 |
| 153 | Cameroon | 25 |
| 153 | Mozambique | 25 |
| 155 | Madagascar | 24 |
| 156 | Central African Republic | 23 |
| 157 | Burundi | 22 |
| 157 | Haiti | 22 |
| 157 | Uzbekistan | 22 |
| 157 | Zimbabwe | 22 |
| 161 | Cambodia | 21 |
| 161 | Congo | 21 |
| 161 | Democratic Republic of Congo | 21 |
| 161 | Tajikistan | 21 |
| 165 | Chad | 20 |
| 165 | Eritrea | 20 |
| 167 | Angola | 19 |
| 167 | Turkmenistan | 19 |
| 169 | Iraq | 18 |
| 169 | Venezuela | 18 |
| 171 | North Korea | 17 |
| 171 | Equatorial Guinea | 17 |
| 171 | Guinea Bissau | 17 |
| 171 | Libya | 17 |
| 175 | Sudan | 16 |
| 175 | Yemen | 16 |
| 177 | Afghanistan | 15 |
| 178 | Syria | 14 |
| 179 | South Sudan | 12 |
| 180 | Somalia | 9 |
Know more:
Related Maps: