What Country is Pompeii located?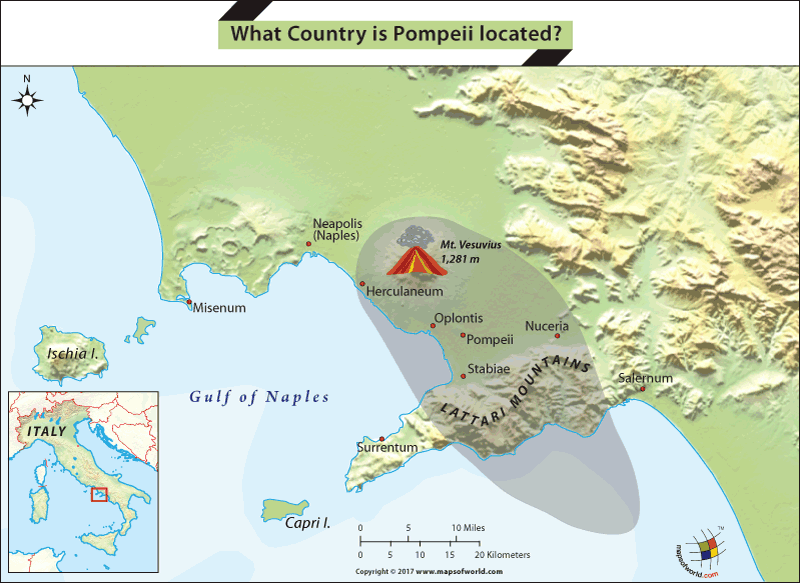 Pompeii was one of the most vibrant, culturally rich, and populated cities of the Roman Empire. It is believed to have been founded in the sixth century BCE by the Oscans. The Oscans or the Osci were the natives of southern Italy who spoke the Oscan language. The city was annexed by the Romans in the fourth century BCE and it remained a very important city until its destruction. Archaeologists believe that the city of Pompeii was located in the region of Campania, approximately 14 miles from Naples, in Italy. Its location at the southeastern base of one of the most active volcanoes of Europe – Mount Vesuvius – was its undoing. The eruption of Mount Vesuvius in 79 CE destroyed Pompeii and other neighboring communities such as Herculaneum, and Torre Annunziata. Collectively, the three were designated a UNESCO World Heritage Site in 1997.
Archaeologists believe that the ancient city of Pompeii was founded by the Oscan speaking people of Campania. Its location near the mouth of the river Sarnus (Sarno) made it a beautiful 'resort' town that prospered by virtue of the great number of tourists that it attracted and due to the trade opportunities, it offered. By the eighth century BCE the influence of the Greeks was pronounced and by the following century the Etruscans invaded and settled in Pompeii. By the fifth century BCE King Hieron I of Syracuse conquered Pompeii and neighboring towns as well. Another century later, the entire region of Campania became a part of the Roman confederation. The assimilation of Pompeii into the Roman Empire was not complete, though, and Pompeii along with other Italian city-states launched a revolt against Rome in around 89 BCE. The revolt was quashed and Pompeii became a colony of Rome after the ensuing war.
The beauty of Pompeii attracted wealthy vacationers and Roman dignitaries. Local industries prospered and Pompeii became one of the best-planned towns of Rome. Open-air theatres, an arena that could seat about 2,000 people, wide streets, sprawling squares, shops, inns, and taverns became the hallmark of Pompeii. By the time Mount Vesuvius started to spew lava and ash, drowning the city, there were approximately 20,000 people living in the city and in its neighborhood.
The eruption of Mount Vesuvius was not without warning. In 63 CE, a major earthquake struck the region and many parts of Campania were affected. The belief that Pompeii was indestructible, however, continued to attract people. On August 24, 79 CE, Vesuvius erupted shooting up columns of volcanic gas, ashes, and pumice. Those who had read the warning signs a day before had left but over 11,000 people remained in Pompeii only to be killed by the heat and choked by the gases. The eruption that destroyed Pompeii, however, preserved in its ruins, near-perfect condition to be discovered nearly 17 centuries later (excavation worked in Pompeii began in 1748).
Related Maps of Articles: