What are the popular places to visit in Italy?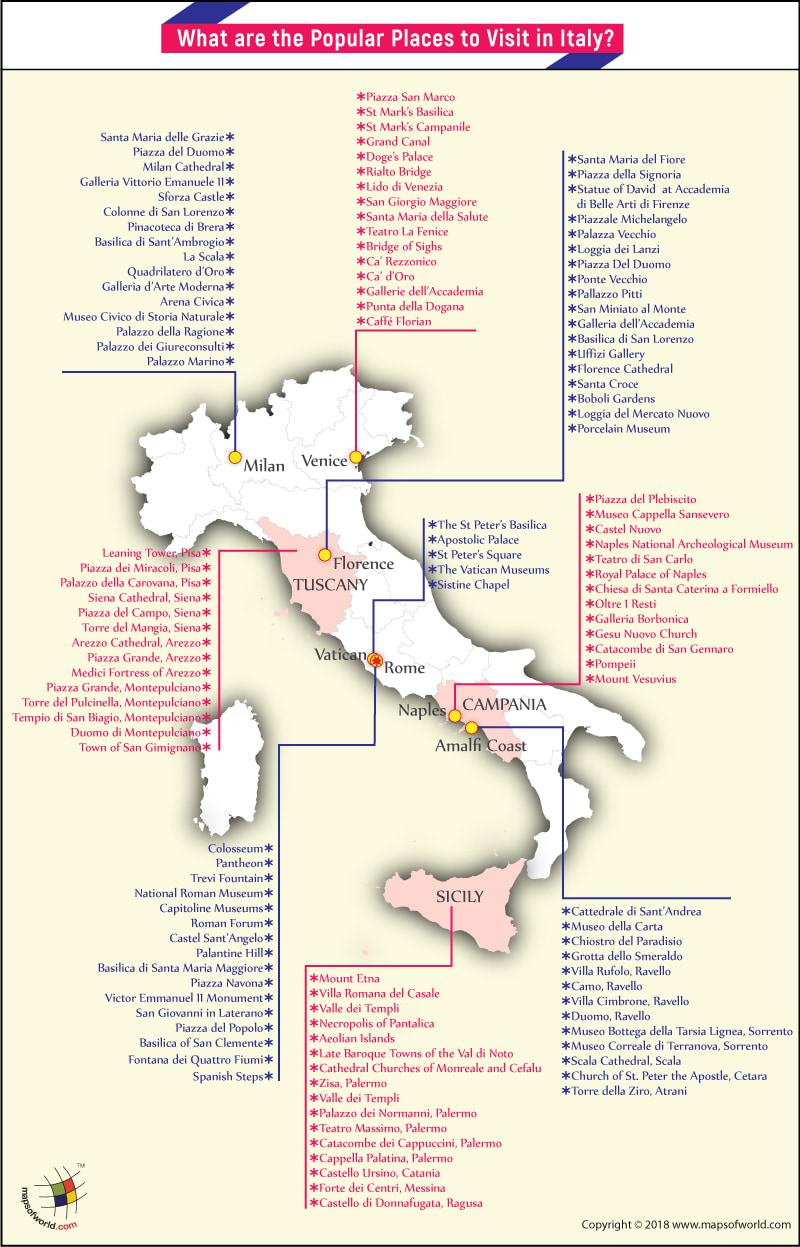 Italy is a popular tourist destination that has terrific places of interest for every category of traveler. It's a dream destination if the past is of interest – history, architecture, culture, art, or sculpture, every city has something to offer. Here are some places that you may want to visit on your next visit to Italy.
Rome
The city that cradled the Roman Empire is the first place to visit in Italy. There is so much of history embedded in every building and corner of Rome that one could simply spend the entire time simply walking the streets of this ancient and Baroque city. From days of the Roman Empire to the peak of the Renaissance and beyond, Rome nurtured art and culture like no other city in the world.
Not-to-miss places:
| | |
| --- | --- |
| Colosseum | Castel Sant'Angelo |
| Vatican Museums and the Sistine Chapel | Palatine Hill |
| Pantheon | Basilica di Santa Maria Maggiore |
| St. Peter's Basilica | Piazza Navona |
| St Peter's Square | Victor Emmanuel II Monument |
| Trevi Fountain | San Giovanni in Laterano |
| National Roman Museum | Piazza del Popolo |
| Capitoline Museums | Basilica of San Clemente |
| Roman Forum | |
Vatican
A 44-hectare independent state within a state. Vatican City lies within Rome, and the Pope resides here. A large number of Rome's tourist attractions lie within Vatican City's precincts. The St Peter's Basilica, Apostolic Palace, St Peter's Square, the Vatican Museums along with the Sistine Chapel, all form part of the Vatican and Rome tour circuit.
Venice
Venice, also known as Venezia, is a UNESCO World Heritage City, built on a lagoon, Venice is a city connected by canals and bridges. The Grand Canal divides Venice into two major sections and tourists have the option of taking a Gondola ride to explore parts of the city or simply walk around to discover its hidden charms. Venice is incomplete without a visit to Murano, known for its famous Murano Glass creations. Burano is the other attraction, known for its delicate lace production.
Not-to-miss places:
| | |
| --- | --- |
| Piazza San Marco | Santa Maria della Salute |
| St Mark's Basilica | Teatro La Fenice |
| St Mark's Campanile | Bridge of Sighs |
| Grand Canal | Ca' Rezzonico |
| Doge's Palace | Ca' d'Oro |
| Rialto Bridge | Gallerie dell'Accademia |
| Lido di Venezia | Punta della Dogana |
| San Giorgio Maggiore | Caffé Florian |
Florence
The capital city of Tuscany, Florence is where the Renaissance began. The city nurtured painters, sculptors, architects, craftsmen, musicians, inventors, all of whom contributed in making Florence wealthy in economy and culture. It's a city best explored on foot with several markets to buy local handicrafts and jewelry.
Not-to-miss places:
| | |
| --- | --- |
| Santa Maria del Fiore | San Miniato al Monte |
| Piazza Della Signoria | Galleria dell'Accademia |
| Statue of David  at Accademia di Belle Arti di Firenze | Basilica di San Lorenzo |
| Piazzale Michelangelo | Uffizi Gallery |
| Palazza Vecchio | Florence Cathedral |
| Loggia dei Lanzi | Santa Croce |
| Piazza Del Duomo | Boboli Gardens |
| Ponte Vecchio | Loggia del Mercato Nuovo |
| Pallazzo Pitti | Porcelain Museum |
Milan
Milan or Milano is a fashion, design, cultural, and finance hub for Italy. From historical to contemporary, Milan offers a vibrant story to tell and tourists from all over the world head for Milan throughout the year. Cultural events, exhibitions, conferences and product launches take place through the year, and big fashion houses like Armani, Dolce&Gabana, Prada, Gucci, Versace, Fendi, Bulgari, among many others have their business operations in the city. Milan is where the talented painter and inventor Leonardo da Vinci created his famous mural painting – The Last Supper, housed at the refectory of the Convent of Santa Maria delle Grazie. Fashion shoppers can shop the best designer brands in Milan's fashion district – Quadrilatero d'Oro, spread across Via Montenapoleone, Via Sant'Andrea, Via Borgospesso, Via Manzoni, Via Gesù, and Via della Spiga. Another shopping destination is the Gallerie Vittorio Emanuele II, located near the Duomo.
Not-to-miss places:
| | |
| --- | --- |
| Santa Maria delle Grazie | La Scala |
| Piazza del Duomo | Quadrilatero d'Oro |
| Milan Cathedral | Galleria d'Arte Moderna |
| Galleria Vittorio Emanuele II | Arena Civica |
| Sforza Castle | Museo Civico di Storia Naturale |
| Colonne di San Lorenzo | Palazzo della Ragione |
| Pinacoteca di Brera | Palazzo dei Giureconsulti |
| Basilica di Sant'Ambrogio | Palazzo Marino |
Amalfi Coast
The Amalfi Coast on the Salerno Gulf of the Tyrrhenian Sea between Sorrento and Ravello presents a wonderful destination to enjoy the Italian coastline. The Amalfi Coast is a declared UNESCO World Heritage Site and is a great place to head for a romantic Italian holiday.
Not-to-miss places:
| | |
| --- | --- |
| Cattedrale di Sant'Andrea, Amalfi | Duomo, Ravello |
| Museo della Carta, Amalfi | Museo Bottega della Tarsia Lignea, Sorrento |
| Chiostro del Paradisio, Amalfi | Museo Correale di Terranova, Sorrento |
| Grotta dello Smeraldo | Scala Cathedral, Scala |
| Villa Rufolo, Ravello | Church of St. Peter the Apostle, Cetara |
| Camo, Ravello | Torre della Ziro, Atrani |
| Villa Cimbrone, Ravello | |
Tuscany
Florence, the capital city of Tuscany, is a major tourist destination but the rest of Tuscany is equally fascinating for travelers and visitors. Famous for its expansive meadows, olive and grape farms, and popular vineyards producing some of the best wines and food products in Italy. Ancient cities like Siena take you back into time, Pisa – famous for its Leaning Tower has its history to tell, for connoisseurs of Italian wines, visiting the expansive Chianti region is a must. Check out towns like Montepulciano, Arezzo, Lucca, Val d'Orcia, San Gimignano, and the coastal town of Elba; all have their fascinating history and unique identity.
Not-to-miss places:
| | |
| --- | --- |
| Leaning Tower, Pisa | Piazza Grande, Arezzo |
| Piazza dei Miracoli, Pisa | Medici Fortress of Arezzo |
| Palazzo della Carovana, Pisa | Piazza Grande, Montepulciano |
| Siena Cathedral, Siena | Torre del Pulcinella, Montepulciano |
| Piazza del Campo, Siena | Tempio di San Biagio, Montepulciano |
| Torre del Mangia, Siena | Duomo, Montepulciano |
| Arezzo Cathedral, Arezzo | |
Naples
The coastal city of Naples or Napoli is the third largest municipality after Rome and Milan. Its historic city center area is a UNESCO World Heritage Site and attracts a large number of visitors throughout the year.
Not-to-miss places:
| | |
| --- | --- |
| Piazza del Plebiscito | Chiesa di Santa Caterina a Formiello |
| Museo Cappella Sansevero | Oltre I Resti |
| Castel Nuovo | Galleria Borbonica |
| Naples National Archeological Museum | Gesu Nuovo Church |
| Teatro di San Carlo | Catacombe di San Gennaro |
| Royal Palace of Naples | |
Sicily
The largest island in the Mediterranean Sea has a long history and culture. The following UNESCO World Heritage Sites on Sicily include:
| | |
| --- | --- |
| Mount Etna | Aeolian Islands |
| Villa Romana del Casale | Late Baroque Towns of the Val di Noto |
| Valle dei Templi | Cathedral Churches of Monreale and Cefalu |
| Necropolis of Pantalica | |
Not-to-miss places:
| | |
| --- | --- |
| Zisa, Palermo | Capella Palatina, Palermo |
| Valle dei Templi | Castello Ursino, Catania |
| Palazzo dei Normani, Palermo | Forte dei Centri, Messina |
| Teatro Massimo, Palermo | Castello di Donnafugata, Ragusa |
| Catacombe dei Cappuccini, Palermo | |
Check out this – Map of Italy and Other 54 Related Italian Maps for more maps and info about Italy.
Visit the following to learn more about Italy:
Related Maps: