What are the Key Facts of Italy?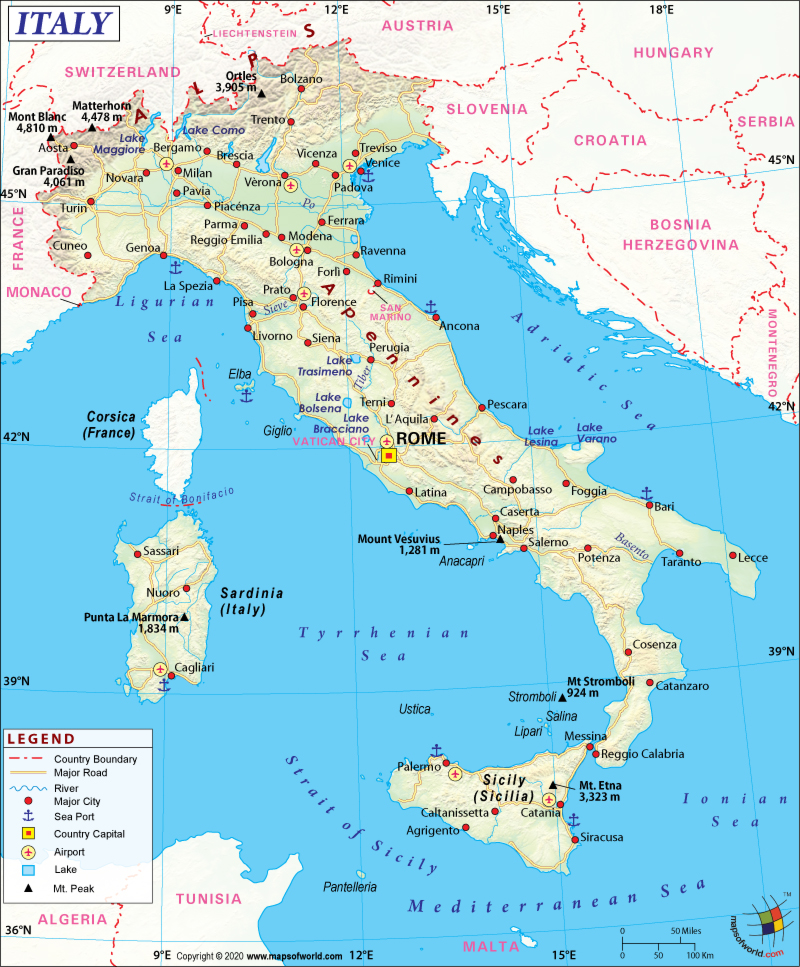 | | |
| --- | --- |
| Official Name | Italian Republic |
| Continent | Europe |
| Capital | Rome |
| Largest City | Rome |
| Coordinates | 42.833333, 12.833333 |
| Area | 116,350 sq. mi (301,340 sq. km) |
| Land Boundaries | 1,141.08 mi (1,836.4 km) |
| Coastline | 4,700 mi (7,600 km) |
| Currency | Euro |
| Neighboring Countries | Switzerland, France, Austria, and Slovenia. San Marino and Vatican City (enclaves) |
| Population | 60,483,973 (2017 est.) |
| Official Languages | Italian |
| Major Religion | Christianity (overwhelmingly Roman Catholic) |
| National Day | March 17, 1861 (Unification), June 2, 1946 (Republic Day) |
| National Anthem | "Il Canto degli Italiani" |
| Form of Government | Unitary parliamentary republic |
| President | Sergio Mattarella |
| Prime Minister | Giuseppe Conte |
| GDP per capita (PPP) | $40,923.7 (World Bank, 2017) |
| GDP per capita (nominal) | $32,110.0 (World Bank, 2017) |
| HDI | 0.88 (2017), Rank: 28 |
| Literacy Rate | NA |
| Space Agency | Italian Space Agency |
| Military Expenditure Ranking | 13 (SIPRI, 2017) |
| No. of Olympic Medals | 701 |
| Driving Side | Right |
| Calling Code | 39 |
| Time Zone | UTC+1 (CET), UTC+2(CEST) in summer |
| Internet TLD | .it |
Where is Italy?
Located in southern Europe, Italy is a boot shaped peninsula bordered by the Adriatic Sea on the east coast, the Tyrrhenian Sea on the Mediterranean coast to the west, and the Ionian Sea to the south. In the north, it borders the countries of France, Switzerland, Austria, and Slovenia. Italy was a politically fragmented conglomeration of many states for several thousand years, before becaming a unified country in 1861. Sicily, Sardinia and Elba are the largest islands in Italy. San Marino and Vatican City are the two independednt city-states in Italy.
What is the Geography of Italy?
About 40% of Italy's terrain is mountainous, with two major mountain ranges being the Alps and the Appennino or Apennines. The Appennino chain trends north to south, while the Alps lie to the north. The highest peak in Italy is Monte Bianco (Mont Blanc) at 15,770 feet (4,810 meters), and lies in the Alps on the French border. Mount Vesuvius, located in southern Italy near Naples, continues to be the only active volcano on the European mainland. Lava spewing from Vesuvius is known to have destroyed the famous Roman city of Pompeii, whose ruins are a popular tourist site. Another active volcano, Mount Etna, one of the world's largest volcanoes, is located on the island of Sicily.
The Po, Arno, Tiber, Piave and Adige are the major rivers of Italy. The northern part of the country also abounds in lakes. Lake Garda is the largest Italian lake, with a periphery around the lake of around 100 miles (158 kilometers).
Italy is famous for its Mediterranean climate, mostly in the coastal areas. Southern Italy is characterized by quite hot and mostly dry climate in summers while winters are cool and humid. The north has more of an Alpine climate due to the cold wind from Europe, which results in lots of snow in winters. Hot air rising from the warm seas often causes thunderstorms in Italy.
What is the Economy of Italy?
Though Italy was severely impacted by the two World Wars in the 20th-century, subsequently it transformed into a major developed economy. It is a founder member of the European Union, Eurozone, OECD, G7 and G20. In terms of nominal GDP, it is the eighth largest economy in the world, and the third largest in the Eurozone. The share of the various sectors is: Services (73.9%), industry (24%) and agriculture (2.1%) in 2017. Tourism, vehicles, pharmaceuticals, machinery, food processing, textiles, footwear and furniture constitute its top industries. Besides these, it is the largest producer of wine, and the third largest hub for luxury goods in the world. Germany, France, US, Spain, UK, Switzerland are the major export partners, while Germany, France, China, Netherlands, Spain, and Belgium are the major import partners (2017). Being home to 54 World Heritage Sites has also given a major boost to tourism in Italy. However, the northern part of the country has higher income levels as compared to the south. Its public debt of 131.8% of GDP poses a massive challenge. It also struggles with an unemployment rate of 10.2% (March 2019)
What is the Transportation System of Italy?
Italy has 9 registered air carriers, 129 airports. Its total railway network is 20,182 km, with both standard gauge and narrow gauge. It road length is 487,700 km, significantly higher than 2400 km of waterways. Augusta, Cagliari, Genoa, Livorno, Taranto, Trieste, and Venice are its major seaports.
What International Organizations is Italy part of?
ADB (nonregional member), AfDB (nonregional member), Arctic Council (observer), Australia Group, BIS, BSEC (observer), CBSS (observer), CD, CDB, CE, CEI, CERN, EAPC, EBRD, ECB, EIB, EITI (implementing country), EMU, ESA, EU, FAO, FATF, G-7, G-8, G-10, G-20, IADB, IAEA, IBRD, ICAO, ICC (national committees), ICCt, ICRM, IDA, IEA, IFAD, IFC, IFRCS, IGAD (partners), IHO, ILO, IMF, IMO, IMSO, Interpol, IOC, IOM, IPU, ISO, ITSO, ITU, ITUC (NGOs), LAIA (observer), MIGA, MINURSO, MINUSMA, NATO, NEA, NSG, OAS (observer), OECD, OPCW, OSCE, Pacific Alliance (observer), Paris Club, PCA, PIF (partner), Schengen Convention, SELEC (observer), SICA (observer), UN, UN Security Council (temporary), UNCTAD, UNESCO, UNHCR, UNIDO, UNIFIL, Union Latina, UNMOGIP, UNRWA, UNTSO, UNWTO, UPU, WCO, WHO, WIPO, WMO, WTO, ZC
Related Maps: