What are the Key Facts of Sri Lanka?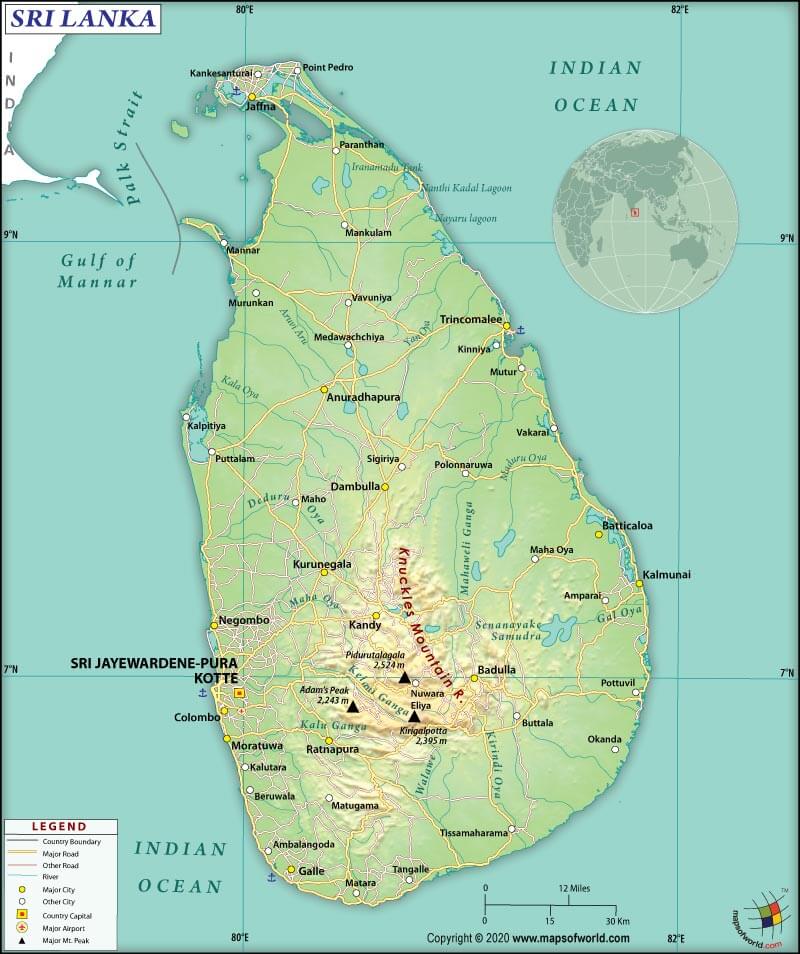 | | |
| --- | --- |
| Official Name | Democratic Socialist Republic of Sri Lanka |
| Continent | Asia |
| Capital | Sri Jayawardenepura Kotte |
| Largest City | Colombo |
| Coordinates | 7.000000, 81.000000 |
| Area | 25,332 sq. mi (65,610 sq. km) |
| Land Boundaries | 0 mi (0 km) Island country |
| Coastline | 833 mi (1,340 km) Landlocked |
| Currency | Sri Lankan rupee (Rs) (LKR) |
| Neighboring Countries | Maritime neighbors: India, Maldives |
| Population | 21,803,000 (World Bank, 2019) |
| Official Languages | Sinhala, Tamil |
| Major Religion | Buddhism |
| National Day | 4 February (Independence Day) |
| National Anthem | "Sri Lanka Matha" |
| Form of Government | presidential republic |
| President | Gotabaya Rajapaksa |
| Prime Minister | Mahinda Rajapaksa |
| GDP per capita (PPP) | $ 13,620.1 (World Bank, 2019) |
| GDP per capita (nominal) | $ 3,853.1 (World Bank, 2019) |
| HDI | 0.780 (2019), Rank: 71 |
| Literacy Rate (%) | 91.71 (UNESCO, 2018) |
| Space Agency | NA |
| Military Expenditure Ranking | 63 (SIPRI, 2019) |
| No. of Olympic Medals | 2 (as of 2018) |
| Driving Side | left |
| Calling Code | 94 |
| Time Zone | UTC+5:30 (SLST) |
| Internet TLD | .lk |
Where is Sri Lanka?
Sri Lanka (whose official name is the Democratic Socialist Republic of Sri Lanka) is a South Asian island nation that is in the Indian Ocean (southeast of the Arabian Sea and southwest of the Bay of Bengal). The Gulf of Mannar and the Palk Strait geographically separates Sri Lanka from the Indian subcontinent.
What is the Geography of Sri Lanka?
Sri Lanka spreads across a total area of 65,610 sq. km (25,332 sq. mi). Out of the total area, 64,630 sq. km (24,954 sq. mi) is land area, and 980 sq. km (378 sq. mi) is the water area. The Democratic Socialist Republic of Sri Lanka has no land boundary. As it is an island nation, it has a 1,340 km (832.6 mi) long coastline.
The mean elevation of Sri Lanka is 228 m (748 ft). While the highest point is Pidurutalagala at 2,524 m (8,280.8 ft), the lowest point is the Indian Ocean at 0 m (0 ft).
The terrains of Sri Lanka are mostly low, consisting mainly of flat to rolling plain. However, in the south-central interior of the country, mountains can be found.
The highest mountains in Sri Lanka are Pidurutalagala, Kirigalpotta, Totapolakanda, Kudahagala, Kikilimana, Great Western Mountain, Hakgala, Conical Hill, One Tree Hill (in Nuwara Eliya), and Adam's Peak (in Ratnapura).
While Mahaweli River is the longest river, Bambarakanda Falls is the highest waterfalls. There are more than 100 rivers in Sri Lanka, and some of the most important ones are Mahaweli River, Malvathu River, Kala Oya, Kelani River, Yan Oya, and Deduru Oya.
Some of the mesmerizing lakes are Gregory Lake, Bolgoda Lake, Sembuwatta Lake, Kandalama Reservoir, and Kandy Lake. There are around 40 lagoons and 45 estuaries in Sri Lanka. A few of the breathtaking waterfalls are Bambarakanda Falls, Garandi Ella, Lihinihela Ella, and Kurundu Oya Falls (Maturata Ella).
What is the Climate of Sri Lanka?
Sri Lanka has a tropical climate. The temperature, spatial patterns of winds, relative humidity, seasonal rainfall, and other climatic elements (especially during monsoon) are strongly affected by topographical features of the island.
Rainfall takes place in Sri Lanka primarily due to monsoon, convection, and depression. The western slopes of the central highlands in Sri Lanka get the maximum rain, which is more than 5,000 mm (196.85 inches) on an average every year. Southeastern and northwestern parts of Sri Lanka receive the least amount of rain, which is less than 900 mm (35.43 inches) on average every year.
Differences in temperature are because of the changes in altitude. Due to the seasonal movement of the sun, the mean monthly temperatures differ, but the differential is low. Rainfall causes some modified influence on temperature. The lowlands mostly experience homogeneous temperatures. However, it decreases in the mountains.
The annual mean temperature hovers around 27.5 °C (81.5 °F) in the lowlands (especially where the altitude remains within 100-150 m). The monthly mean temperature fluctuates within 26.5 °C (79.7 °F) and 28.5 °C (83.3 °F). Nuwaraeliya (located at 1,800 m above sea level), the average temperature revolves around 15.9 °C (60.62 °F).
While April-to-August is the warmest period, January remains the coldest month. This South Asian island experiences four climate seasons: first inter-monsoon season (March-April), southwest monsoon season (May-September), second inter-monsoon season (October-November), and northeast monsoon season (December-February).
What is the Economy of Sri Lanka?
The country has recently become an upper-middle-income economy. After the end of the civil war in 2009, the economy increased at an average growth rate of 5.3% during 2009-2019. After attaining an annual growth rate of 9.145% in 2012, it came down to 2.283% in 2019.
The nominal GDP of Sri Lanka was US$ 84.009 billion in 2019. The economic condition is transforming from a rural-based one to an urbanized one (revolving around the manufacturing and services sectors). However, the economy suffers from some fundamental structural problems, including high public debt levels, low fiscal revenues, relatively high non-discretionary expenditure (in the forms of interest payments, transfers, and salary bills).
The country suffers from a negative trade balance, which was -$7.57 billion in 2018. While the export value was $11.1 billion, the import value was $18.7 billion. The major export items of Sri Lanka are Tea, Other Women's Undergarments, Knit Women's Undergarments, Knit Women's Suits, and Non-Knit Women's Suits. The major import items are Refined Petroleum, Cars, Light Rubberized Knitted Fabric, Broadcasting Equipment, and Packaged Medicaments.
The unemployment rate in this South Asian island country has come down from 4.52% in 2015 to 4.2% in 2019. The poverty rate had come down from 15.3% in 2006-07 to 4.1% in 2016.
Extreme poverty is rare in the country, but a relatively large share of the population resides just above the poverty line.
What is the Transportation System of Sri Lanka?
Sri Lanka has 18 airports, out of which 11 have paved runways, and 7 have unpaved ones. One heliport is also there.
The major airports in the country are Bandaranaike International Airport (Colombo), Ratmalana International Airport (Colombo), Mattala Rajapaksa International Airport (Hambantota), Jaffna International Airport (Jaffna), Batticaloa International Airport (Batticaloa), etc.
There is around 114,093 km (70,894.1 mi) long roadways in Sri Lanka, out of which 16,977 km (10,549 mi) is paved and 97,116 km (60,345.1 mi) is unpaved. 1,562 km (970.6 mi) of broad-gauge railway services are available.
There is 160 km (99.4 mi) of waterways available in Sri Lanka, mainly concentrated in southwest. Colombo is the principal seaport and container port. There are 97 merchant marine ships present in the country.
What International Organizations is Sri Lanka part of?
WTO, IMF, UN, WHO, ILO, NAM, UNESCO, ABEDA, ADB, ARF, BIMSTEC, C, CD, CP, FAO, G-11, G-15, G-24, G-77, IAEA, IBRD, ICAO, ICRM, IDA, IFAD, IFC, IFRCS, IHO, IMO, IMSO, Interpol, IOC, IOM, IPU, ISO, ITSO, ITU, MIGA, MINURSO, MINUSTAH, MONUSCO, OPCW, PCA, SAARC, SACEP, UNCTAD, UNIDO, UNIFIL, UNISFA, UNMISS, UNWTO, UPU, WCO, WIPO, WMO, ICC (national committees), CICA (observer), ITUC (NGOs), OAS (observer), SCO (dialogue member), WFTU (NGOs)
Related Links:

Related Maps: