What is the difference between Sri Lanka and Ceylon?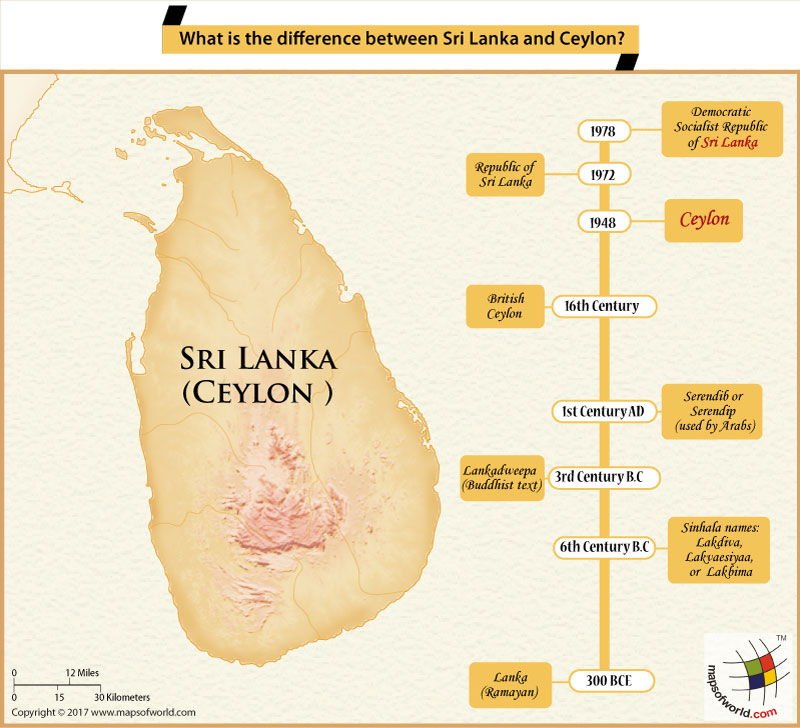 A verdant green island nation at the southern end of India, Sri Lanka, is a very culturally rich nation with a glorious history of maritime trade. Formally referred to as the Democratic Socialist Republic of Sri Lanka, the country was referred to as Ceylon through the colonial era until 1972 when it was renamed.
The island country has a recorded history of human settlement that goes back over 2,000 years, and archeological evidence points to human settlement in Sri Lanka that dates back to prehistoric times. The evolution of civilization and culture in Sri Lanka has been deeply influenced by India. In fact, mythology and historic evidence point to the fact that the earliest settlers being Indians.
Popular Indian epic, the Ramayana, believed to have been composed around 300 BCE also refers to the island of 'Lanka' popularly accepted to be the same as modern day Sri Lanka. The Sinhalese people came to Sri Lanka from India and settled here in the 6th century BC. Old Sinhala records use the names Lakdiva, Lakvaesiyaa, or Lakbima. All these names seem to be derived from the word Lanka and Dweepa (meaning island). It is also possible that the Tamil name for Sri Lanka, Ilankai (pronounced elankai), was the earliest reference to the island and its people. This too is a form of the word Lanka (old Tamil uses the 'I' prefix for words starting with 'La'. Buddhist texts refer to the island as Lankadweepa. Buddhism came to the country in the 3rd century BCE).
From the early 16th century on, the Portuguese, the Dutch, and the British arrived. The British established their colonial rule in Sri Lanka and named it British Ceylon. The country remained under the British colonial rule until 1948 but retained the name Ceylon till 1972. Thereafter the name Republic of Sri Lanka was adopted reinstating of the ancient "Lanka". In 1978 this was changed to Democratic Socialist Republic of Sri Lanka.
Apart from these, Sri Lanka has also been known by various other names such as Sihaladeepa (Island of the Sinhalas), Tambapanni (Copper shores), Parasamudra (Beyond the Sea – a name used by texts in Mauryan India), Palaesimoundu (used by Greeks, derived from Parasamudra), and Taprobane (derived from Tambapanni).
One of the important names by which Sri Lanka was referred to by the name Serendib or Serendip. This was used by the Arabs who conducted maritime trade with the South Asian island in the 1st century AD. Serendib was derived from Siṃhaladvipa, the Sanskrit name used in northern India for Sri Lanka at the time. The English word Serendipity (ability to make unexpected and magical discoveries) is derived from the name Serendip.
Related Maps: