What are the Key Facts of Mexico?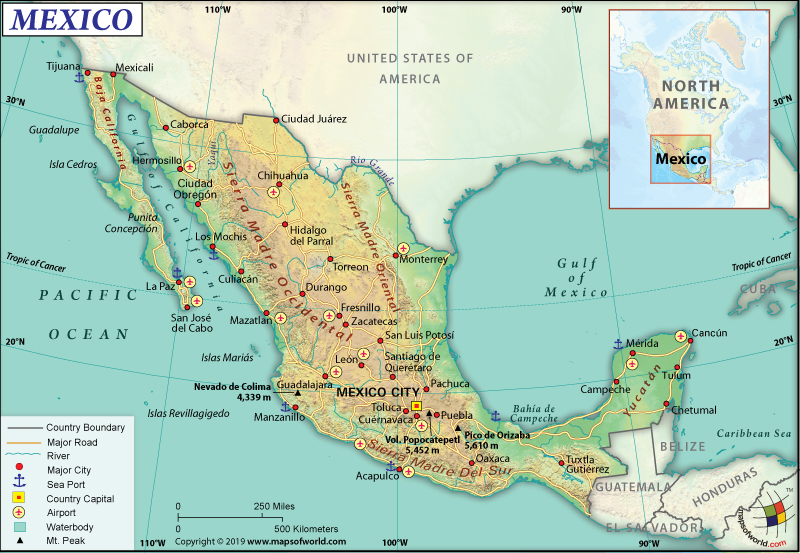 | | |
| --- | --- |
| Official Name | United Mexican States |
| Continent | North America |
| Capital | Mexico City |
| Largest City | Mexico City |
| Coordinates | 23.000000, -102.000000 |
| Area | 761,610 sq. mi (1,972,550 sq. km) |
| Land Boundaries | 2,727 mi ( 4,389 km) |
| Coastline | 5,797 mi ( 9,330 km) |
| Currency | Peso (MXN) |
| Neighboring Countries | Guatemala, Belize, United States |
| Population | 126,577,691 (2019 est.) |
| Official Languages | Spanish |
| Major Religion | Christianity |
| National Day | 16 September (Independence Day) |
| National Anthem | "Himno Nacional Mexicano" |
| Form of Government | Federal presidential constitutional republic |
| President | Andrés Manuel López Obrador |
| GDP per capita (PPP) | $ 19,887.9 (World Bank, 2018) |
| GDP per capita (nominal) | $ 9,698.1 (World Bank, 2018) |
| HDI | 0.774 (2017), Rank: 74 |
| Literacy Rate (%) | 95.38 (UNESCO, 2018) |
| Space Agency | Mexican Space Agency (AEM) |
| Military Expenditure Ranking | 31 (SIPRI, 2017) |
| No. of Olympic Medals | 69 (as of 2018) |
| Driving Side | right |
| Calling Code | +52 |
| Time Zone | UTC−8 to −5, Summer (DST) UTC−7 to −5 |
| Internet TLD | .mx |
Where is Mexico?
Mexico is located in North America and borders the Gulf of Mexico, Caribbean Sea, and the North Pacific Ocean. It shares its land borders with the United States of America and Guatemala.
What is the Geography of Mexico?
Mexico has a total area of 1,972,550 sq. km (761,610 sq. mi), out of which 1,943,945 sq. km (750,561 sq. mi) is land and 20,430 sq. km (7,888 sq. mi) is the water. It has a 4,389 km (2,727 mi) long land boundary and 9,330 km (5,797 mi) long coastline. The land boundary is shared with the USA (3,155 km or 1,960 mi), Guatemala (958 km or 595 mi), and Belize (276 km or 171 mi).
In the first place, the mean elevation of the country is 1,111 m (3,645 ft). While Volcan Pico de Orizaba is the highest elevation point at 5,636 m (18,491 ft), Laguna Salada is the lowest point at -10 m (-33 ft). The major mountains of the country are Pico de Orizaba, Popocatepetl, Iztaccihuatl, etc. There are around 150 rivers in Mexico, including Rio Grande, Colorado River, Grijalva-Usumacinta Rivers, etc.
Generally, the Mexican terrain consists of high and rugged mountains, high plateaus, low coastal plains, and desert. While Sierra Madre Occidental mountain range runs from northern-to-southern Mexico, Sierra Madre del Sur mountain range is located in southern Mexico. Canyons such as Copper Canyon cut through the steep mountains of Sierra Madre Occidental.
Further, the Gulf Coastal Plain fronts the Gulf of Mexico and is situated to the east of the Sierra Madre Occidental mountain range. Both the Gulf of Mexico and Caribbean coastlines are wider. However, the Coastal Plain is very arrow and rises quickly to the foothills.
Furthermore, the Central Mexican Plateau occupies a large part of the central and northern parts of the country. Deserts and xeric shrublands cover most of the plateau. Many ancient volcanoes (including Pico de Orizaba Volcano) are located from the Pacific Ocean (starting from north of Guadalajara) to the south of Veracruz.
The Yucatan Peninsula, separating the Caribbean Sea and the Gulf of Mexico, is covered by thick tropical jungles along the borders of Mexico with the Central American countries.
What is the Economy of Mexico?
In particular, the Mexican economy is an emerging market economy, which has the eleventh largest purchasing power parity in the world (as per IMF). The macroeconomic fundamentals have improved significantly since it faced the 1994 crisis.
Also, the 2002 South American crisis didn't adversely affect the economy of the country. Besides the brief stagnation in 2001, Mexico maintained a positive rate of growth. However, the 2008 recession made the GDP contract by over 6% in that year. The nominal GDP of Mexico increased at a rate of 1.994% to reach US$1.224 trillion in 2018.
Besides, after signing the North American Free Trade Agreement (NAFTA) in 1994, the Mexican economy has become more and more oriented towards manufacturing. When considering the purchasing power parity, the GDP was estimated to be US$2.6 trillion and it grew by 2.2% in 2018.
As a result, the Mexican economy is dependent upon the export of manufactured products, oil, silver, coffee, vegetables, fruits, and cotton. It mainly imports electrical equipment, machinery for agriculture and metalworking, aircraft parts, automobile, and steel mill products.
However, the rate of unemployment in the country was 3.7% in August 2019 and the average rate in the last 25 years (1994-2019) is 3.75%. Despite its high GDP, the economy suffers from an unequal distribution of wealth. The richest population makes around 14 times more money than the poorest population. Around 7% of the total population (around 8.5 million) in 2017 lived at less than US$2 per day.
What is the Transportation System of Mexico?
Mexico, the 2nd most populous country of Latin America, has a wide array of transport modes to choose from. A federal executive cabinet branch, the Secretariat of Communications and Transportation, regulates the transportation system in the country.
There is 398,148 km (247,398 mi) long roadway available, out of which 174,911 km (108,685 mi) is paved and 223,237 km (138,713 mi) is unpaved. 10,362 km (6,439 mi) of expressways are available in the country.
For long-distance transportation, buses are the main mode of transport. The extensive bus network is available including modern luxury coaches, retired school buses, etc. Taxis are commonly available. Car rental facility is also available.
Additionally, Colectivo or shared taxi/vans on specific routes are popular, which charge on a per-person basis. Three-wheel automotive transport (known as auto-rickshaws or tuk-tuks in other parts of the world) is available in small towns as well as the outskirts of cities.
The railway is also moderately developed. There are 20,825 km (12,940 mi) of standard gauge train tracks available in Mexico. 27 km (17 mi) of electrified train tracks are also available. El Chepe (the most famous train of Mexico) is available on the Copper Canyon Railway. Tequila Express from Guadalajara to tequila country is also available for tourists.
Equally important, the 2nd largest North American metro system (after New York) can be found in Mexico City. The capital city provides metrobús services too. Guadalajara and Monterrey cities also provide metro transport systems.
Air travel is the fastest mode of transport in Mexico, either domestic or international. There are 1,714 airports. While 243 airports have paved runways, 1,471 airports have unpaved runways. There is 2,900 km (1,802 mi) of navigable waterways available in Mexico. The main seaports are Altamira, Veracruz, Manzanillo, Lazaro Cardenas, and Coatzacoalcos. The country has an estimated 617 merchant marine ships.
What International Organizations is Mexico part of?
WTO, IMF, UN, ILO, WHO, APEC, Pacific Alliance, Australia Group, BCIE, BIS, CD, CDB, CELAC, EBRD, FAO, FATF, G-3, G-15, G-20, G-24, G-5, IADB, IAEA, IBRD, ICAO, ICCt, ICRM, IDA, IFAD, IFC, IFRCS, IHO, IMO, IMSO, Interpol, IOC, IOM, IPU, ISO, ITSO, ITU, LAES, LAIA, MIGA, NAFTA, NEA, NSG, OAS, OECD, OPANAL, OPCW, PCA, UNCTAD, UNESCO, UNHCR, UNIDO, UNWTO, UPU, WCO, WIPO, WMO, ICC (national committees), ITUC (NGOs), WFTU (NGOs), Paris Club (associate), CAN (observer), Caricom (observer), CE (observer), CSN (observer), NAM (observer), SICA (observer), UNASUR (observer), Union Latina (observer)
Related Links:

Related Maps: