Which is the Largest Gulf in the World?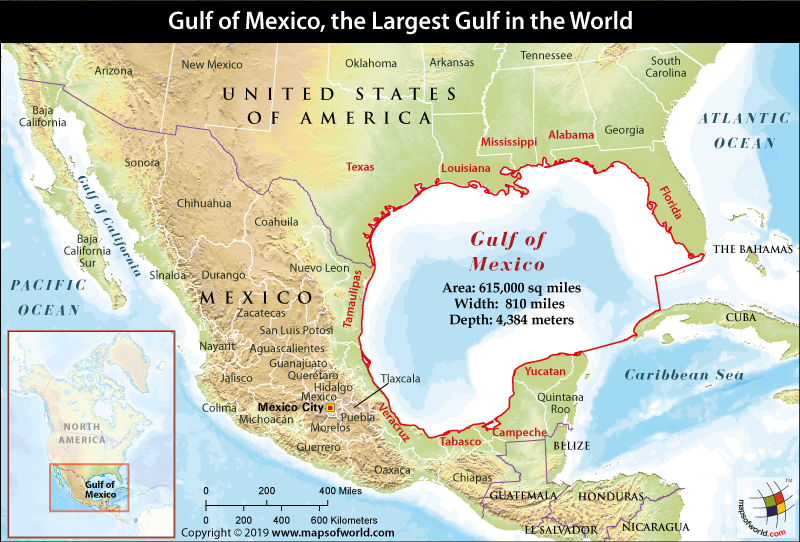 Gulf of Mexico is the largest Gulf in the world and covers 615,000 sq miles with a width of 810 miles and depth of 4,384 meters.
The 10th largest water basin in the world is part of Atlantic Ocean and is fed by 33 major rivers including the Mississippi. It is bound by a 3,000 mile coastline touching:
Gulf Coast of the United States – 1,680 miles: includes states of Florida, Texas, Alabama, Louisiana and Mississippi;

Mexico – 1,394 miles: includes states of Veracruz, Yucátan, Campeche, Tamaulipas, Tabasco.

Cuba
Gulf of Mexico is believed to have been formed around 300 million years ago during the Late Triassic as a result of shifting tectonic plates. The shallow continental shelf waters has a floor composition of sedimentary rocks and sediment accumulated in later years.
Hurricanes are a common feature in the Gulf of Mexico. One of the strongest ocean currents, the Gulf Stream, originates here and due to its relatively shallow waters, the waters are warm.
Once the warm sea water makes contact with the colder Atlantic, the warm surface temperature supports buildup of hurricane conditions. As the hurricane grows in strength, it tends to move towards land, causing extensive damage to regions near the coastline. The damage caused by Hurricane Katrina was one such example.
The Gulf of Mexico sustains an extensive ecosystem and includes large mangroves and wetlands. Over 5 million acres of wetlands along the coastline supports a wide variety of plant and animal species.
Related Maps: