Is Turkey in Europe or Asia?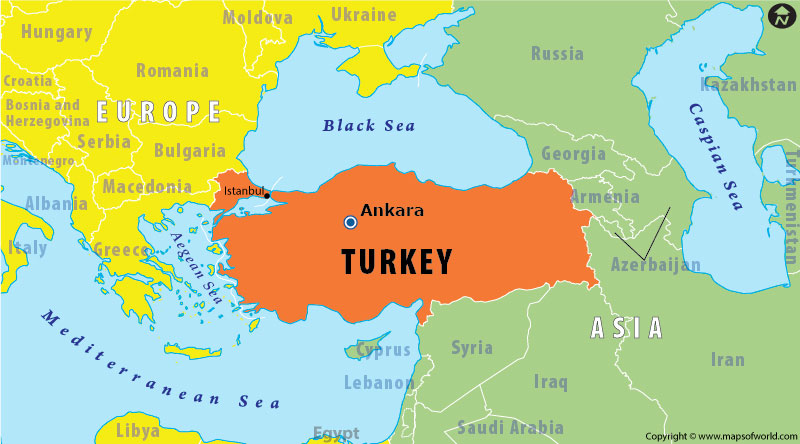 Is Turkey in Asia? Is Turkey in Europe?
Geographically, the location of Turkey is in both Europe and Asia.
The question of Turkey's continental affiliation is an often debated one. While Turkey claims to be an integral part of Europe (substantiated by its historic legacy and by international alliances), many countries do not agree and Turkey is yet to be included in the European Union.
Turkey is bound by Bulgaria to the north-west, the Black Sea to the north, Georgia and Armenia to the northeast, Iran, and Iraq to the east, Syria, and the Mediterranean Sea to the south, and Greece, and the Aegean Sea to the west. It also shares maritime boundaries with Russia, Ukraine, Romania, Cyprus, and Egypt.
The eastern region of Turkey—the Anatolian peninsula forms the westernmost fringe of Asia and is referred to as Asia Minor. The eastern parts of the country beyond the Bosporus are within Europe.
Turkey is spread over 302,455 square miles of area and is home to over 79,814,870 people. While most of Turkey lies in Asia, one of the country's most populated cities Istanbul lies in Europe.
The Republic of Turkey came into being in 1923 following the collapse of the Ottoman Empire and the Turkish War of Independence. Throughout history, Turkey was a part of Alexander's Empire and later became part of the Roman and Byzantine empires before it became an integral part of the Ottoman Empire.
Turkey's natural inclusion into the socio-political life of mainland Europe has lent strength to its European identity. As a member of the North Atlantic Treaty Organization (NATO) and the Organization for Economic Cooperation and Development (OECD), Turkey definitely comes across as a European country.
The predominance of Islam and the vestiges of its Asian heritage, however, have left Turkey out of various treaties and alliances that bind other European nations. Turkey's inclusion into the European Union (EU) is also a very contentious issue. Turkey was one of the earliest members of the Council of Europe in 1949, but despite years of negotiation has not managed to officially join the EU.
The strategic location of Turkey and this dual identity have made Turkey an important destination in terms of trade, travel, and diplomatic relations. It has lent Turkey a unique cultural identity that the country is not keen to lose.
Related Links:
Related Maps: