What are the top ten countries most affected by global climatic conditions?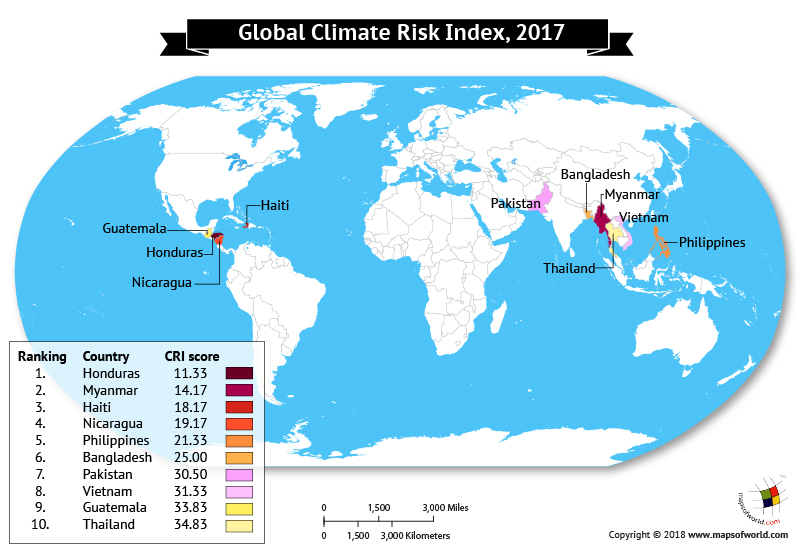 When natural disasters like storms, floods, heat waves, etc. strike different regions, many people are dislocated from their homes and a great cost goes to the reconstruction of the area. With advancements in technology, thankfully, warnings are given before these climatic conditions occur and many lives are saved.
The Germanwatch does a research on the global climatic conditions around the world and brings an analysis regarding the impact of extreme weather events. The Global Climate Risk Index is an annual analysis report which aims to bring the context into international debates regarding climatic conditions. The latest edition was of 2017, which considered weather-related loss events from 1996 to 2015. The Climate Risk Index depicts what level of exposure and vulnerability certain countries have to extreme weather conditions, so they could take appropriate measures regarding it.
People from all around the world face the effects of varying climatic conditions, and about 528,000 died due to extreme weather events from 1996 to 2015. Countries which were most affected have been Honduras, Myanmar, and Haiti. The studies suggest that countries which are poorly developed are struck harder and are more vulnerable to climatic risks, even though it's the rich countries which face higher monetary losses during such calamities.
Here is the table listing top ten vulnerable countries in Global Climate Risk Index 2017.
Ranking
Country
CRI
Score
Deaths per 100 000 inhabitants
Number of
events (total
1996–2015)
1
Honduras
11.33
4.36
61
2
Myanmar
14.17
14.71
41
3
Haiti
18.17
2.71
63
4
Nicaragua
19.17
2.94
44
5
Philippines
21.33
1
283
6
Bangladesh
25
0.48
185
7
Pakistan
30.5
0.32
133
8
Vietnam
31.33
0.41
206
9
Guatemala
33.83
0.75
75
10
Thailand
34.83
0.22
136
Know more:
Related Maps: