Is Egypt in Africa or Asia?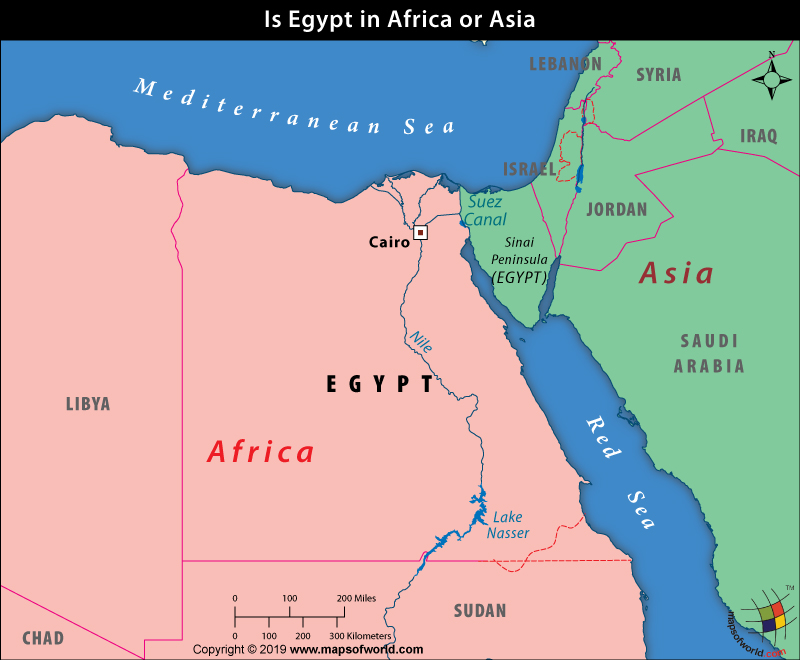 What Continent in Egypt Is?
Egypt is a transcontinental country. While a major portion of the country lies in Africa, a small portion (Sinai Peninsula) lies in the continent of Asia.
Egypt is a country located in the northeastern corner of the African continent with Sudan to the south, Libya to the west, the Mediterranean sea to its north, and the Red Sea to the east.
The Suez Canal, constructed in 1869, connects the Mediterranean Sea with the Red Sea through a sea-level waterway. The Suez Canal runs north to south across the Isthmus of Suez within Egypt and is accepted as the border between Africa and Asia. East of the Suez Canal lies the Asian Sinai Peninsula.
The Isthmus of Suez is the land bridge connecting Africa and Asia while the Suez Canal connects the Mediterranean Sea with the Indian Ocean.
Egypt shares its border with Sudan – 793 miles, Libya-693, Israel-129 miles, and the Gaza Strip-9 mile. Despite its long border with Sudan and Libya in North Africa, Egypt developed closer relations with Asian, European, and Middle Eastern countries.
The sub-Saharan terrain on the west and south of Egypt has always been a difficult territory to cross, whereas the Sinai Peninsula was an easier route to the rest of Asia. This facilitated greater movement through the land for trade and commerce and helped build closer ties with Asian and Middle Eastern countries, which had a greater influence on Egypt and its culture, tradition, food, and lifestyle, than Africa.
With a 1,522-mile coastline and access to the Mediterranean and Red seas, Egypt developed closer ties with the Indian sub-continent and Europe, which also had an influence on Egypt. Later, when the Suez Canal was built, Egypt grew, even more, closer through greater business and cultural interaction with the rest of Asia and the Middle East.
Therefore, geographically Egypt remains part of Africa but in all other aspects, it may be considered Asian or even Middle Eastern. However, this is a matter of opinion and not the official record.
Related Link:
Related Maps:
183,776 total views, 2 views today