What are the Top 10 Richest Countries in the World?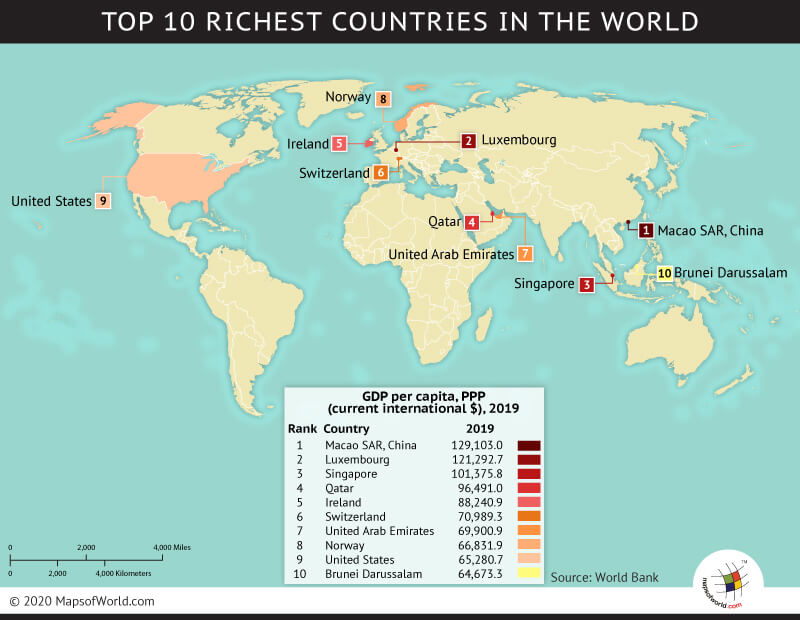 Gross Domestic Product (GDP) is the total market value of all goods and services produced in a country in a year. These estimates are made every year by international financial organizations such as the International Monetary Fund and the World Bank. While the GDP (PPP) is a good indicator of a country's wealth, calculations based on nominal GDP often tend to overlook the cost of living in each country. The GDP per capita, however, is not precisely a measure of personal income.
International financial services, tourism, petroleum and natural gas exports, electronic goods manufacturing, facilitating international trade (as in the case of Singapore) and a flourishing service sector, are the keystones behind the economic success of these nations.
Here are the top richest countries in the world according to 2019 GDP per capita index:
1. Macao SAR (Macau) – $129,103.0
More than 50% share of GDP and 70% of national revenue comes from gaming, tourism and hospitality industry. A small population and area, a tax haven, and a port with no foreign exchange control regimes place Macau among the world's richest regions. Apparel exports and gambling-related tourism are backbone of the economy.
2. Luxembourg – $121,292.7
The cornerstone of Luxembourg's powerful economy is its exuberant financial sector, with bank holdings almost 20 times its GDP size. Its proximity to Belgium, France, and Germany is also a crucial factor for the prosperity and economic growth of the nation. The economy of Luxembourg is largely dependent on the banking, steel, and industrial sectors.
3. Singapore – $101,375,8
Singapore, a self-governing city-state of Southeast Asia, is the third richest country in the world. It has per capita GDP of $90,500 and is one of the world's leading centers for commerce. Moreover, the country has the world's second-busiest port. Its state-owned enterprises plays a substantial role in Singapore's economy.
4. Qatar – $96,491.0
Qatar's oil industry is considered the mainstay of Qatar's economy. It is striking to note that the petroleum industry contributes over 62% towards the government revenue, approximately 92% towards export earnings, and over 60% towards GDP. Doha is Qatar's financial centre.
5. Ireland – $84,069.4
Ireland is placed at the fifth spot on the list. The Republic of Ireland withstood the impact of Brexit in 2016. When it comes to employment opportunities, salary structure, living standards, and social inclusion, the country is better than other EU members like France and Germany.
6. Switzerland – $70,989.3
A high-income country located in the heart of Europe, Switzerland managed to retain its independence in the two World Wars, despite being in close proximity of Axis and Allied powers. Its stable and high-tech economy is famous for watch production and top-end brands such as Omega; big pharmaceutical and FMCG companies such as Novartis, La Roche and Nestle; and banks and financial services group like Credit Suisse and UBS AG.
7. United Arab Emirates – $74,942.7
The UAE has an open economy and a high per capita income. It is the world's third-largest exporter of crude oil. It is proven to have the world's fifth-largest natural gas reserves. Oil exports account for about 25 per cent of the UAE's gross domestic product.
8. Norway – $66,831.9
Norway is placed in the eighth spot on the list. It has a mixed economy with state-ownership in strategic areas. Since the start of the industrial era, the economy of Norway has shown a robust growth. Prior to industrial revolution, Norway's economy was largely based on agriculture, timber, and fishing.
9. United States – $65,280.7
The most technologically powerful economy in the world is United States; it is highly developed and mixed. Its firms such as computers, pharmaceuticals, medical, aerospace and military equipments are also the leading in the world. United State's economy is fueled by abundant natural resources, a well-developed infrastructure, and high productivity.
10. Brunei Darussalam – $64,673.3
One of world's richer countries, Brunei Darussalam is ranked tenth on the list. The oil and gas sector dominates the economy and generates the bulk of export earnings and government revenues. The economy of this country also benefited from high global energy prices in the early 2000.
Source: cia.gov and World Bank
Know more about World's top 10:
Related Maps: