Who are the top 10 richest women in the world?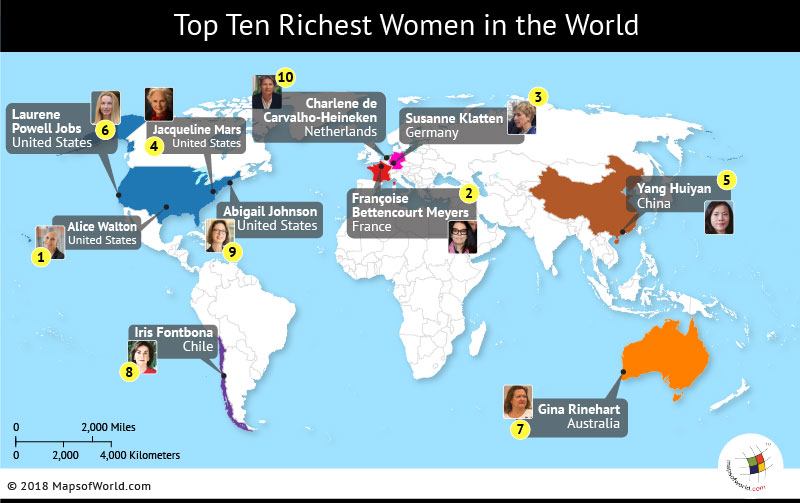 At par with their male counterparts, the world's richest women have proven all the stereotypes wrong, by making contributions to every walk of life. Proving their worth by putting efforts in respective professions, the wealthiest women of the world have emerged as successful business leaders and entrepreneurs. Some have inherited the ancestral wealth and yet taken their  companies to greater heights by implementing bold initiatives. Irrespective of the source of their fortune, these women are leading example to the generations to follow and a reflection of unfathomable power of leadership.
The top 10 richest women of the world are:
Alice Walton (United States):

 Daughter to 'Sam Walton' and 'Helen Walton,' the founder of 

Walmart

, America's largest retailer, Alice Louise Walton is the only heiress to the fortune of Walmart. With a net worth of 

US $46 billion

, she is the richest woman in the world. Though not actively involved in the management of the store, she has an equal share in the wealth Walmart has reaped in. Her early career years had her working as an equity analyst and money manager for First Commerce Corporation. She was also the chairwoman, CEO and president to the Llama company. Valued at millions of dollars, her personal art collection is a reflection of her love for curating art.
Francoise Bettencourt Meyers (France):

 Granddaughter to the founder of 

L'Oreal,

Francoise was assigned the title of the richest woman after the death of Lilian Bettencourt, her mother. She is the only heiress and the incumbent chairwoman of the company. The family combined, own 33% of the stocks, and has a net value of 

US $ 42.2 billion

. Additionally, she has written books- a five volume study of the 

Bible

 and a genealogy of the 

Greek Gods.
Susanne Klatten (Germany):

 The richest woman in Germany, she owns 19.2% of Bayerische Motoren Werke (BMW), the world's largest maker of luxury vehicles. The Munich based company's brands include 

BMW, Mini and Rolls-Royce

. An economist with an M.B.A, she helped transform her grandfather's  Atlanta AG, into a world-class pharmaceutical corporation, and gained 50.1% stake in the company. She also holds stakes in wind power outfit 

Nordex AG

, soil additive company  GEOhumus and carbon and graphite producer SGL Group. She has a total net worth of 

US $ 25 billion.
Jacqueline Mars (United States):

 Granddaughter to Frank C. Mars, the founder of the American confectionary company Mars Inc., which has a total revenue of US $ 35 billion, is one of the richest women in the world. She worked for the company for nearly 20 years and served as a board member till 2016. With a net value of worth 

US $ 23.6 billion

, she owns one-third of the company's stakes, as does her brothers. The McLean, Virginia-based closely held company makes candies, chewing gums, pet chow and packaged foods.
Yang Huiyan (China):

 The transferring of 70% of the company 'Country Garden's' shares to his daughter by Yang Guoqiang, made her one of the richest women in the world, and the youngest billionaire in China. She is currently a Chinese property developer and a majority shareholder (55%) of Country Garden holdings, making her the richest woman in Asia. A share surge at the company in January 2018, saw Yang's wealth accumulation hike by a striking US $ 2.1 billion in first four days of the year. She also chairs 

Bright Scholar Education Holdings

, which is a Chinese education company. Her total wealth worth is net 

US $ 2.9 Billion.
Laurene Powell Jobs (United States):

 The founder of 

'Emerson Collective

,' a social organization which focuses on education, immigration reforms, the environment, media and journalism, and a successful American businesswoman, Jobs is amongst the top ten richest women in the world. Her net value is 

US $ 18.8 billion

. The widow and heir to Steve Jobs, she is also a co-founder and former 

CEO of Apple Inc.

 Powell, in addition with Carlos Watson run a non-profit organization called '

College Track

,' that works on improving high school graduation, college enrolment for 'undeserved children'. She has made a major US $ 100 million commitment to 'XQ: The Super School Project,' which is a nationwide competition to redevelop high school curriculum.

Gina Rinehart (Australia):

  Joining the billionaire's club is Gina Rinehart with a net estimated value of 

US $ 17.4 billion

. Chairing the privately-owned mineral exploration and extraction company called 

Hancock Prospecting

, she is the richest woman in Australia. Inheriting her late father's bankrupted estate, she rebuilt her wealth on iron ore. A major source to her fortune is the joint venture with Rio Tinto. Additionally, she is the nation's third largest cattle producer, with 23 properties across the country. The massive 

Roy Hill project

, a world class iron ore mine in Western Australia, shipping to Asia since 2015, is also part of the assets.
Iris Fontbona (Chile):

 Designated as the wealthiest person in Chile, she built her fortune by inheriting 

Antofagasta PLC,

 the Santiago-based mining company. They also control 

Banco de Chile, Madeco

, a copper products manufacturer, a brewery CCU and a shipping company called 

CSAV

, making her the fifth wealthiest woman in Latin America. After her spouse's death, the family business was largely under her control and she had taken it to newer heights. A major action in this direction was by acquiring a 70% stake in Chilean television station, 

Canal 13

. Her net worth is estimated to be 

US $ 16.3 billion

.
Abigail Johnson (United States):

 Founder of 'Fidelity', Edward C. Johnson II, is the grandfather of Abigail, who is the incumbent President and CEO of US investment firm 

Fidelity Investments

 and chairwoman of International sister company 

Fidelity International

.Owning an estimated 24.5% stakes in the firm, she makes it to the wealthiest women of the world, with a net asset value of 

US $ 15.9 billion

. Her company also holds family assets including a tomato farm in Maine and a large chunk of the Seaport section of South Boston. Her company also has a US $ 2.4 trillion in managed assets. She joined the company as a young analysts and portfolio manager, later taking over from her father in 2016.
Charlene de Carvalho-Heineken (Netherlands):

 A Dutch-English businesswoman, she has a 25% controlling stake in the world's second largest brewer, 

Heineken International.

 She inherited the stake from her father in 2002 and is now the executive director to the company. Being the richest woman in the UK, she has total net value of 

US $ 15.8 billion.
Below lying list mentions the name and details of the top ten richest women in the world:
| Rank | Name | Net Worth | Age | Source | Country of Citizenship |
| --- | --- | --- | --- | --- | --- |
|  1 | Alice Walton | $46.00 | 10 July 1953 (age 65) | Walmart | United States |
|  2 | Françoise Bettencourt Meyers | $42.20 | 7 October 1949 (age 68) | L'Oréal | France |
|  3 | Susanne Klatten | $25.00 | 28 April 1962 (age 56) | Altana, BMW | Germany |
|  4 | Jacqueline Mars | $23.60 | 10 October 1939 (age 78) | Mars, Inc. | United States |
|  5 | Yang Huiyan | $21.90 | 1981 (age 35-36) | Country Garden Holdings | China |
|  6 | Laurene Powell Jobs | $18.80 | 6 November 1963 (age 54) | Apple Inc., The Walt Disney Company | United States |
|  7 | Gina Rinehart | $17.40 | 9 February 1954 (age 64) | Hancock Prospecting | Australia |
|  8 | Iris Fontbona | $16.30 | 1942/1943 (age 75-76) | Antofagasta PLC | Chile |
|  9 | Abigail Johnson | $15.90 | 19 December 1961(age 56) | Fidelity Investments | United States |
|  10 | Charlene de Carvalho-Heineken | $15.80 | 30 June 1954 (age 64) | Heineken International | Netherlands |
Know more:
Related maps: